This post may contain affiliate links, we may receive a commission if you make a purchase using these links. As an Amazon Associate I earn from qualifying purchases.
LEGO in recent years has become somewhat of a collectors item. Those who fondly remember LEGO from their childhoods are now scouring the internet to get their hands on a set.
As LEGO's popularity has risen, we have seen more and more sets release. With sets based on pop culture, from Friends cafe Central Park and the Seinfeld set, to LEGO Harry Potter and Star Wars kits, there is something for everyone.
As more and more people want to get their hands on the latest LEGO set, the prices have skyrocketed. Recent releases including the FC Barcelona stadium Camp Nou retailed for nearly £300 ($350). However £300 is rather reasonable for a large LEGO set, particularly for collectors.
For the last 10 years, LEGO have continually released sets that have broken the most expensive barrier. Here are the 10 most expensive LEGO sets that you can buy for retail right now.
10. LEGO Star Wars 10179 Ultimate Collector's Millennium Falcon – £342.49 ($499.99)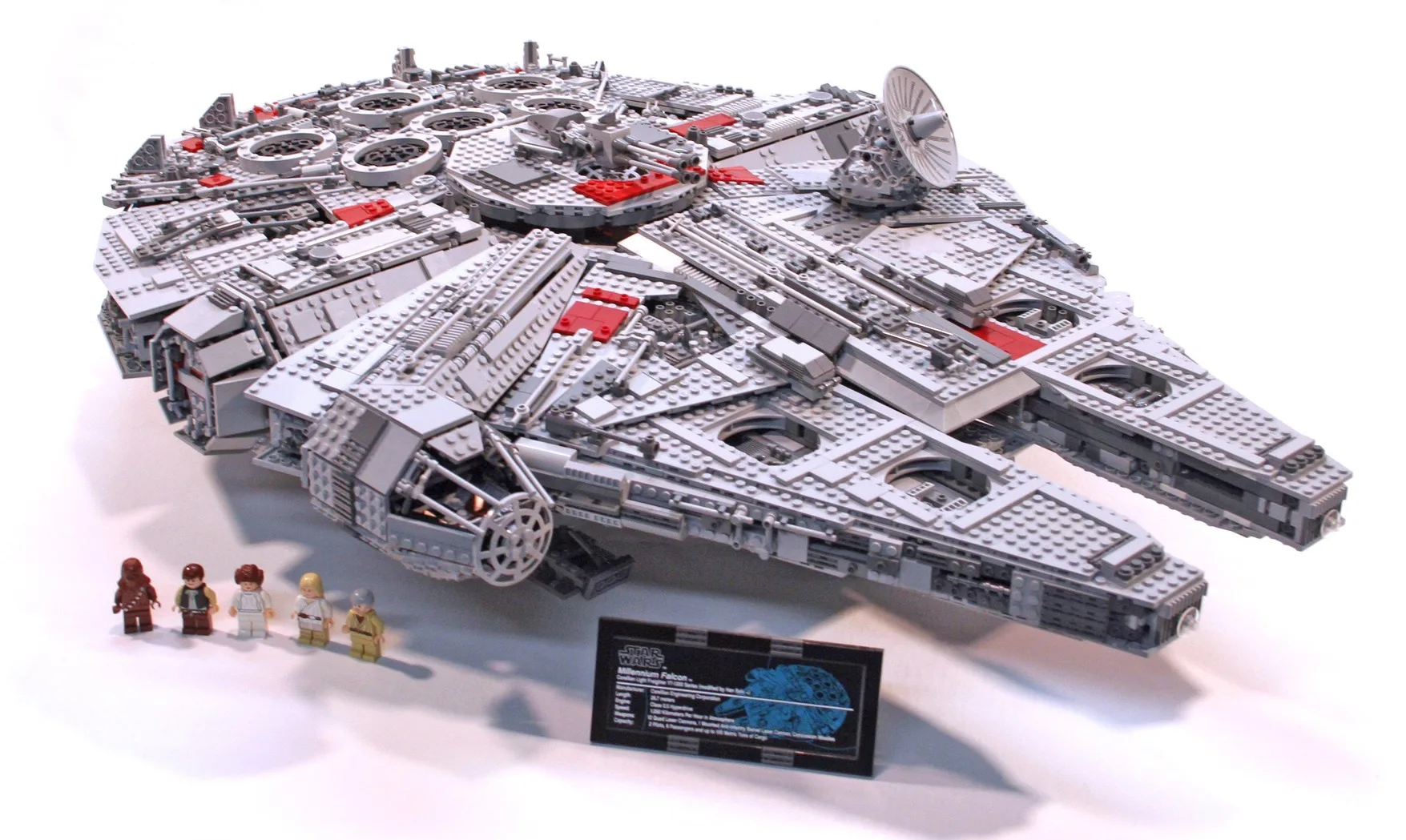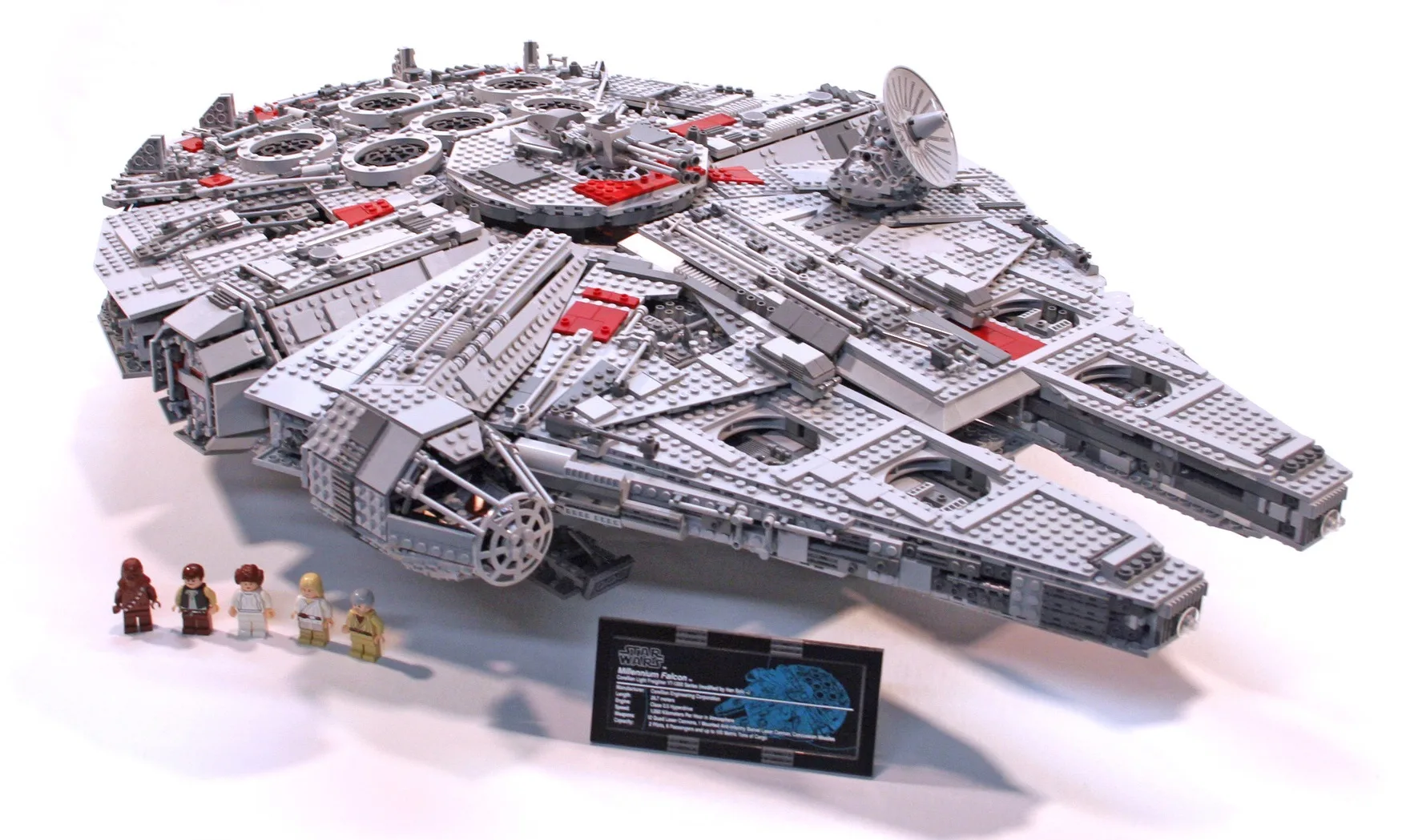 The first of two versions of the Millennium Falcon ranked on our list of the most expensive ever LEGO sets is the Ultimate Collectors edition.
10197 Ultimate Collector's Millennium Falcon was released in 2007 and at the time was the largest LEGO Star Wars set ever to be released. The set included 5195 pieces and when released retailed at £342.49 / $499.99. Today the set is available through internet market places for much more.
Included in the set are minifigures of Luke Skywalker, Obi-Wan and Han Solo.
9. LEGO Harry Potter 71043 Hogwarts Castle – £349.99 ($399.99)
LEGO Harry Potter 71043 Hogwarts Castle Set is a must have for any LEGO or Harry Potter fan. Currently retailing at £349.99 / $399.99 this set sits towards the more expensive end of LEGO sets available today.
6020 pieces make up the Hogwarts Castle. This set is for builders aged 16+.
Hogwarts Castle is not one to simply be marvelled at from the outside. Once again the designers at LEGO have gone to town on the interior detail. The set includes the Whomping Willow and Ford Anglia from the Chamber of Secrets, and moving staircases and stained glass windows to add authentic detail.
Further details include the Chamber of Secrets, complete with Basilisk, and Hagrid's Hut.
Like many film based LEGO sets, Hogwarts Castle comes with four minifigures. The founders of Hogwarts, Godric Gryffindor, Helga Hufflepuff, Salazar Slytherin and Rowena Ravenclaw all come with the set.
8. LEGO Technic 42115 Lambourghini Sian FKP 37 – £349.99 ($379.99)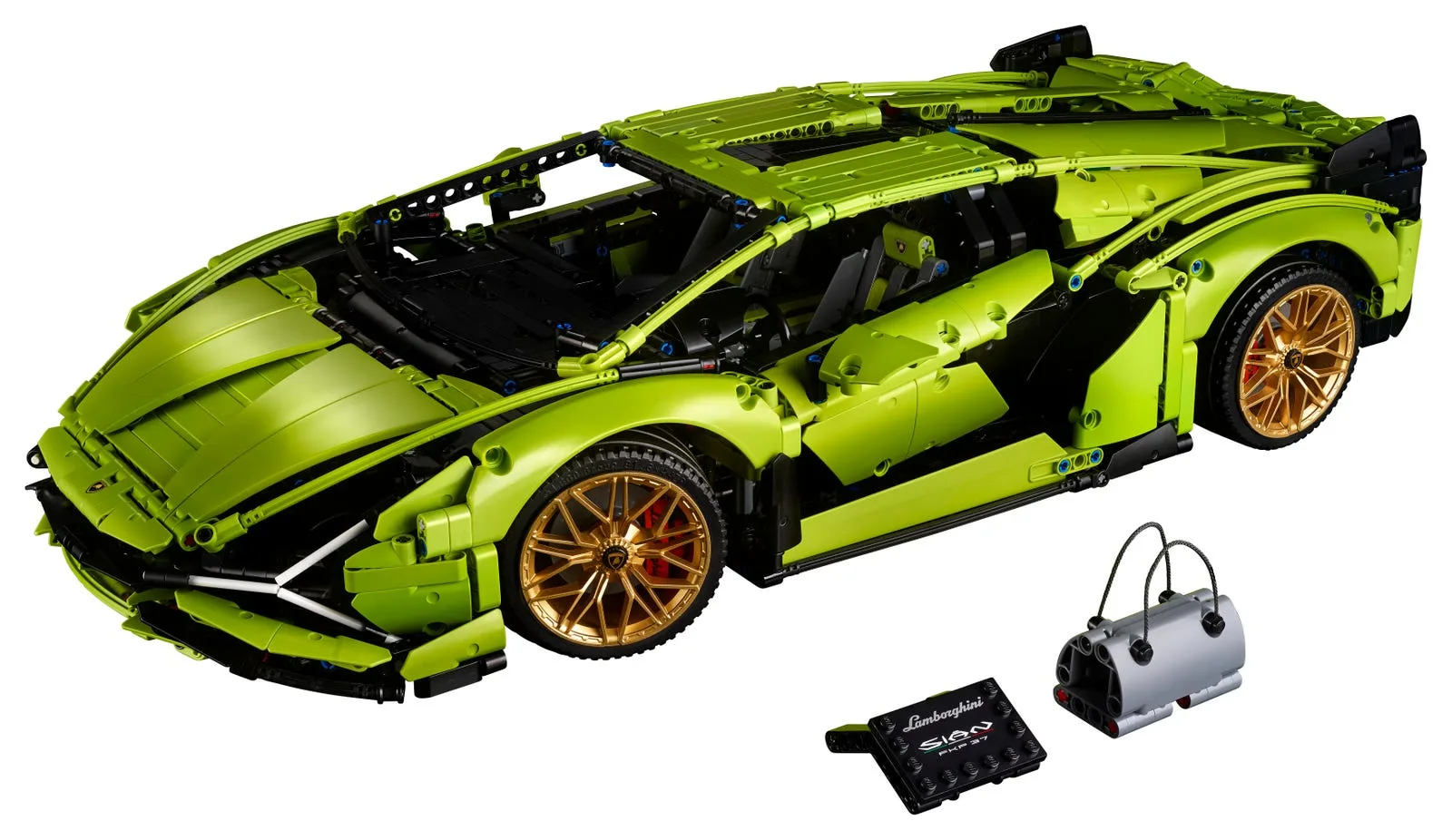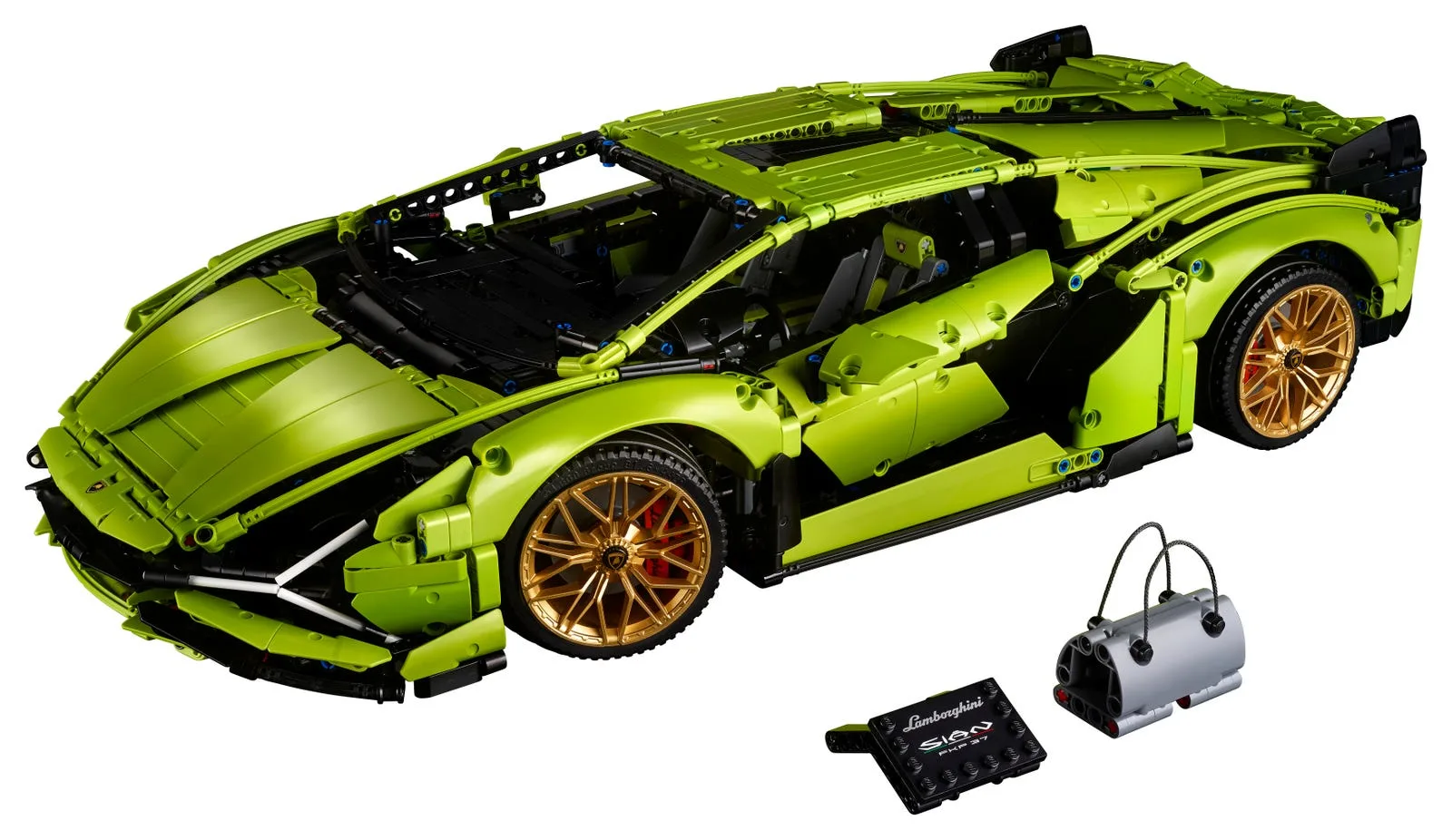 More and more vehicles and supercars are being transformed into LEGO creations, and Lambourghini's Sian FKP 37 went through the brick transformation in June 2020.
This complex car lovers set is 18+ and clocks in at 3696 pieces. The build detail is highly accurate, and features moving parts including the pistons in the V12 engine.
The Lambourghini Sian in LEGO form includes authentic console detail, an overnight bag nestled in the boot and in true Lambourghini style includes the iconic scissor doors.
7. LEGO Star Wars 10221 Super Star Destroyer – £349.99 ($399.99)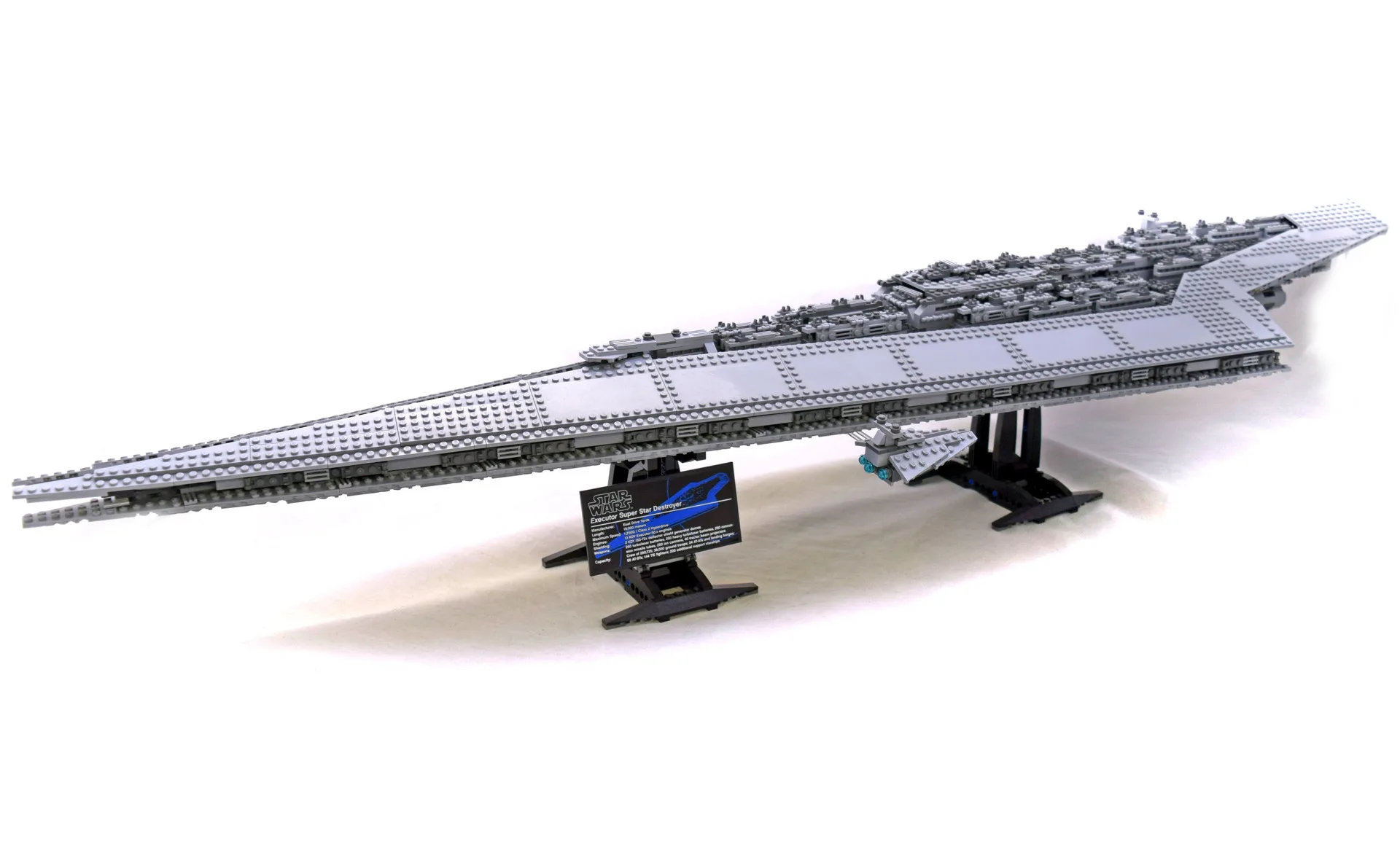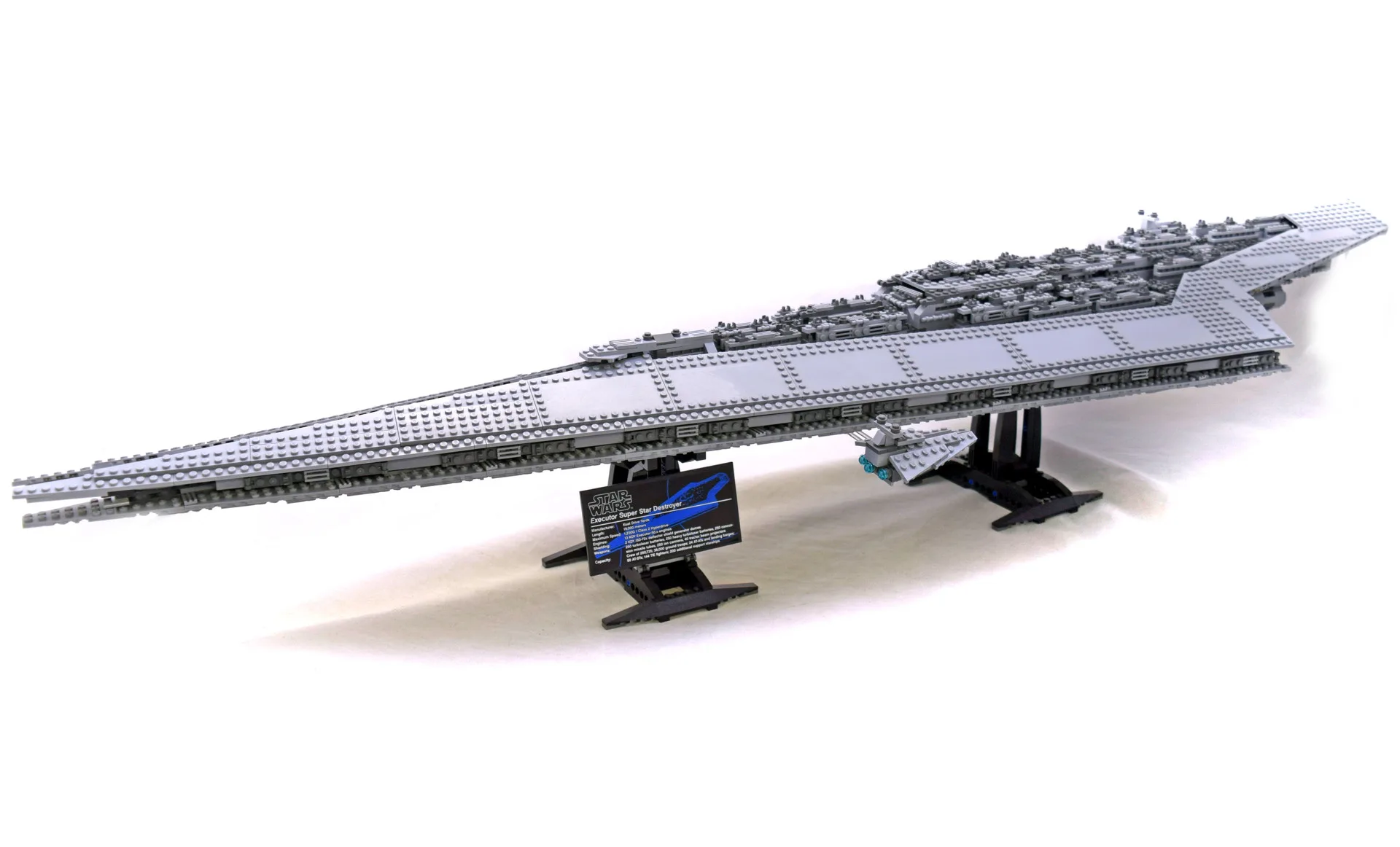 Released in 2011, LEGO Star Wars 10221 Super Star Destroyer originally retailed at £349.99 / $399.99.
This 16+ set comes with 3152 pieces and 5 minifigures, 3 of which were exclusive to the set. Only featured in this set are minifigures of IG-88, Dengar and SW0352: Admiral Firmus Piett.
LEGO Star Wars 10221 Super Star Destroyer is a large scale reproduction of the Super Star Destroyer belonging to Darth Vader, and stretches more than 4 feet in length!
6. LEGO Harry Potter 75978 Diagon Alley – £369.99 ($399.99)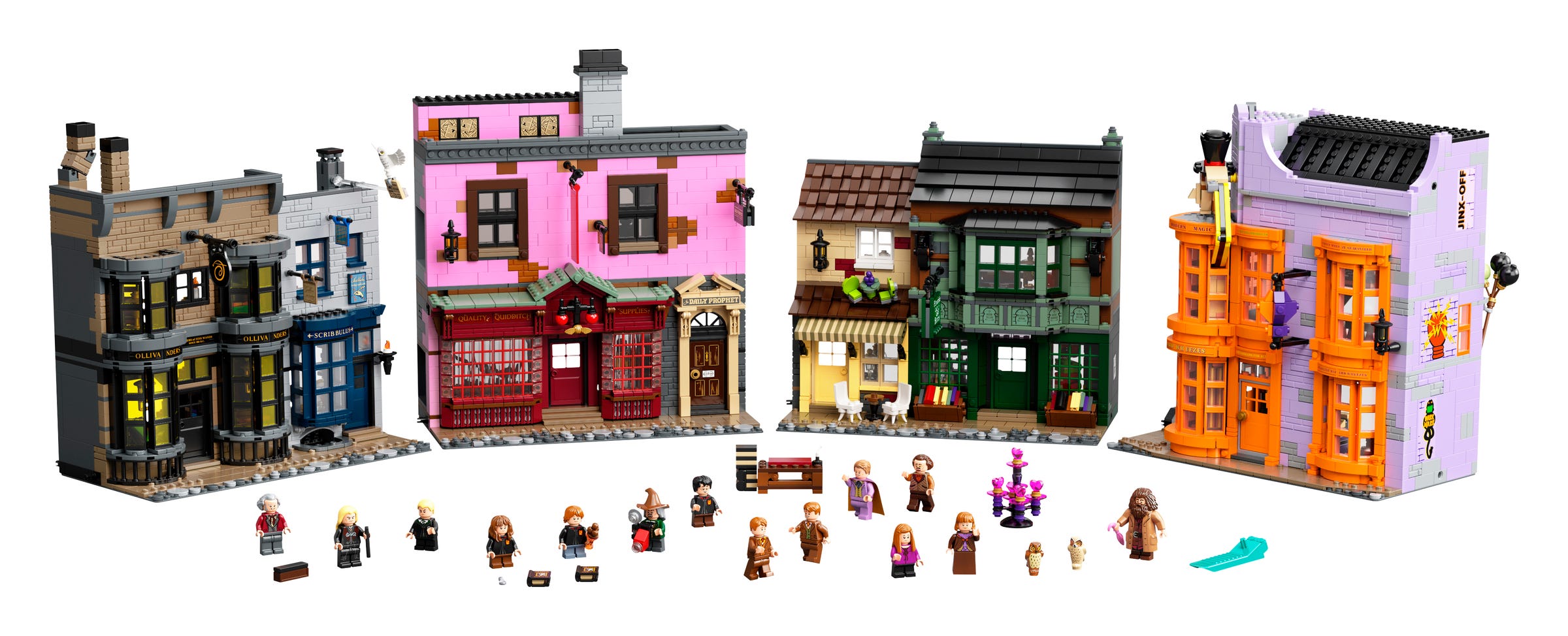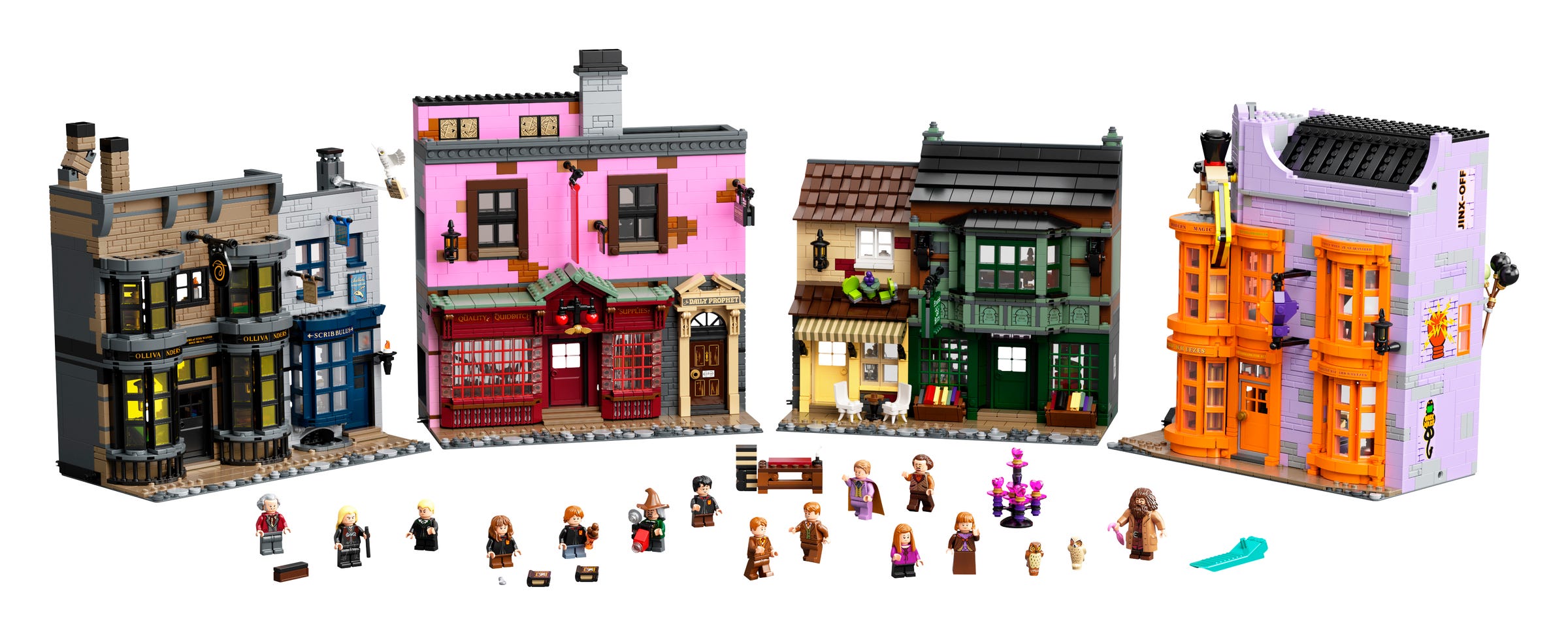 Fans of Harry Potter need look no further than the magical Diagon Alley set, which is currently retailing for £369.99 / $399.99.
5544 pieces make up this 16+ Harry Potter set.
LEGO Harry Potter 75978 Diagon Alley includes famous shops and locations from the wizarding world including the Leaky Cauldron, Ollivanders Wand Shop and Weasley's Wizard Wheezes.
Alongside the six buildings included in the set are four exclusive new characters in the LEGO Harry Potter collection. With each set, builders will receive Gilderoy Lockhart, Florean Fortescue, Lucius Malfoy and the photographer from the Daily Prophet.
Behind the facade of each shop are detailed interiors that make for a perfect opportunity for role-playing stories from the movies, including the infamous Lockhart book signing at Flourish and Blotts.
Included in the set as per usual, are many hidden details from the designers at LEGO. Found inside the set is an exclusively designed LEGO wand case that cannot be found anywhere else.
5. LEGO Technic 42100 Liebherr R 9800 Excavator – £399.99 ($449.99)
As part of the LEGO Technic range, it should come as no surprise that the LEGO Technic 42100 Liebherr R 9800 Excavator retails for £399.99 / $449.99.
The excavator features 2 advanced Smart Hubs and 7 motors allowing it to demonstrate realistic features and motorised functions. This superstructure can rotate and has a fully operational boom and bucket. Using the LEGO TECHNIC CONTROL+ app it can even drive!
Made from 4108 pieces, this set is for ages 12+ making it more inclusive than other big builds.
4. LEGO Star Wars 75159 Death Star – £409.99 ($499.99)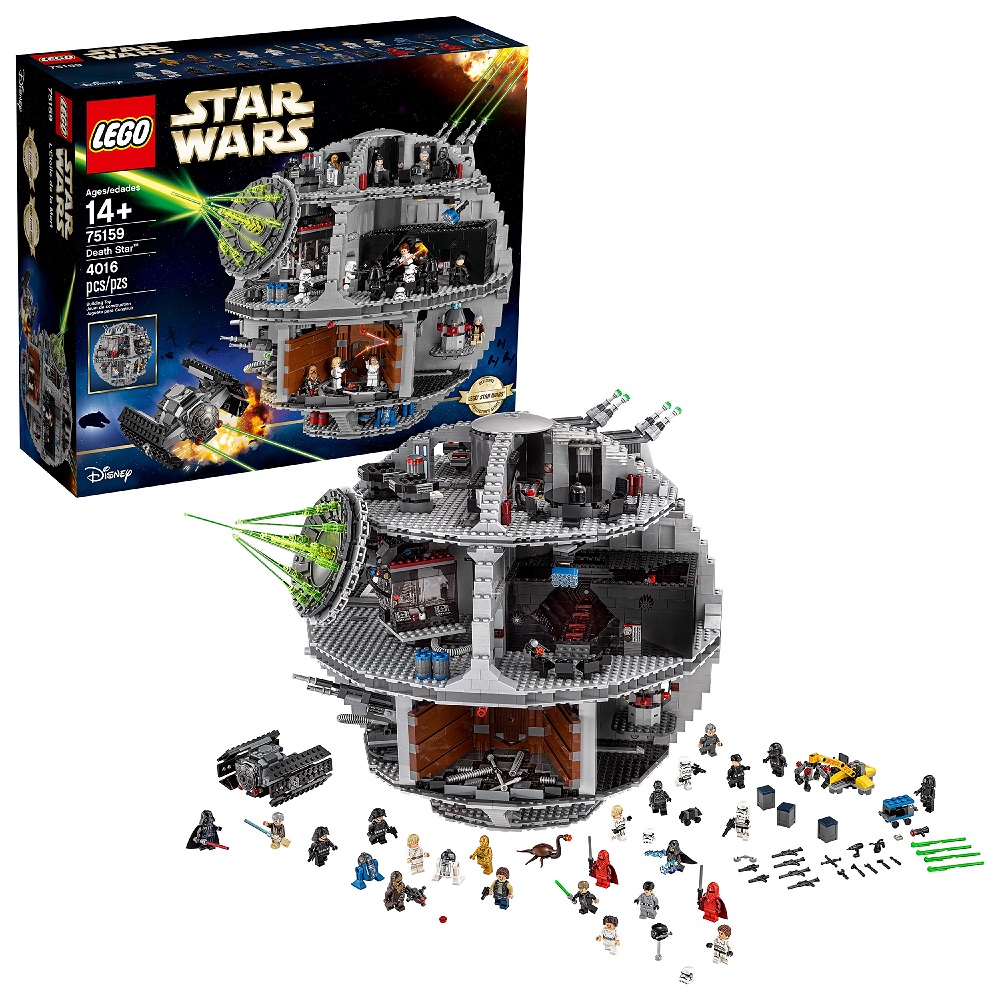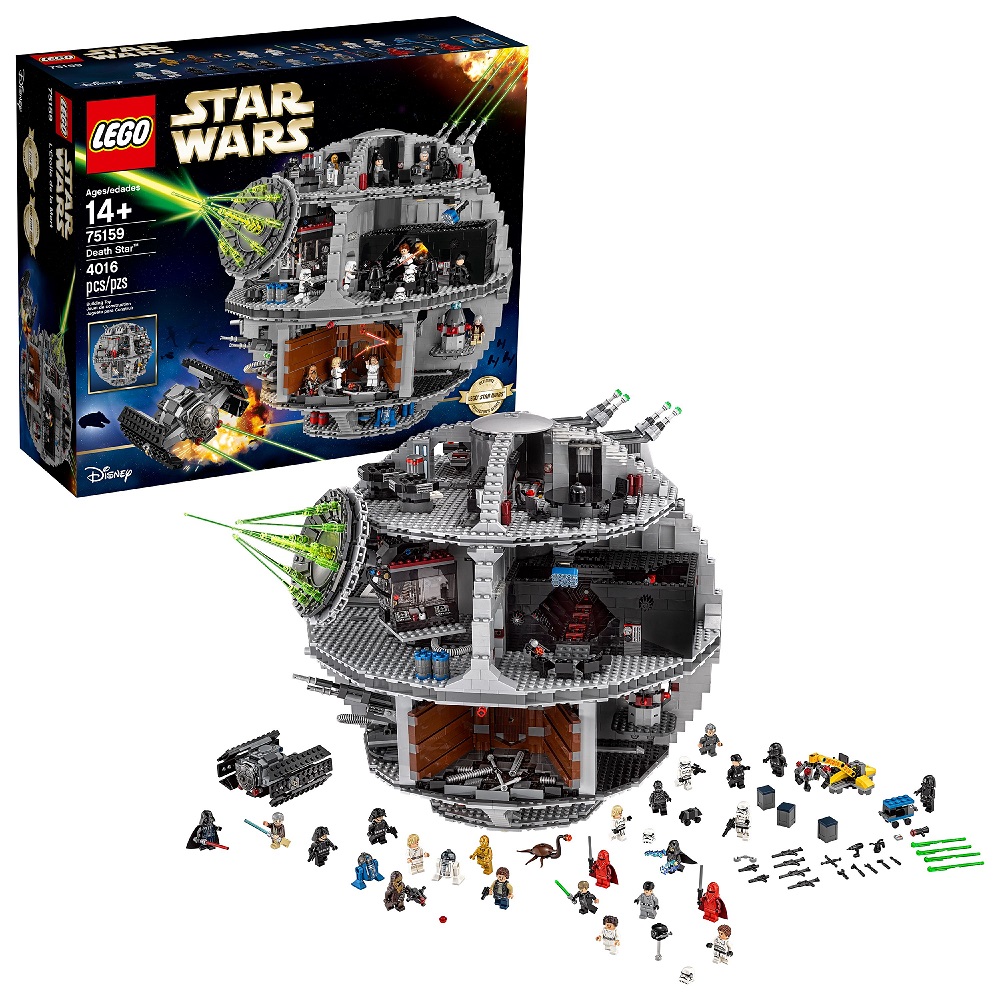 LEGO Star Wars 75159 Death Star retailed for £409.99 / $499.99 prior to its retirement. The set is for those 14+ and consists of 4016 pieces.
This spherical set is certainly a challenge, but one that is highly rewarding thanks to its level of detail.
The Death Star set is complete with turbo laser towers that swivel and move up and down, and even includes the iconic trash compactor escape scene, complete with moving walls.
With the set are 23 minifigures from the Star Wars movies including Princess Leia, R2-D2 and Han Solo.
In addition to the Death Star, the set also includes Lord Vader's TIE Advanced with enough room inside for the Darth Vader minifigure to fit in!
3. LEGO 10276 Colosseum – £449.99 ($549.99)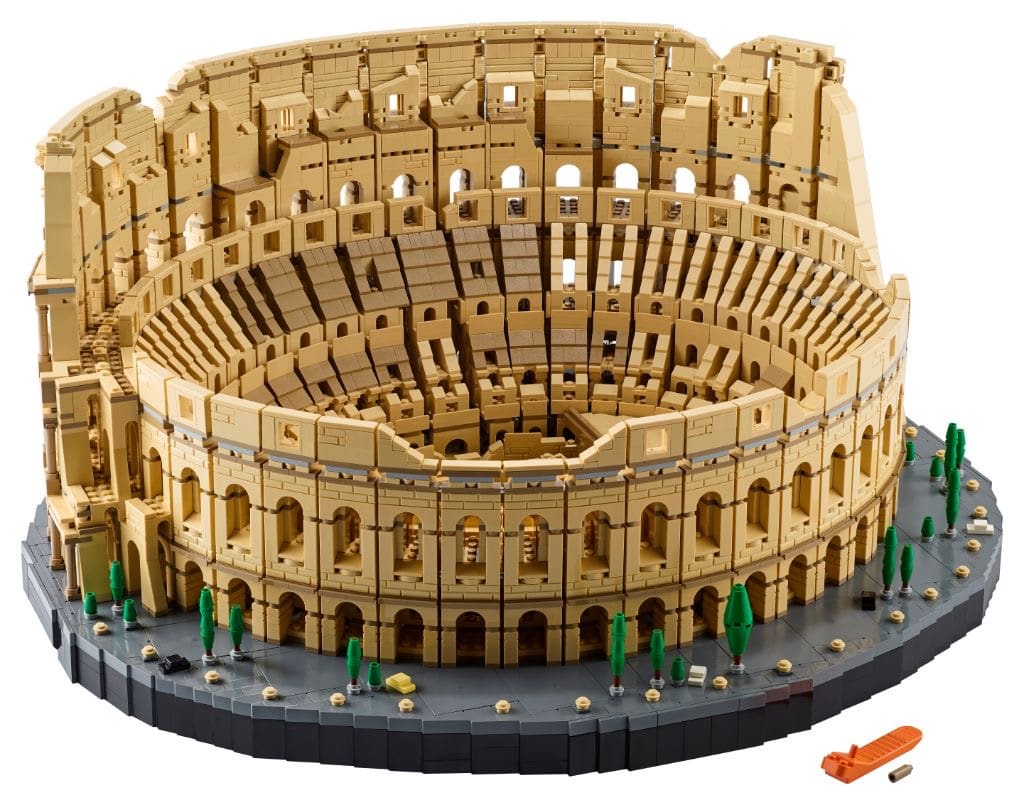 LEGO 10276 Colosseum is a must for LEGO architecture fans. This classical structure has stood proudly in Rome for centuries, and can be yours to assemble at home for only £449.99 / $549.99.
The 18+ set features 9036 pieces. When complete it measures 11" (27cm) high, 21" (52cm) wide and 24" (59cm) deep. According to the LEGO website, as of November 2020 this is the biggest build LEGO have ever sold.
The colosseum set aims to recreate the awe-inspiring roman structure through its attention to detail and aims to capture every key part of the structure. The designers have really gone above and beyond with this creation. Aside from the detail of the walls, LEGO 10276 Colosseum includes the lesser known mysterious structure that lies beneath the arena.
The colosseum sits on an oval platform, and thanks to its historical accuracy, including the crumbling exterior walls, the completed build is viewable from all angles.
This monumental build includes large amounts of accurate historical details. Travertine paving stones form the ancient walkway around the colosseum and the perimeter is dotted with trees.
The historical detail doesn't stop in the accurate colour of the bricks or the hidden architectural details however. Included in the build are columns of Doric, Ionic and Corinthian orders.
2. LEGO Star Wars 75192 Millennium Falcon – £649.99 ($799.99)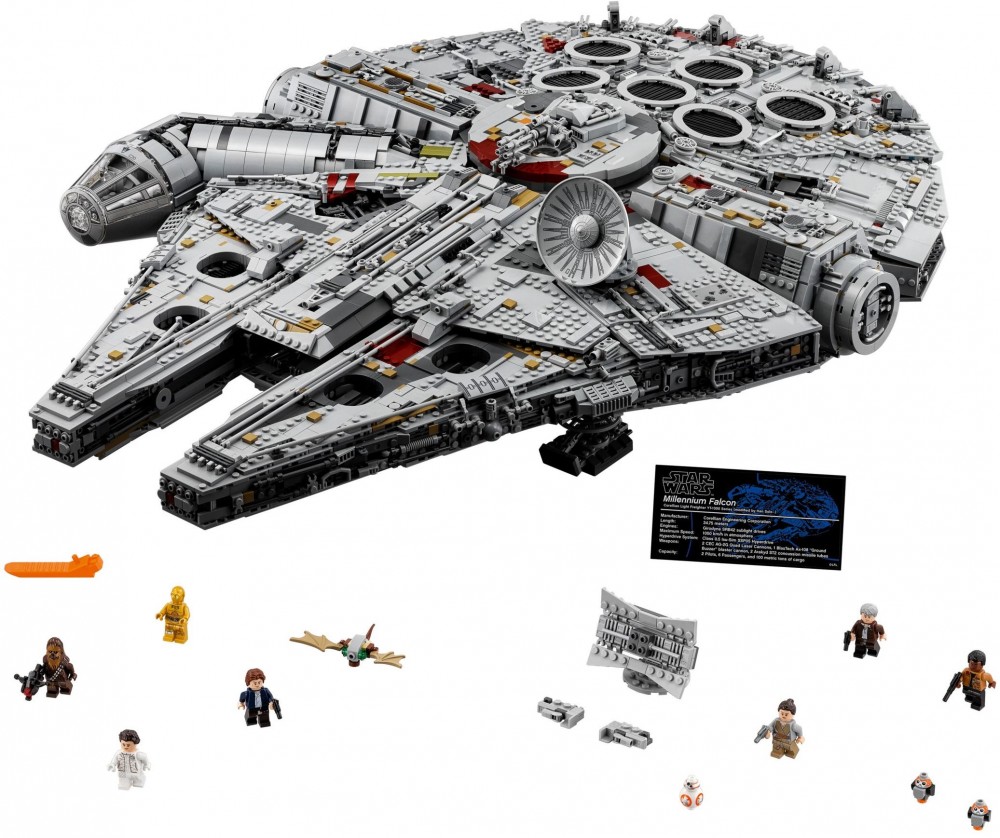 Tied for first place for most expensive LEGO set ever with the LEGO Star Wars 75252 Imperial Star Destroyer is the LEGO Star Wars 75192 Millennium Falcon. Both sets come in at an eye-watering £649.99 / $799.99 making them the most expensive sets currently for sale.
This set is 16+ and has 7541 pieces making it the largest and most detailed version of the LEGO Star Wars Millennium Falcon ever made.
This set includes minifigures for Han Solo, Chewbacca, Princess Leia and C-3PO, as well as an older Han Solo, Rey and Finn from Episodes VII and VIII.
Further figures included with this set are BB-8, 2 buildable Porgs and a Mynock.
The exterior detail on this set is once again outstanding. Hull panels can be removed once complete, the boarding lamp can be lowered and stowed, and the cockpit can fit four minifigures inside.
LEGO Star Wars 75192 Millennium Falcon comes with a display stand and fact card.
1. LEGO Star Wars 75252 Imperial Star Destroyer – £649.99 ($699.99)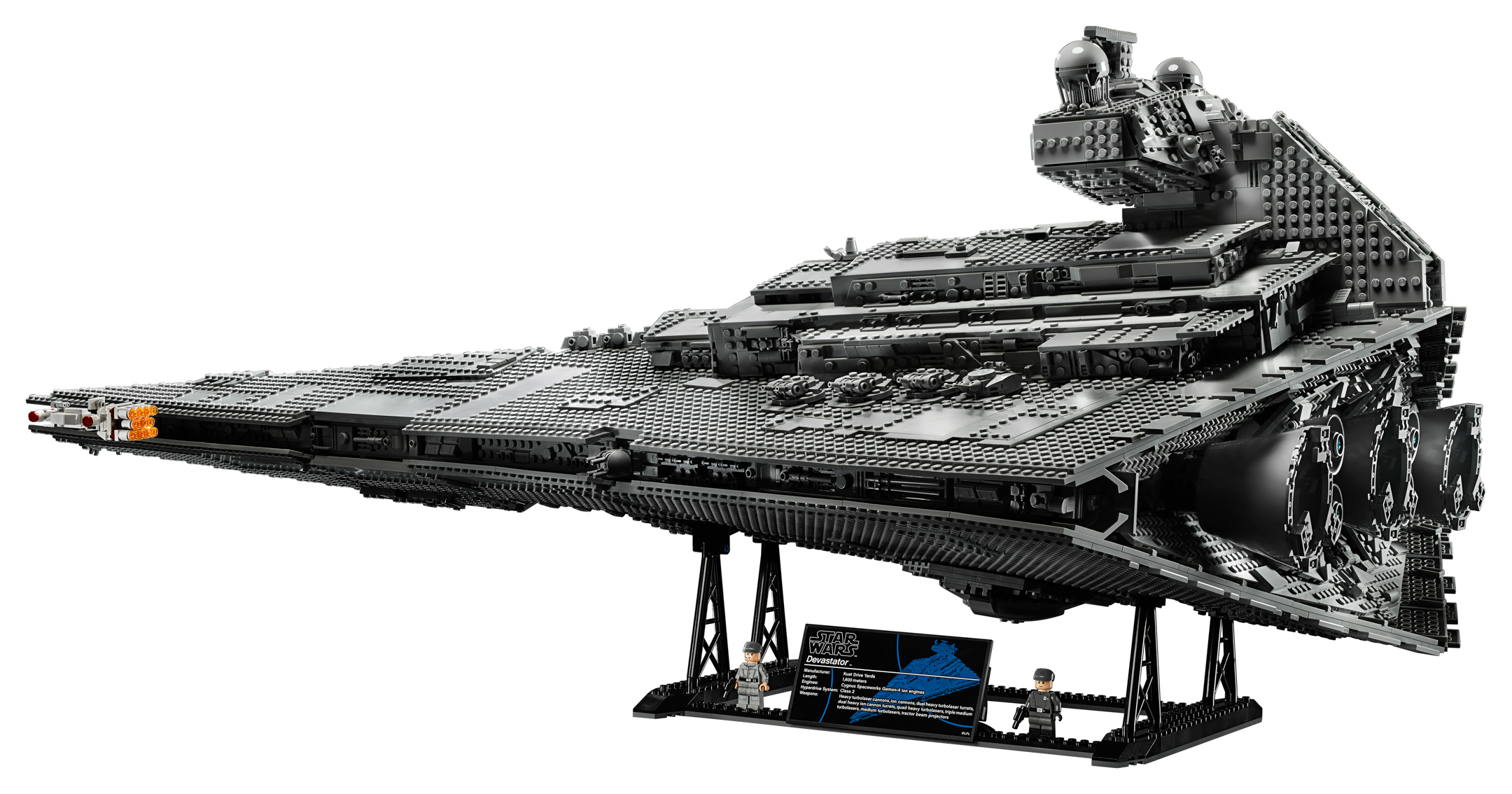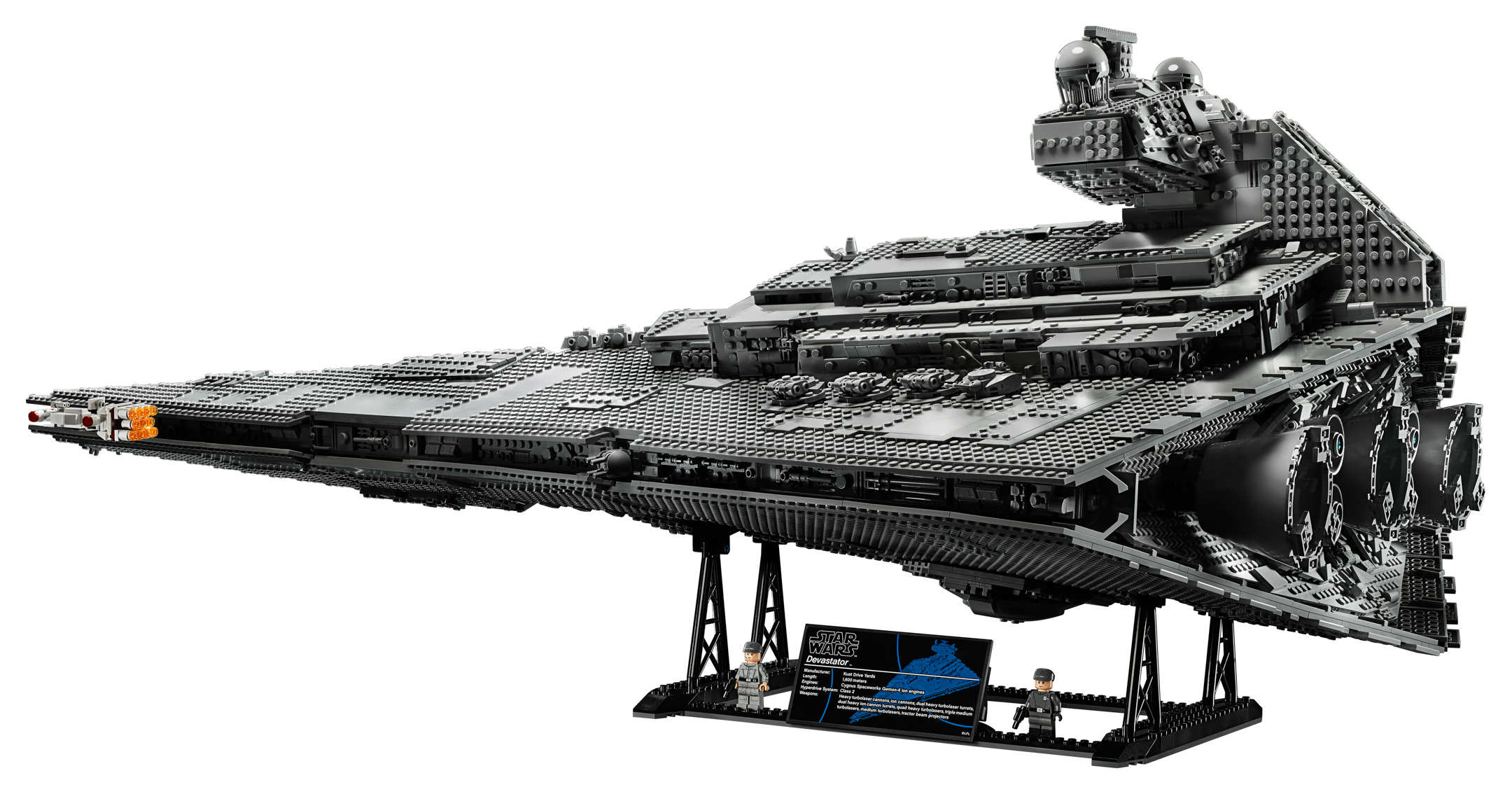 Tied for first place in our list of the most expensive LEGO sets ever, with another product from the LEGO Star Wars franchise is LEGO Star Wars 75252 Imperial Star Destroyer which will set both LEGO and Star Wars fans back £649.99 / $699.99.
As the most expensive set currently for sale, there is no surprise that this set is filled with authentic detail, and is absolutely huge.
The 16+ set includes 4784 pieces and is a whopping 43" (110cm) in length. With the set are miniatures for an Imperial Officer and Imperial Crewmember, as well as 2 blaster pistols.
The Imperial Star Destroyer is designed to be displayed, and is mounted on a stand and can be displayed alongside a fact plaque.
Once again the detail in the set is outstanding. The set has been replicated in accurate scale, and includes intricate surface details and even a tilting tractor beam antenna.
For added authenticity the set also includes a mini buildable Tantive IV which mounts to the front of the Imperial Star Destroyer.