This post may contain affiliate links, we may receive a commission if you make a purchase using these links. As an Amazon Associate I earn from qualifying purchases.
The Diagon Alley. Every Harry Potter fan wishes they could go there! The Diagon Alley is one of the most popular locations in the franchise, and for good reason: it was our first glimpse of the magical world. And it can be in our homes, with the LEGO 10217 Diagon Alley set!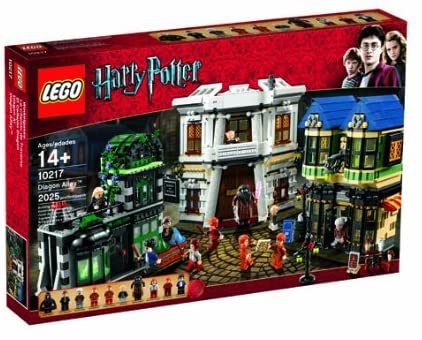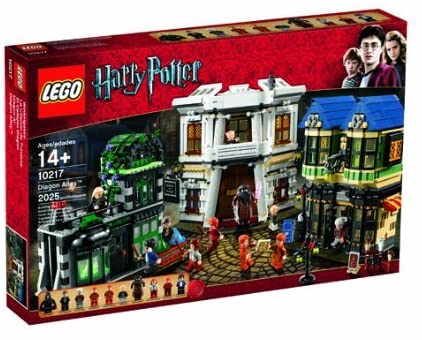 LEGO 10217 Harry Potter Diagon Alley
The Diagon Alley is our entry point in the Wizarding world, right there with Platform 9 3/4. This magical world full of moving pictures, magical and not-so-magical creatures, cauldrons and potions, is a wonder to see. Whether we go to the seedy Knockturn Alley or settle for Ollivander's shop, there's a lot to see and explore.
And that's the magic of LEGO, as well. This set brings three of the more important buildings to us, all realistically built so they look like real-world buildings. The LEGO 10217 set is a great choice for the young child who loves Harry Potter to play out famous scenes from the books, but it's also a great display piece for adult Harry Potter fans.
Released in 2011, this set comes with a whopping 11 minifigures, which gives plenty of opportunity to all sorts of roleplaying scenarios and whatever a child (or adult!) imagination may desire.
The LEGO Diagon Alley set has three buildings: Gringotts, Ollivander's shop and Borgins and Burkes. They are separated from each other and thus, can be combined with other buildings of your own making, or from other sets. Ollivander's is 20 cm high x 13 cm wide, Borgin and Burke's is 20 cm x 18 cm and Gringott's Bank is 21 cm x 10 cm when closed, but 23 cm wide when opened.
What's in the box?
2025 pieces, with an instructions booklet for each building
11 minifigures: Harry Potter, Hermione Granger, Ron Weasley, Rubeus Hagrid, Fred & George Weasley, Mr Ollivander, Death Eater Lucius Malfoy, Fenrir Greyback and 2 Gringotts goblins
A Vanishing Cabinet
The Philosopher's Stone
Accessories such as a skeleton (sized as a minifigure), wands for Ollivander's, owls, glow in the dark items for Borgin and Burke's and more
How much does it cost?
This set is currently retired and thus, prices will vary according to availability and region.
LEGO 10217 Diagon Alley Design Video
LEGO Diagon Alley Review
The LEGO Diagon Alley is a relatively simple set, but still very rich in detail. Each building sets the mood and corresponds fairly well to the settings present in both the books and the films (as well as the real-world theme parks).
Much like in other LEGO Harry Potter sets, this one applies to several different moments of the franchise. The Borgins and Burkes' shop includes a fireplace connected to a Floo Network, as well as a Vanishing Cabinet. The Gringotts Bank has a Philosopher's Stone inside a vault. Hagrid has his umbrella. Just like in the book, he's there to accompany Harry on his first trip to Diagon Alley. Ollivander's has an interesting "exploding" feature to its counter, for when wand tests go wrong.
This definitely adds to the playability of the set, as it isn't restricted to just one moment in the franchise. It makes the whole thing feel like an actual setting, independent of the action that happens in them. Even with so few shops, it is very well put together.
This is the second LEGO Diagon Alley set, with the previous one being LEGO 4723 Diagon Alley Shops. The previous set, however, is much smaller (it only has 80 pieces) and much simpler than this one, which has over 2000 pieces. This one also has excellent craftsmanship in the buildings' fronts and interior.
The minifigures
This set has a whole of eleven minifigures (twelve if one counts the skeleton). There's a good variety there, which offers a lot of roleplaying opportunities.
The LEGO Diagon Alley is the only set to bring the Weasley twins, both in their Weasley's Wizarding Wheezes uniforms. As in the franchise, the minifigures are identical but have different expressions. Unfortunately, the Weasley twins shop is not included in this set.
Another exclusive minifigure in this set is Mr Ollivander, who helms his own shop. This minifigure looks like the character present in the LEGO Harry Potter video games, although in a different colour for pants (he has grey pants in this set rather than brown) and has stubble on his face, which is not present in the video game.
While this isn't the only set to have Gringotts Goblins in the theme (set 4714 Gringotts Bank also has two Goblins), the ones in this set are exclusive and different from the ones in the LEGO 4714 set.
The versions of Harry and Hermione in this set aren't new, although Hermione has an exclusive torso in this one, unique to this set. The version of Harry in this one is similar to the one in the LEGO Hogwarts Express set, but with black pants.
The buildings
Ollivander's
Overall, the buildings are fairly appropriate for their function. The best one is Ollivander's, which is a two-story building that captures the cramped look of the store, with its many wands and narrow build. It comes with a ladder to lead to the second floor and, as mentioned above, an exploding function for play features.
Borgin and Burkes
The weakest one is Borgin and Burkes. While the building looks great outside, the inside is not as detailed and not as good as the version that comes with the LEGO 4720 Knockturn Alley set. Still, it has glow in the dark bricks which are fairly difficult to find, and it still looks good. The Vanishing Cabinet complements the one in the LEGO Hogwarts Castle, although with a nicer design.
Gringotts Bank
Meanwhile, the Gringotts Bank captures the grand appearance of the building, with the chandelier and the details. This building is also hinged, which makes it look even bigger and grander when open. It comes with a vault which includes the Philosopher's Stone and some coins.
Accessories
Beyond the buildings and the accessories typical of them, this set also brings other items such as a lamppost, owls, some extra items such as cauldrons, a chocolate frog and other details that complete and ground the scene into something more real. These details make the whole thing look put together like a real setting and not just three unrelated buildings.
Conclusion
The LEGO 10217 Diagon Alley set provides a very beautiful display piece as well as some decent playability factors. While there aren't a lot of special functions, the minifigures, accessories and building themselves can inspire quite a bit of playtime, whether recreating scenes from the franchise or just creating new Harry Potter stories.
This set also could benefit and enrich the experience with other sets, such as Knockturn Alley and the Quidditch Shop, and also the Hogwarts Castle set. Still, it stands out on its own and looks so good it may even complement regular Town sets, as the buildings look very realistic and detailed.