This post may contain affiliate links, we may receive a commission if you make a purchase using these links. As an Amazon Associate I earn from qualifying purchases.
If you are looking for a large creative box of LEGO then you'll want to read this review. Coming in at 1500 pieces, the LEGO 10697 classic box includes special pieces, 39 different colours and instructions for 5 creative builds.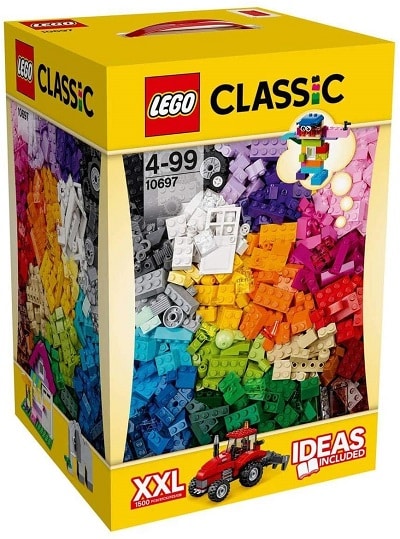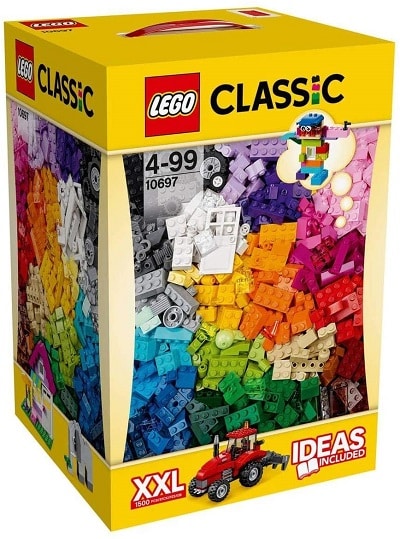 Box sets can be perfect for creative thinking and building without rules, but find out whether this 1500 piece set is suitable for your needs.
LEGO 10697 Classic Box
This set is suitable for ages 4-99. Product dimensions are 26.5 x 24.7 x 37.5 cm and the product weight is 2.2kg.
What's included in the box?
A large range of classic LEGO bricks in 39 different colours.
Special pieces include: 4 different sets of eyes, 4 window frames, 2 types of window, 3 door frames, 3 doors, 14 wheel rims and 16 tyres. There's also a brick separator tool.
Sturdy storage box and inside the bricks are sealed in clear plastic bags. The bag contents are colour coordinated; greens, blues, pinks, yellows, browns, whites and blacks, reds, purples and greys.
The box can be used to carry the bricks and includes a red plastic carry handle. This allows for easy transportation of your large creative box.
The 10697 Instruction booklet comes with 5 builds and a total of 10 constructions.
Unboxing Video
See the full unboxing of a LEGO 10967 creative set below, along with the builds already made;
Building instructions / ideas included?
The official LEGO Classic 10697 instructions manual includes builds for; a tractor, house front, truck, elephant, and a lizard.
There are also official free online instructions for other build ideas. These include; a blue bus, building site, petrol station, sofa and coffee table, and an xylophone. The builds are really straight forward for all ages, just follow the step-by-step guide.
LEGO Large Creative Box Review
This excellent value for money base set has an emphasis on bricks. However, in our opinion the main advantage of the LEGO 10697 set over other bulk starter or booster sets is that it includes wheels in various sizes, different types of window, house doors and tiles etc. This has allowed for greater flexibility in the builds, with an emphasis on houses and vehicles.
The special items listed above are not frequently included in bulk LEGO sets, so it's definitely a big selling point.
Pros
Allows for lots of creations and can even be used by several builders at the same time. Many people will use this as a family sharer set as it contains 1500 pieces.
Excellent set for the creation of houses and vehicles. This set includes loads of the more sought-after pieces, further adding superiority to most other starter or booster sets.
Includes everything a casual LEGO builder may need, making for a great gift.
Top quality supplement set for specialist pieces which are included in dedicated builds.
Exciting array of vibrant colours allowing you to build with symmetry. It's great to get some of the smaller pieces in different colours for a change. There's also transparent colours and many LEGO colours that most of you will not have seen before.
Keeps LEGO builders busy for months, rather than a one-time dedicated build that can be finished in a day.
Cons
We would have liked to see the inclusion of figures and other objects to bring a bit more depth and creation possibilities. More specifically, objects such as trees or flowers that allow for garden creation would have been nice.
Lacking plate pieces, including very large baseplates or technic style bricks and pieces.
Lacking smaller pieces to build really intricate designs, however the assortment is perfectly suitable for most users.
Each colour comes sealed in plastic bags, and the bags cannot be re-used. While the box allows for storage (it could do with being a bit smaller), it would be better if a separator was included in the box to allow users to separate their LEGO by pieces or colour.
Conclusion and final verdict
The LEGO Classic 10697 box will allow for endless creations and ideas. It won't cater for some fans looking to create very intricate designs, but it will be perfectly suitable for most LEGO builders.
An excellent assortment of 1500 pieces and 39 different colours makes it perfect as a sharer box for the family (or for yourself). It would also make for a fantastic gift. The instructions booklet included and the additional 5 builds online make it perfect as a springboard to create bigger and better things.
We highly recommend this classic LEGO set for most builders. For those of you looking to build more complex ideas, this could make for the perfect supplement to an existing set.
Know of a budding builder or construction expert that may want more information on the 1500 piece LEGO 10697 large creative box set? Let them know about our review. We'd love to hear your experiences in the comments below.