This post may contain affiliate links, we may receive a commission if you make a purchase using these links. As an Amazon Associate I earn from qualifying purchases.
2018 is here and today you can find the latest LEGO Ninjago 2018 sets available! We've already covered the LEGO Star Wars 2018 sets before, but this time, we'll be looking at Ninjago which may include spoilers of season 8 of the Sons of Garmadon tv series.
LEGO Ninjago 2018 Sets Guide
The Ninjago theme is an exclusive creation of LEGO. It started in 2011 and continues strong to date, with both a TV series and a feature-length film. We've talked about some of these sets, including the Quake Mech and Garmardon's Lair, officially considered part of the 2018 collection.
There are more sets to come, however, so let's take a look at them! These have Sons of Garmadon subtheme, which refers to the new season of the Ninjago TV series. There will be also some LEGO Ninjago Movie sets in 2018.
Note: this post may contain spoilers for Sons of Garmadon season of the Ninjago TV Show.
LEGO Sons of Garmadon Sets
The Sons of Garmadon refer to the newest season of the Ninjago TV show. As it's not yet released, there is a lot that we don't know about characters and events in the upcoming season. Still, we already have some pretty cool sets scheduled to come out in 2018.
LEGO 30530 Wu-Cru Target Training
First on our list is the LEGO 30530 Wu-Cru Target Training! This is a polybag, and we don't know much about it, other than it comes with Lloyd and Nya minifigures. As per the polybag image, it includes an archway structure with a gong, as well as the two minifigures. This set has 46 pieces.
LEGO 30531 Sons of Garmadon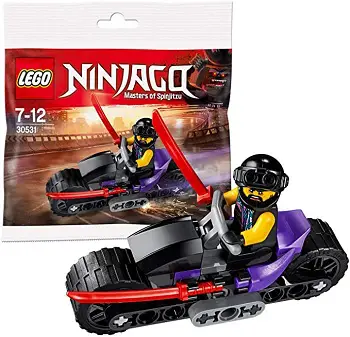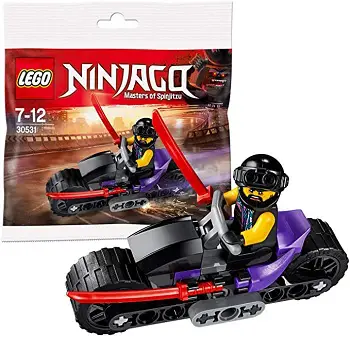 This is another polybag that we don't know much about just yet, though we have some pictures already. This one includes a cool motorcycle, at least two swords and a minifigure. As with the LEGO 30530 set, we don't have a piece count just yet (it should be around 30). We also have a Luke Cunningham minifigure that comes with this set. This polybag, as well as other sets, seem to suggest the Sons of Garmadon are a biker gang (possibly a spoof of Sons of Anarchy!).
LEGO 30532 Turbo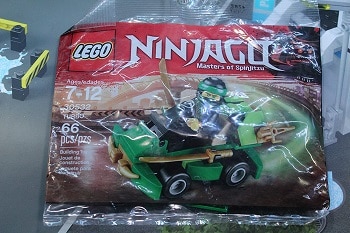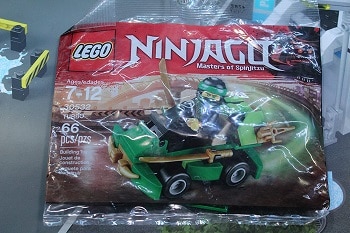 This polybag should have around 60 pieces and features Lloyd in his car, equipped with two swords. It also seems to have sais with him.
LEGO 70638 Katana V11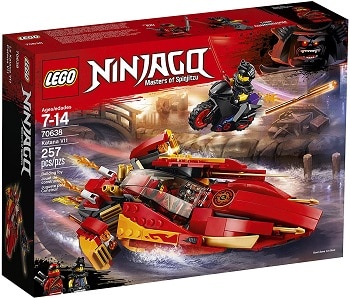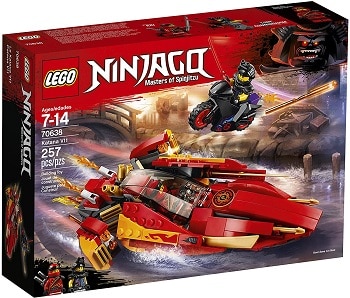 The LEGO 70638 257 piece set features 2 minifigures: Kai and one of the Sons of Garmadon bikers, Luke Cunningham. The Katana V11 has speed and attack modes, an opening minifigure cockpit, foldout boosters, 2 hidden spring-loaded shooters, an opening storage compartment and gold-coloured ninja blades. This set definitely has a fire theme to it, with bright red and gold as its main colours, and lots of translucent fire piece elements to add to the exhaust pipes of the vehicles. The weapons included are Kai's 2 Katana's and Luka Cunningham's Katana.
LEGO 70639 Street Race of Jaguar Snake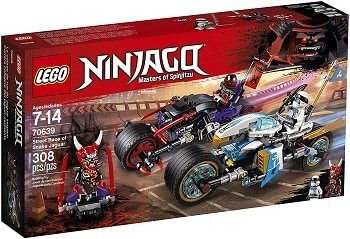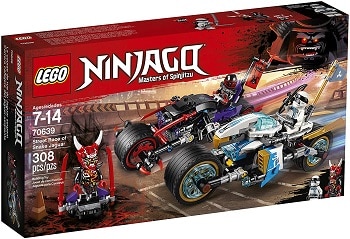 The LEGO 70639 set comes in at 308 pieces and continues the biker gang style of the Sons of Garmadon subtheme. In this set, we have an Oni Mask of Vengeance, which comes with a half torso. This gives Mr E, a Son of Garmadon, a new pair of arms when he wears the mask. This set also includes a Titanium Zane bike, and a Zane minifigure, as well as new giant sword moulds.
LEGO 70640 S.O.G. Headquarters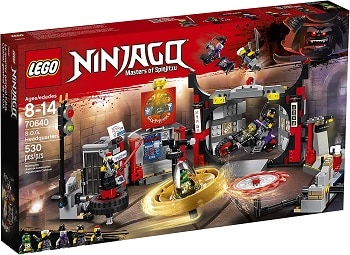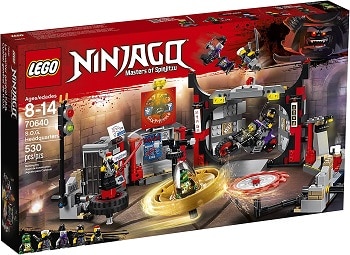 This set fits both the Sons of Garmadon and the Spinjitzu Masters LEGO Ninjago 2018 subthemes. It brings the Sons of Garmadon headquarters and includes a Lloyd Spinjitzu spinner. It comes with 530 pieces and includes three S.O.G. minifigures, including one that seems to be a lot like Zane, and a Lloyd minifigure, a bike, and the structure of the headquarters itself, which seems located in a subway of sorts.
LEGO 70641 Ninja Nightcrawler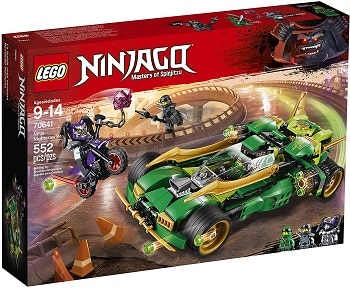 This LEGO Ninjago 2018 set brings us the Ninja Nightcrawler, an interesting new vehicle that seems to belong to Lloyd. This set includes three minifigures, including an UltraViolet minifigure with her bike, a Nya minifigure and a Lloyd minifigure. This set has 552 pieces.
LEGO 70642 Killow vs. Samurai X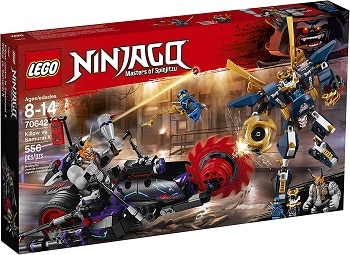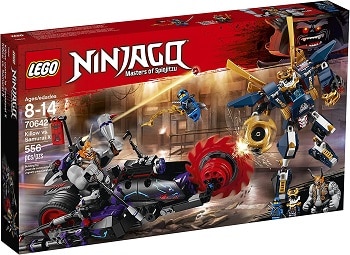 The main attraction in this set is the new bigfigure, Killow! This big, muscular and tattooed biker fits the Sons of Garmadon theme quite well. While he is arguably the star of this set, it does also include his bike (which has a saw on the front) and a mech. As well as the bigfigure it comes with a Samurai X and a Jay minifigures. This set has a total of 556 pieces.
LEGO 70643 Temple of Resurrection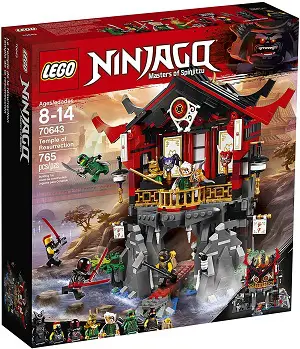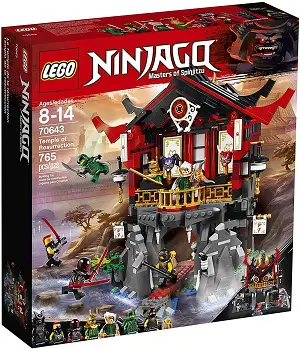 This 765 piece set is one of the most exciting of the known LEGO Ninjago 2018 sets. This set comes with several minifigures, including a mysterious baby minifigure we know nothing about. There are also two temple guardians (Harumi and Hutchins), a Lord Garmadon that looks different from usual, as well as Lloyd, Cole and two Sons of Garmadon (Mr E and Chopper Maroon).
It also includes three oni masks, weapons and much more, including a very cool skeleton minifigure with a "broken" leg, a bat, spider and spiderweb. This temple, like Garmadon's Volcano Lair, seems to be on a mountainside and has a "watery" base to it.
LEGO Spinjitzu Masters
These LEGO Ninjago 2018 sets come with one minifigure each. The Spinjitzu Masters sets are a combination of both spinners and flier sets. They come with a ripcord from which the top piece flies off and spins on the ground. For this season of Ninjago, we have around five new spinners.
The spinner sets don't include much, just the spinning piece with a transparent dome, a minifigure, the ripcord and a small build with weapons. They vary from around 60-75 pieces, depending on the set.
LEGO 70633 Kai – Spinjitzu Master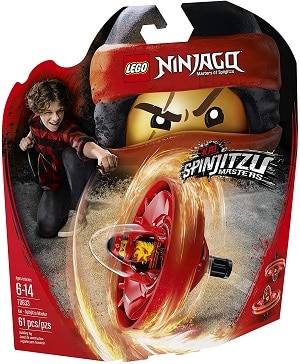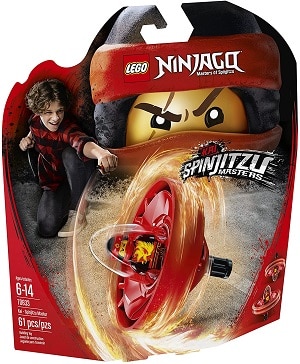 LEGO 70634 Nya – Spinjitzu Master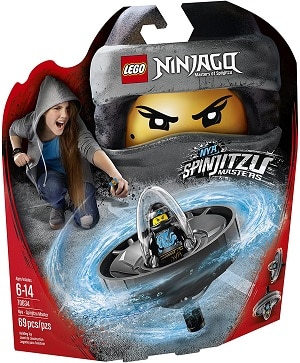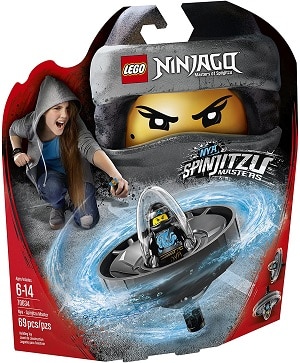 LEGO 70635 Jay – Spinjitzu Master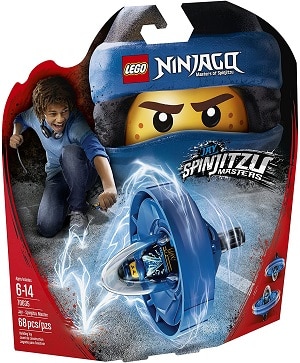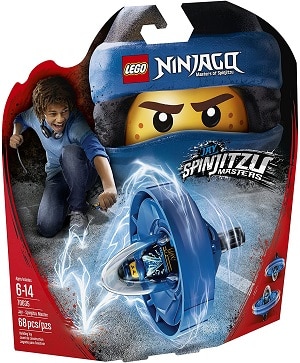 LEGO 70636 Zane – Spinjitzu Master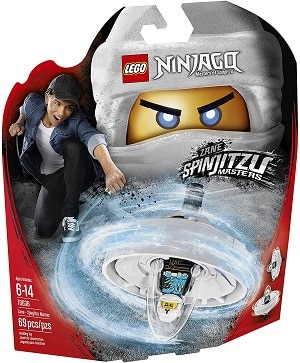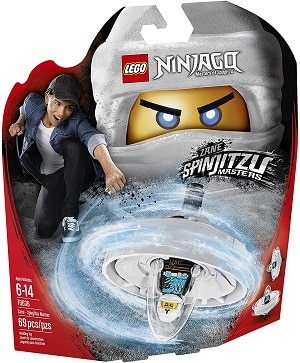 LEGO 70637 Cole – Spinjitzu Master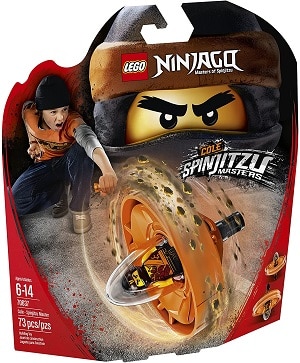 LEGO Ninjago 2018 Pods
Pods are very small sets, meant for very young children and usually with only a small build or a minifigure inside. These are a cheap way to get minifigures and other small, fun things or spare pieces. 2018 brings two pods, in the typical blister package, one for Cole (853759) and one for Jay (853758). These will have a limited release to LEGO Florida in December 2017!
Upcoming sets
We have the names of some more, upcoming sets! There are no pictures or piece counts yet, but by the names alone they sound very promising. Stay tuned, as we'll update this post as we learn more about these LEGO sets!
70649 Nya – Master of Dragons
So this concludes our LEGO Ninjago 2018 sets overlook! Did we miss any? Are you excited for them? Let us know in the comments below!