2017 brought many LEGO sets to the Star Wars theme, but 2018 will bring a lot more! Here are some of the LEGO Star Wars 2018 sets to get excited about, including new brickheadz, microfighters, buildable figure sets, polybags, Last Jedi sets and more!
The LEGO Star Wars 2018 Sets Guide
Last year brought a lot of very cool Star Wars stuff. We've seen plenty new sets, minifigures and of course, The Last Jedi! So it's expected that 2018 will bring even more interesting sets, many of which show stuff of the new movie.
Here at Ninja Brick, we're all excited to see what the new year will bring, so let's take a look at what we already know about the new LEGO Star Wars 2018 sets.
For great deals on older and newer Star Wars sets, check out Silly Billy's Toy Shop!
Brickheadz
LEGO 41602 Rey & 41603 Kylo Ren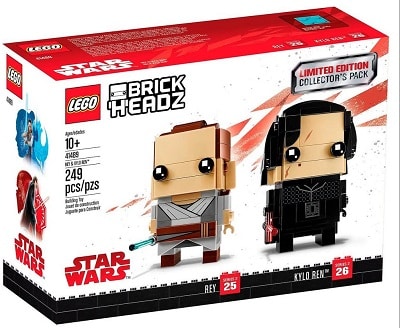 The year of 2018 already brought us two more Brickheadz sets: Kylo Ren (41603) and Rey (41602). These follow in the wake of a Kylo Ren and Rey Brickheadz set with both (41489). The latter was exclusive to Target.
Microfighters
Microfighters are cheaper sets with simpler models and a low piece count. These sets are recommended for children ages 6 and up. We'll get several Star Wars microfighter sets in 2018. These are a great way to get minifigures, especially ones that usually only come in very expensive sets. Let's check them out!
LEGO 75193 Star Wars Millennium Falcon Microfighter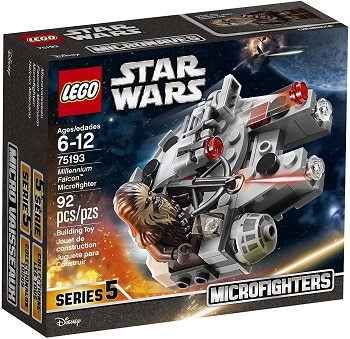 This set comes with a Chewbacca minifigure and follows on the steps of the 2017 movie The Last Jedi. The Millennium Falcon has many different full-sized sets, with two releases last year. This simplified, micro version of it is appropriate for children as young as 6. It has 92 pieces.
LEGO 75194 First Order TIE Fighter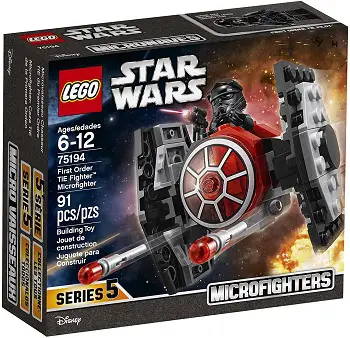 This microfighter set features a First Order TIE Fighter in a total of 91 pieces. As with the new 2018 Millennium Falcon microfighter, it comes with a minifigure. LEGO suggests that the two sets work together in a TIE fighter battle sequence. The minifigure comes with a blaster pistol and the TIE fighter shoots a missile.
LEGO 75195 Ski Speeder vs. First Order Walker Microfighters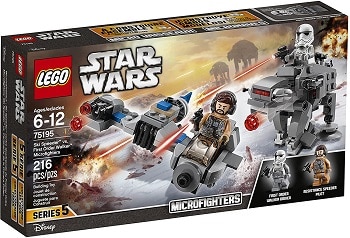 This cool little set has 216 pieces and includes two very cool minifigures. The Ski Speeder is a new vehicle that appears in The Last Jedi trailer. The First Order Walker is also very interesting and has a stud shooter, which adds to the whole set. As it has two vehicles and minifigures, it's very playable. It comes with a resistance fighter pilot and a First Order Walker driver. The resistance fighter pilot minifigure that has a new hairpiece, adding to the playability and uniqueness of the set. This is a 2-in-one Microfighter LEGO set.
LEGO 75196 A-Wing vs. TIE Silencer Microfighters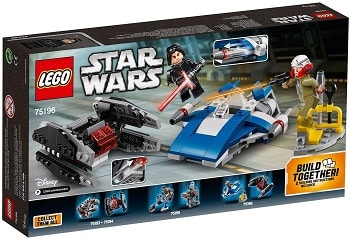 The A-Wing vs. TIE Silencer set follows the LEGO Star Wars 2018 sets tendency for more dynamic and playable Microfighter sets. Beyond that, this one offers a unique opportunity to get the Kylo Ren minifigure for very cheap, as well as 188 pieces. This version of Kylo Ren doesn't come with the mask, but it has a very cool look for a very low price. This set also includes a mini-stand, which is rare in Microfighter sets.
Polybags
Polybags are small sets with few pieces and minifigures which come, as the name suggests, in a small plastic bag rather than a box. These tend to be promotional and cheaper than boxed sets, but they still offer playability and pieces for collectors.
LEGO 30380 Kylo Ren's Shuttle Polybag
The LEGO 30380 Force Awakened themed polybag comes with 33 pieces. There is a buildable version of the shuttle, as shown in the packet. This is the second polybag featuring Kylo Ren's shuttle, the previous being the LEGO 30279 bag.
LEGO 40298 DJ
This polybag includes only one minifigure and a stand for it. It's likely to be a Toys R Us exclusive. The stand includes a simple background and the character's name (DJ) on the front. It's intended as a simple display figure, although of course the minifigure can be used elsewhere. The character DJ (known as DJ Code Breaker in LEGO) appears in The Last Jedi and the LEGO minifigure is a very nice minifigure. The stand has a built-in Technic pin that helps connect it with other stands of the same sort.
LEGO Buildable Figure Sets
Buildable figures are brick-made, big-scaled, realistic figurines of common characters. The Star Wars buildable figures collection includes many characters from the super-famous saga, but this year will bring at least two (rumoured five) new Buildable Figure sets.
LEGO 75533 Boba Fett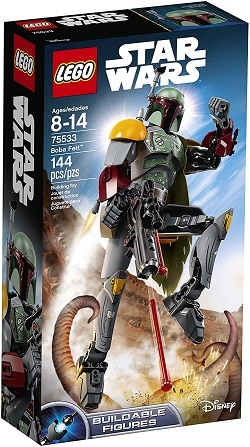 Following on the success of the Jango Fett buildable figure, the new LEGO Star Wars 2018 collection brought us a Boba Fett buildable figure! This set looks gorgeous and is very posable, which makes it even better for display and even pure play. It has 144 pieces.
LEGO 75534 Darth Vader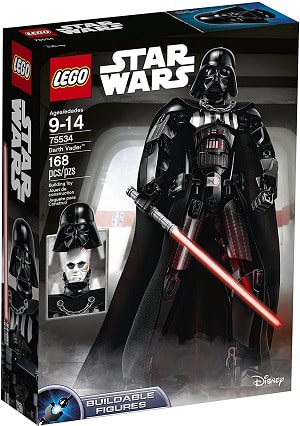 This might be a surprise to some as 2017 already had a Darth Vader buildable figure set, which is still on shelves. Nonetheless, the 2018 version has its own characteristics, as it comes with a removable Darth Vader mask, which shows his face underneath. All in all, a very cool set, coming in at 168 pieces.
LEGO 75537 Darth Maul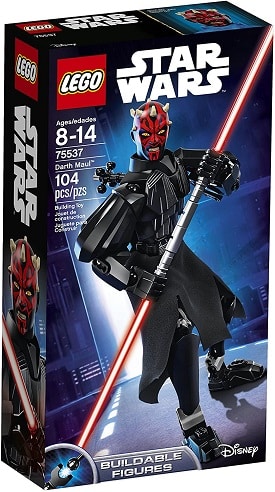 This buildable figure looks gorgeous. It includes the double-ended lightsaber, a cloth piece like a loincloth for Darth Maul, and an expressive face. Like others, it's very posable and looks amazing on display.
Other Buildable Figures
This year there will be several new buildable figures in the Star Wars theme, other than Boba Fett and Darth Vader. Some of the expected sets are:
75539 501st Legion Clone Trooper & AT-RT Walker
LEGO Star Wars: The Last Jedi sets
There will be several new sets focused on the Last Jedi film. Released in December 2017, this is Episode VIII and the latest of the new saga! It features Kylo Ren, Poe, Rey, Finn and many more new characters, and the sets are no different. There are four sets; 75197, 7500, 75202 and 75201.
LEGO 75197 First Order Specialists Battle Pack
The LEGO 75197 set comes in at 108 pieces, where the main appeal is the exclusive First Order Executioner minifigures, with their awesome electric staffs. They're very interesting minifigures for such a cheap set, and they don't seem to be part of any bigger sets, either. The set also comes with a rotating and elevating laser cannon that has spring-loaded shooters and blaster pistols with stud shooters. Definitely worth it for the exclusive minifigures!
LEGO 75200 Ahch-To Island Training
The Ahch-to island is one of the most interesting LEGO Star Wars 2018 sets we know of! For one, it has a hut that's very similar to Yoda's (which will also feature in a 2018 set). It comes with several accessories such as a pan, a fish and a transparent cup. But the most interesting aspects of this set are the minifigures. This one comes with older Luke Skywalker for the first time. It also brings a Rey minifigure and a Porg. The latter appeared for the first time in the LEGO 75192 Millennium Falcon.
At 251 pieces and a cheaper set, it's a much more affordable way to get a Porg minifigure as well as older Luke. Porgs are something of a new sensation in the Star Wars franchise, so it's a great opportunity to get both.
LEGO 75202 Defense of Crait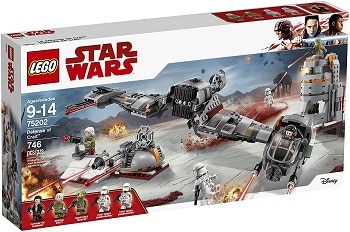 The LEGO 75202 set brings a Crait speeder as well as some ground units to play out an actual battle scene. It's one of the largest Star Wars sets released this year, thus far, at 746 pieces. Still, it comes with five minifigures, including Captain Poe Dameron, Resistance Admiral, Resistance Trooper and two First Order Snow Troopers.
The speeder, which is the main attraction of this set, has a strong resemblance with B-wings and Resistance transport pods, but it's slimmer and different enough to be its own thing.
LEGO 75201
First Order AT-ST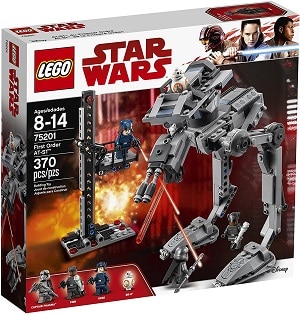 The LEGO 75201 set features three minifigures: Finn and Rose in First Order disguise and Captain Phasma, plus a BB-8 figure. The partially constructed First Order features posable legs and a rotating turret function with 2 spring-loaded shooters, which makes this set very playable. The buildable hangar lift has space for a minifigure (BB8 in the picture). The weapons included are Rose and Finn's blaster pistol and baton and Captain Phasma's blaster and spear.

This set is suitable for ages 8-14. The AT-ST measures 22cm high, 20cm long and 13cm wide. The Hangar lift measures 17cm high, 4cm wide and 8cm deep.
LEGO Han Solo Movie Sets
Yes, there will be some new LEGO Star Wars 2018 sets focused on the Han Solo movie. Sadly, we still don't have any pictures of them, although we do have numbers and names! You can find the first full trailer for Solo: A Star Wars Story here. Also, we've made a separate post talking about all the Han Solo Minifigures. The sets are:
75207 Imperial Patrol Battle Pack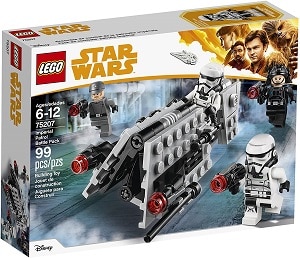 This set should include Stormtroopers with the new design. These seem to have more black to them, with thicker dark lines around the eyes and face and a more oriental/Japanese design almost. It also includes a vehicle of some sort, likely equipped with stud shooters, a pilot and a Death Star Officer.
75209 Han Solo's Landspeeder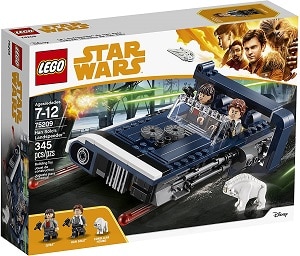 The Han Solo landspeeder looks almost like a classic car in style, with a wide front and very interesting lines. It should come in a dark blue, and this set also includes the Qi'Ra character, who seems to be a Corellian. It also includes a Corellian hound, a new type of animal.
75210 Moloch's Landspeeder
The presence of a second landspeeder seems to suggest some sort of chase or race. Still, Moloch's landspeeder is also very blocky, but less wide and classical than Han's. This set includes two Corellian hounds, which seem smaller than the one on set 75209, Moloch himself and a character named Rebolt. This character comes equipped with a whip.
75211 Imperial TIE Fighter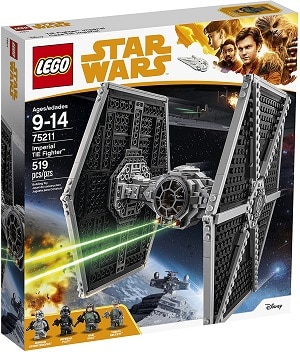 This year we get another TIE Fighter, in a lighter grey and black and which resembles Kylo Ren's. This set includes a Tobias Beckett in Imperial Disguise and Han in Imperial disguise as well, suggesting some sort of infiltration. We don't know how deeply this will affect the Solo movie's plot, of course, but it's interesting nonetheless.
75212 Kessel Run Millennium Falcon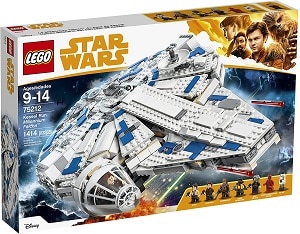 The Kessel Run Millennium Falcon is the newest iteration of this ship in LEGO. We don't yet know how it differs from the usual Millennium Falcon, but it does seem to include a lot of blue, both light and dark, and a Kessel Bot as well. This set also includes Qi'Ra and Lando Calrissian, as well as Han and Chewbacca, showing a nice plot suggestion there. It will be available on April 20th, 2018, which is before the Solo movie releases.
Other than these sets we should get two new Brickheadz which tie to the theme: Chewbacca and Han himself. There are more sets to come, so stay tuned for updates!
Other LEGO Star Wars 2018 Sets
We've covered most of the sets we know of, relating to the new and upcoming movie and classic characters, but that isn't all! We have several more sets coming, including with older movie themes, as well as the Clone Wars series. Let's check them out.
LEGO 75198 Tatooine Battle Pack
This little set joins the other Battle Packs of 2018 and includes two Jawas and a Tusken Raider, relatively rare minifigures (second appearance for the former, third for the latter). It also comes with an Astromech droid. At 97 pieces, this set features a service vehicle with stud shooters, as well as an articulate crane.
LEGO 75199 General Grievous' Combat Speeder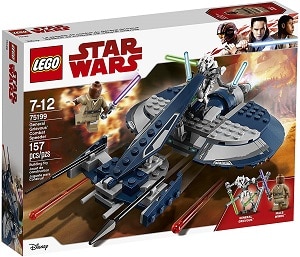 This set includes a very cool General Grievous minifigure, his speeder and a Mace Windu minifigure. Inspired by the Clone Wars series (not the movie), the ship includes spring-loaded shooters and of course, all of General Grievous' lightsabers. It has 157 pieces. The combat speeder has storage space underneath it and spring-loaded shooters for extra playability.
LEGO 75205 Mos Eisley Cantina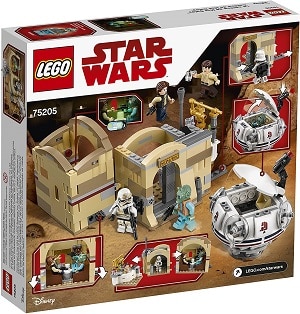 The Mos Eisley Cantina got its own set in 2018 (likely due to the upcoming Han Solo movie, although it's modelled after A New Hope). It's fairly simple, with an entrance, booth and bar. It comes with Greedo and Han Solo minifigures, as well as Wuher and a Stormtrooper. A cool addition is the Ubrikkian 9000 pod, which has a minifigure cockpit and stud shooter for play. There are other play functions as well, such as a tipping seat in the booth.
LEGO 75206 Jedi and Clone Troopers Battle Pack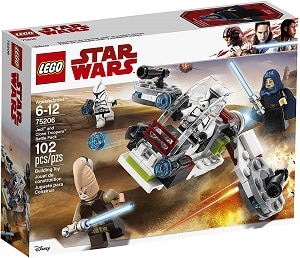 Inspired by Episode II: Attack of the Clones, this set should have around 102 pieces and includes two Clone Troopers and two unique Jedi (including Ki Adi Mundi), as well as a vehicle.
LEGO 75208 Yoda's Hut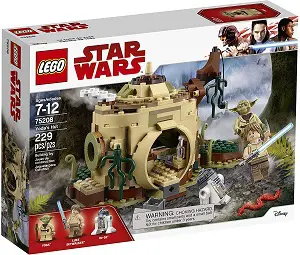 This one harkens back to Episode V: The Empire Strikes Back. This very detailed set includes Yoda, the hut itself (which is gorgeously detailed with vines and branches), R2-D2, a snake, and of course, a young Luke Skywalker. There is space for some Jedi training as well. It's always great to see such a blast from the past in the new LEGO Star Wars 2018 sets.
There will also be another set related to past movies and the Star Wars universe as a whole. It's LEGO 75214 Anakin's Jedi Starfighter (The Clone Wars cartoon), but we have no more information about it just now.
See more: LEGO Star Wars: The Skywalker Saga Game Release Date News
These are all the new LEGO Star Wars 2018 sets we know of and hope for. Do you know any other sets not featured on this list? Have pictures of them? Let us know in the comments below!