This post may contain affiliate links, we may receive a commission if you make a purchase using these links. As an Amazon Associate I earn from qualifying purchases.
The LEGO Animation Book is exactly what it says — and much more. It's the perfect choice for people who want to get started in LEGO stop-motion animation — or even stop-motion animation at all.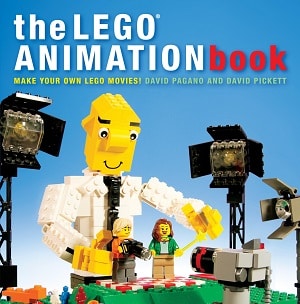 The LEGO Animation Book Review
As a stop-motion animation enthusiast, I love the idea of animating LEGO and making short movies with it. For a newcomer, however, this might be a challenge: how do we even begin? This is what The LEGO Animation Book teaches.
David Pagano and David Pickett are professional animators themselves (Pickett being self-taught himself). They know what they're doing and this books teaches you the ropes from the ground level and up. If you've never animated anything in your life, or never done stop-motion, this is a great way to start.
Why? Because even if we're not talking about LEGO animation itself (though of course, that's the main subject), the book teaches you from the really very basics, which apply to any form of stop-motion.
This is a very good thing because many books and texts on the subject start from the premise you already know the very basics. This book makes no assumption and walks you through every single step.
The Contents
It's that willingness to walk you through every step which I enjoy the most in this book. The language is very simple and the book begins with the setup of the scene. Another thing I enjoyed is the fact it's very actionable: you aren't required to have any extra or special equipment at all to begin.
A desk lamp and a smartphone, as well as masking tape and, well, LEGO, is all you need to begin filming. It's also very helpful that the book also points out the software you can use to begin.
But the book does a lot more than that. In fact, it does more than teaching you the mechanics of animation. While it does that very well (as is it's purpose), it goes beyond that as well.
Right in chapter one, the book instructs you on the basics of cinematography — framing the scene you want to film and composing a shot. While this might seem obvious, it often isn't, and The LEGO Animation Book goes the extra mile by showing you some common mistakes in cinematography. This, of course, won't make you the Stanley Kubrick of LEGO bricks, but it's very valuable information nonetheless.
Chapter two also introduces how to convey emotion with LEGO, using the minifig's own characteristics. This is the part I found the most interesting and fascinating — like a little acting lesson for plastic people. This is incredibly valuable information.
This goes as far as tips and tricks on animating facial expressions, even thinking outside of the box. Valuable stuff, and definitely my favourite chapter in the book — and it's just the beginning.
The art of animation
There is also valuable information on how to animate, in general. Whether it's LEGO stop-motion or some other sort of material. The principles of animation are the same, regardless of medium (to paraphrase from the book, in fact).
This is precious information regardless of whether the animation is done in brick or, say, polymer clay, or hand-drawn. This makes The LEGO Animation Book valuable for people who play with mixed media, or even different types of media.
Again, one of the best features in this book is how simple, easy to follow, and thorough it is. It does not assume you know anything at all about animation, animating or even about LEGO.
It details the intricacies of LEGO stop-motion in such a way you can easily use the same principles in other materials, but it also keeps true to its origins in LEGO and does not neglect to have LEGO-specific advice. Much like Chapter 2 is about the minifigure and its abilities, Chapter 4 is about building — and how you build for brickfilms.
Pre and post-production
Another cool aspect of The LEGO Animation Book is that it's not just the animation: it does care enough to talk about the stuff you need to do before and after filming. The animation in this book isn't limited to things in motion: it's about making full-realized films.
The technical parts of animation are also a subject of this book. Many beginners will have trouble figuring out what they want, and this book shows several options, including software suggestions. The suggestions come by skill level; great for people who already animate, or who are just beginning. Once again, this is useful information for anyone doing stop-motion — whether it's LEGO-based or not.
It even goes as deep as script-writing, storyboarding and other essential elements of animation and cinematography as a whole.
They include information on things such as sound, compositing, digital animation and special effects, and more, although these are less extensive than the animation principles and the process itself. You'll likely need further education in these areas, from other sources, if you're a complete beginner. But the very basics are there.
The book
The contents, of course, are the true objective of this review, but the book itself, published by No Starch Press, also merits some attention. The images are extremely helpful, many of which show the processes the book describes in the text. This makes everything easier to follow and understand. The digital version is as high-quality and well-made as expected.
As a reviewer, I've read the PDF version, not the physical one. However, we have also acquired a physical, print version.
The print version really looks and feels fantastic. No detail has been overlooked in this book – It's easy to hold and flick through as the pages are square shaped. Also, the cover has been matte laminated with Spot UV detailing for the logo, slogan and back cover image.
Conclusion
The LEGO Animation Book is perfect if you're just starting with LEGO stop-motion or stop-motion animation at all. More advanced readers may also find clever pointers, suggestions and ideas.
If you're a newbie, however, interested in doing more complex or fully-realized stuff from the get-go, you'll likely need further guidance for the sound design and editing. That, of course, depends on your personal experience in filmmaking as a whole. Still, the book does what it set out to do, and very well at that. It's very worth it.