This post may contain affiliate links, we may receive a commission if you make a purchase using these links. As an Amazon Associate I earn from qualifying purchases.
The Avengers: Infinity War film is coming and with it, of course, we'll have lots of new LEGO sets. Among these are the LEGO Avengers Infinity War Brickheadz — adorable collectable figures, built in classic "brick" style. Let's check them out.
New LEGO Avengers Infinity War Brickheadz Guide
There will be minifigures and sets about LEGO Avengers Infinity War. The Marvel Super Heroes theme comes back with new characters, sets and places. There will also be new Brickheadz sets as well, which is a pleasant novelty!
Brickheadz is a relatively new type of LEGO sets, where we have characters built in typical — as the name suggests — brick-like style. This makes for very cool, stylised characters great for collectors and for displays. This year we get four new Marvel Heroes figures in Brickheadz format and another version of Iron Man.
LEGO 41604 Iron Man MK50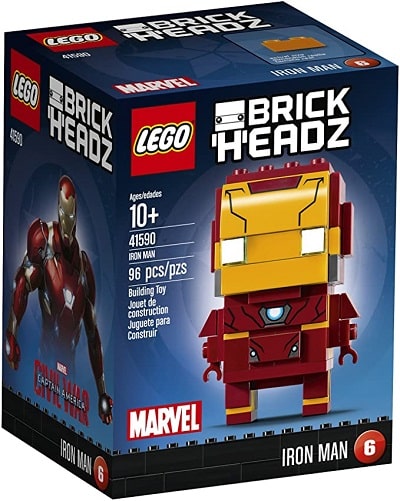 This is the second version of Iron Man in the Brickheadz format, but this time, Iron Man has thruster devices on his back, as he wears his MK50 armour. This set includes some very nice light blue transparent bricks, which gives the figure some detail, including Iron Man's arm and details on the back thrusters. The set has 101 pieces and is #35 in the Brickheadz collection.
LEGO 41605 Thanos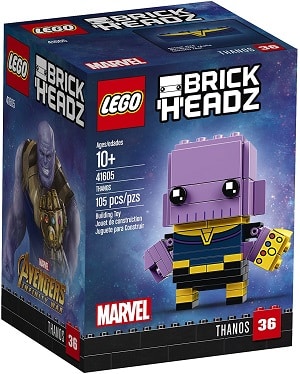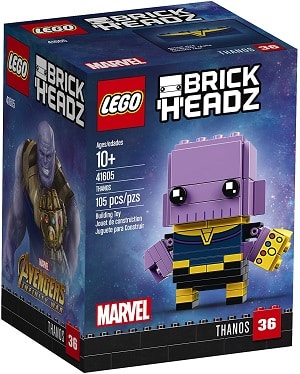 The great villain of the Infinity War and Avengers franchise has a Brickheadz figure as well. Thanos has typical Brickheadz eyes and comes with a 1 x 2 detachable plate with the Infinity Stones printed on it. The Thanos figure is a charming choice for people who love the character. This is Brickheadz #36 and has 105 pieces.
LEGO 41606 Star-Lord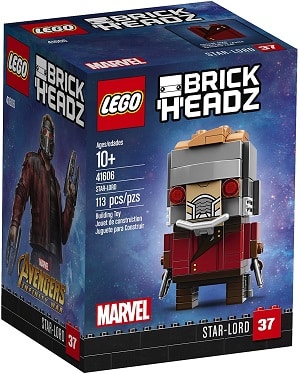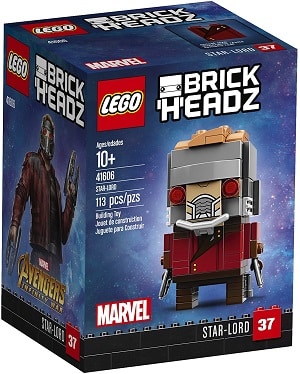 Yes, we're getting Guardian of the Galaxy characters in our LEGO Avengers Infinity War Brickheadz collection as well. The Guardians appear in the Infinity War movie and thus, they show up in the LEGO Marvel Super Heroes sets as well. Star-Lord comes with detachable blasters which fit on his hands, his rocket boots and his mask, so no Chris Pratt's face on this — yet, anyway. He is #37 and has 113 pieces in total.
LEGO 41607 Gamora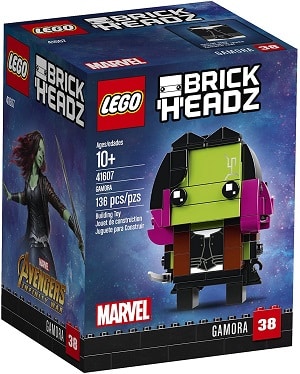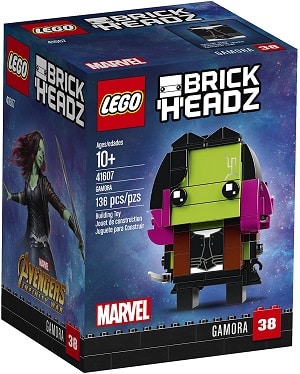 We get Gamora as well! This character is very colourful and bright. She has bright pink details which contrast very nicely with the black and bright green of her face. She also had printed, metallic details on her forehead. Gamora comes with a detachable sword and she is #38. This set has 136 pieces, the largest in the Infinity War Brickheadz thus far.
There is another Brickheadz set coming this year in the LEGO Avengers Infinity Wars Brickheadz collection. The number is 41626 and we do not yet know who this character is.
So this is what we know about the LEGO Avengers Infinity War Brickheadz sets thus far! Stay tuned to this article as we'll update the more we know about them.