This post may contain affiliate links, we may receive a commission if you make a purchase using these links. As an Amazon Associate I earn from qualifying purchases.
Welcome to the ultimate LEGO baseball sets guide. As you may be aware, there are currently very few official Baseball LEGOs (two minifigures to be exact, from series 3 in 2011 and series 10 in 2013). That doesn't stop some absolutely incredible custom builds, also known as a MOC (My Own Creation).
In this guide we will introduce the official baseball LEGO player minifigs (featuring a cap, bat, glove and team kit), the amazing LEGO baseball stadium MOCs and lastly builds that the community have put forward as LEGO ideas projects.
LEGO Baseball Sets Guide
In terms of baseball sets, there are no official LEGO themes or sub-themes. We do however have Series 3 and Series 10 collectible minifigure polybags shown below. The 'sets' shown in this guide are creations by talented builders from all over the world, one MOC features over 45,000 bricks! If you have any Baseball LEGOs, let us know and we'll feature them.
LEGO Baseball Players
Series 3 Baseball Player Batter LEGO Minifigure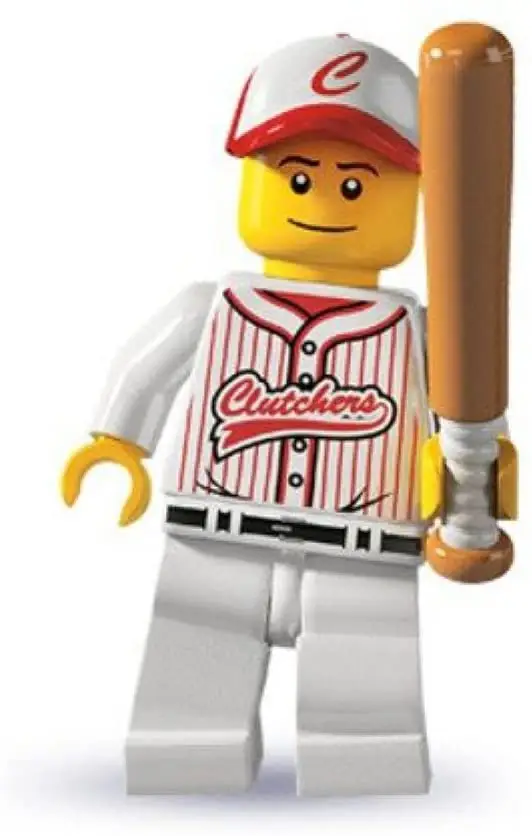 This LEGO Baseball player (batter) plays for a team called the 'Clutchers'. The first-ever baseball minifigure was released in January 2011 as part of the collectible minifigure series 3 polybag, titled LEGO 8803. To complete series 3 you need all 16 minifigures. The collectible minifigures showcase themes unlikely to appear in larger sets. Each minifigure comes with accessories, a display plate with studs and collector's leaflet. The accessories included with this collectible baseball minifigure include a brown baseball bat and c print cap.
Series 10 Baseball Fielder Player LEGO Minifigure
This LEGO Baseball fielder plays for a team called the 'Stackers', which is a clear reference to the LEGO brick. The second-ever baseball minifigure was released in May 2013 as part of the Series 10 polybag. The LEGO 71001 'mystery' bag also includes 16 (potentially 17) minifigures needed to complete the collection. To clarify, this bag includes an additional ultra rare minifigure (Mr. Gold), where only 5,000 were made and distributed. The baseball fielder comes with an s print cap and baseball glove accessory, along with a display stand and a series 10 collector's leaflet.
LEGO Baseball Stadium MOCs
Here are some of the best Baseball LEGO set MOCs that we've seen.
Brick Revolution's Baseball Stadium MOC – Philly Brick Fest 2016
This awesome LEGO Baseball Stadium MOC was built by Brick Revolution. It was shown at Philly Brick Fest in 2016 where it gathered a lot of fans. The LEGO Baseball field sits on 49 32 stud x 32 stud baseplates and looks like one of the best we've seen! If that's not enough, there is over 600 chairs in the stadium! You'll also notice it includes the collectible series 3 and series 10 baseball player minifigures. We're sure you can't fully appreciate it unless you see it in person.
LEGO Yankee Stadium
At over 45,000 LEGO bricks, Sean worked on the Yankee Baseball LEGOs stadium for 3 years with a Manhattan grade schooler. This absolutely incredible Yankee Stadium MOC (found at MOC pages) may just be the best of them all. It is 6 feet wide and 5 feet long, built to an approximate scale of 1:150. It is an exact replica from 2008. Interesting facts about this build:
The stadium has over 1,700 microscale people (with this level of detail it could be improved with minifigures)
The scoreboard is actually light saber rods. 1,000 of them to be precise. This shows just how detailed and intricate this build really is.
It includes an elevated New York City subway station (with MetroCard machines)
Features elevated train tracks
Baseball LEGOs Conclusion
It's a shame there is not an official LEGO Baseball theme, but that doesn't mean there won't be one in future. Have you created any Baseball LEGOs or MOCs? Let us know in the comments below and share them with our community of fans.