This post may contain affiliate links, we may receive a commission if you make a purchase using these links. As an Amazon Associate I earn from qualifying purchases.
Although LEGO is not officially manufacturing military and army sets, they are actually included in a number of sub-themes. You will find army and military concepts in Toy Story, Star Wars, The Lord of the Rings, The Hobbit, Super Soldiers, among others.
In this guide we searched through hundreds of sets to pick the ones that most resemble LEGO military and army sets.
Here are the Best LEGO Military and Army Sets;
LEGO 7595 Toy Story Army Men on Patrol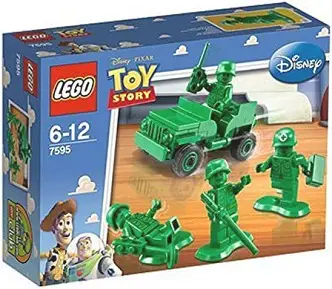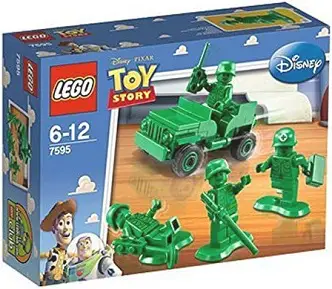 This LEGO set released in 2010 is based on Disney's Toy Story Movie. Suitable for ages 6 and older, this package contains 90 pieces, providing lots of fun and imaginative building experiences to inspire builders.
The Army Men should go out on duty and Andy's bedroom calls for a major mission. These courageous action figures never leave a man behind, hopping along on their portable stands. It's a nice thing that they carried with them their stretcher, jeep, and all of their gear!
The set contains 4 Army Men Minifigures, with a jeep and a stretcher. The Soldier's jeep is fitted with a spare tire and is more than 3 inches in length. It is an award-winning collection that has received Gold Seal from Oppenheim Toy Portfolio.
LEGO 75151 Star Wars Clone Turbo Tank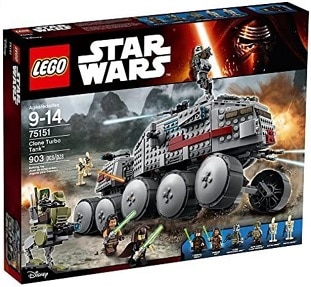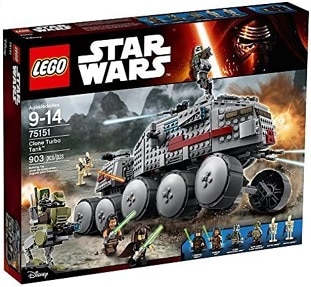 This set lets you build your own Star Wars: Revenge the Sith combat action scenes. At the Battle of Kashyyyk, the Clone Army seeks backup. To transform the Clone Turbo Tank, twist it, and roll the 10-wheel machine out on the battleground.
You can also extend the observation post to look out for enemy troops and aim the shooters triggered by the spring to force them to leave. To help Clone Commander Greece, Luminara Unduli, Quinlan Vos, and the Elite Corps Clone Trooper in fighting the Droid Army, you can fold the sides to unleash the mini AT-RT walker.
The Clone Turbo Tank stretches more than 6 inches tall, 12 inches long and 5 inches wide. AT-RT scales more than 3 inches tall, 1 inch long and 1 inch wide.
Appropriate for ages 9 and up, the set contains 4 Minifigures, which include Clone Commander Gree Quinlan Vos, Luminara Unduli, and an Elite Corps Clone Trooper, with 2 Combat Droids.
The weapons included are the Lightsabers of Luminara and Quinlan and four blasters. This also comes with electro binoculars.
LEGO LOTR 9471 Uruk-hai Army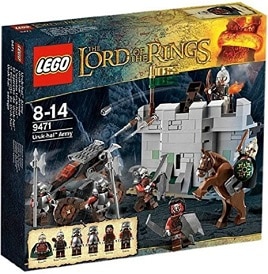 The legendary fortress at Helm's Deep, which is the last remaining shelter for the people of Rohan, is being invaded and attacked by the wicked Uruk-hai Army. The Uruk-hai fire hooks from the armoured hook shooter as they advance and try to destroy the walls of the fortress.
To help save the day, restrain the Uruk-hai army together with Rohan and the exclusive mini-figure, Éomer. This set can also be merged with The Battle of Helm's Deep (9474) and expand your Uruk-hai Army for even greater battles!
This LEGO set consists of 6 mini-figures including Éomer, 4 Uruk-hai, and Rohan soldier. It features a fortification wall with a removable catapult and a hook shooter. The fortress wall stands 4 inches high and has a width of 5 inches, and the Hook shooter measures 4 inches long.
The accessories included are helmets, swords, shields, spears, a bow, and other weapons. The new LEGO horse is also included in this set. You can use the catapult to protect the fortress at Helm's Deep and neutralize the Uruk-hai Army.
The LEGO Hobbit 79012 Mirkwood Elf Army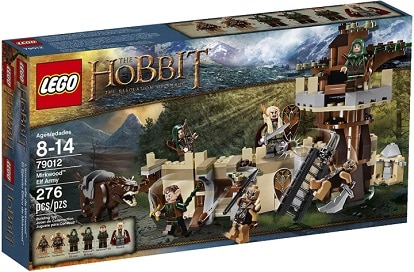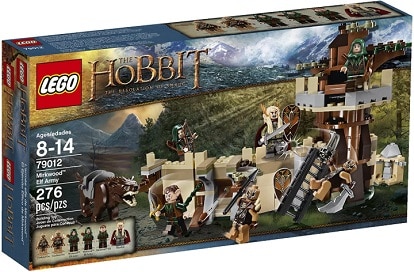 Together with the Mirkwood Elf Army, you need to protect the Elven Fortress from the attacking Orcs. The Orcs invading on the lands of Thranduil, the great Elven king leads to an inevitable war.
Climb up the spinning tree at Mirkwood Forest's edge. Be on your guard as you wait for the Gundabad Orc warriors to come near on foot or riding the fearsome brown Warg.
You need to look out for Orcs to climb the wall using a ladder. You can flick the wall missiles, and then pick a weapon from the rack and strike! The tree can also be separated into two for an ambush mode to send flying the Elven armies across the wall and ambush the Orc invaders!
Although LEGO has already discontinued this set, it is still one of the best army sets that are popular with Amazon customers. This has 6 Minifigures including Mirkwood Elf, Thranduil, 2 Mirkwood Elf Archers and 2 Gundabad Orcs with various accessories and weapons.
Other features of this LEGO Army set are posable tree parts, rotating tree joint, tree-splitting ambush mode, a flick missile, and a detachable wall. It also contains a weapon rack, a ladder, and an exclusive brown Warg.
Three longbows, a spear, a long sword, an Orc sword, and a golden Elven blade are included in this LEGO set. The accessories are a green stone, 2 quivers, Orc armor, and 2 Mirkwood Elf shields. Exclusive to this set are the Mirkwood Elf, Mirkwood Elf Archer, and Thranduil Minifigures.
You can divide the tree into two and deploy an ambush. Flick missiles at the advancing Orcs from the wall, twist the tree to ward off threats from all directions and strike with the fierce Warg and the Gundabad Orc.
You may also place the ladder and launch attacks over the wall or remove the wall from the tree and reorient the Elven fortress towards any angle of assault.
The tree and wall are more than 4 inches high, 9 inches wide and 4 inches deep, and the weapon rack is more than an inch high, an inch wide and an inch deep.
LEGO Star Wars Jedi & Clone Troopers Battle Pack 75206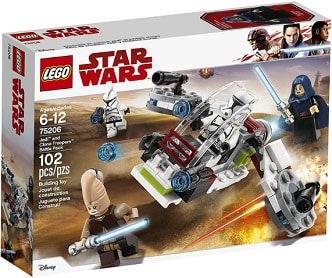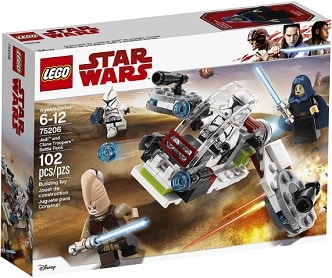 Recommended for children between the ages of 8 and 14, this LEGO set contains 4 Minifigures, which are Barriss Offee, Ki-Adi Mundi, and the 2 Clone Troopers. It also features a speeder with a canopy opening and inside space for a Clone Trooper, 2 stud shooters and spinning guns on the tips of its wings.
The weapons included in this collection are two Clone Troopers stud blasters and two Lightsabers. The Speeder measures over an inch high, 3 inches long and 4 inches wide.
This fun building set lets you charge your own Star Wars Jedi and Clone Trooper Combat Pack with 2 Jedi Masters wielding lightsabers, 2 Stud Blaster-wielding Clone Troopers, and a Stud shooter speeder and spinning wingtip guns.
LEGO Exo-Force Mobile Defense Tank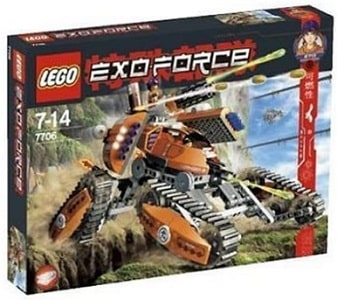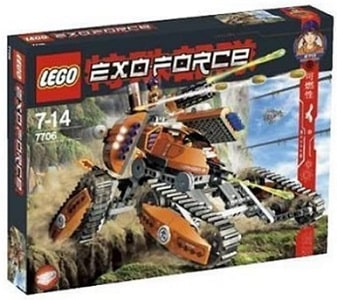 The set has two human pilot minifigures with spiky, anime- hairstyle covering the rear of their heads. It also conceals the fact that there are two expressions to select from in the head parts, angry and berserk.
You'll see eight parts within the box, four plastic tank treads, and directions that include an Exo-Force comic that has four pages.
In the storyline of the Exo-Force, humans are at war with malfunctioned robots that are now bent on utter conquest. On the side of humans, the Mobile Defense Tank comes in 355 parts and a complete-colour detailed instruction booklet that diagrams model construction in 25 stages, with many mini-steps on the way.
The cool weapons of the tank consist mainly of a red LED brick that serves as a very convincing laser cannon. A quick-fire disk launcher also launches plastic Cheerio-size disks over the room for approximately 10 feet. These energy disks, like many other small parts in this series, pose a choking hazard to very young children. They can be easily mistaken for candy because of their yellow and green colours.
This set contains a light-up brick, so the tank can be "powered up." It also includes Ryo and tank gunner action figures, as well as a disk launcher for quick-fire.
The enormous tank treads conform to every terrain and measure 12 inches in length.
An illustrated block inventory with part numbers is also included, in case you ever need to order a replacement block again.
LEGO Star Wars – Commander OBI Wan & 5 Clone Trooper Army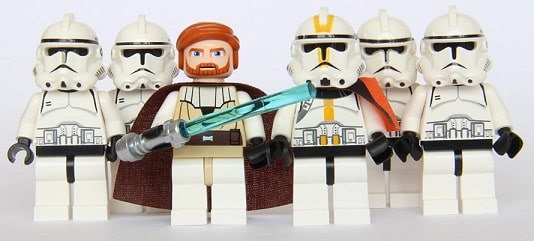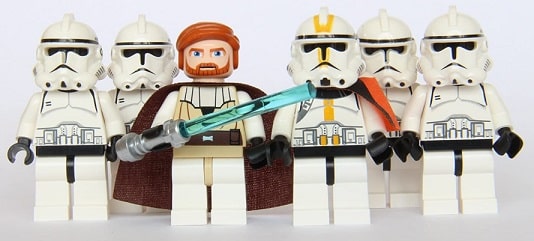 Released in 2010, this LEGO set includes Commander Obi Wan mini action figures with 5 Clone Battalion, all of which are about 2 inches tall and are packaged in a clear polybag.
Commander Obi Wan has a custom brown cape and the Yellow clone has a custom printed shoulder cape. This LEGO set is appropriate for kids 5 years old and up.
LEGO Ultra Agents 70161 Tremor Track Infiltration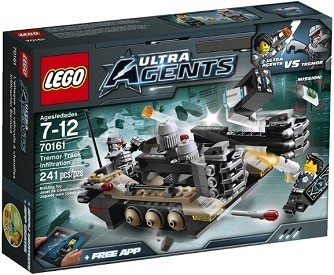 This LEGO set includes Tremor and Agent Jack Fury action figures, including weapons and accessories, a shield and a stud shooter. It also features an open cockpit, 2 flick missiles and 2 spare ones, aerial, massive tracks, and power-punching fists.
The mainframe database of Ultra Agents features an exploding mechanism and includes an ultra-chip, and the Tremor figurine features specialized metallic armor. The Tremor Track vehicle is 3 inches high, 6 inches long and 4 inches wide, while the Mainframe database is 1 inch high, 1 inch wide, and 1 inch deep.
The iron-fisted Super Villain, Tremor, ramps his terrifying armored truck vehicle across the roads of Astor City. Securing the ultra-chip that contains the hidden plans of all the Ultra Agents is your mission.
You can veer off from the large and powerful punching fists of the vehicle and survive the flick missiles and strike back by gunning down the side shooter. To outwit this strongly-armoured Super Villain, you have to make use of all your abilities. Only one powerful punch from the vehicle of Tremor will destroy the mainframe database and unleash the valuable ultra-chip!
The free LEGO Ultra Agents app can also be downloaded to become the agent and enjoy the best digital experience.
Tantive IV 75244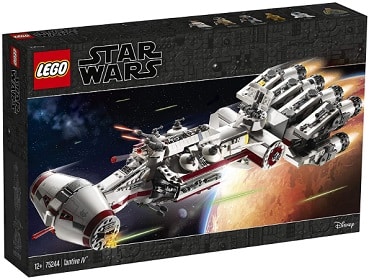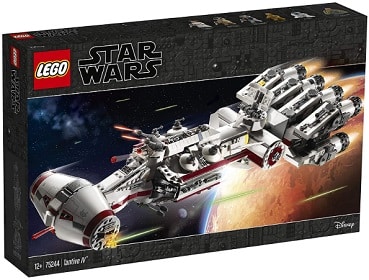 This LEGO set has 5 Star Wars mini action figures, and that includes a Rebel Fleet Trooper, Captain Antilles, Bail Organa, Princess Leia, and C-3PO, along with a LEGO R2-D2 figure.
The Tantive IV set includes radar that also acts as a carrying handle. This building kit has 2 detachable escape pods with an interior space for a minifigure, as well as 2-minifigure cockpit, cargo hold and detachable cargo box that open. It has 2 spring shooters below it and stud-shooting turrets that rotate and elevate on top of it as well.
The weapons in this collection include a blaster pistol and three blasters. It also comes with a pair of electro binoculars.
The Captain Antilles minifigure is an improved version from 2009, whereas Bail Organa and Princess Leia's skirt are the latest for April 2019.
This richly detailed set of construction toys contains more than 1,750 parts. The LEGO® Star Wars™ star ship measures 5 inches high, 24 inches long, and 7 inches tall.
With this building set, you can replicate special moments from the Star Wars opening scene: A New Hope or create your own thrilling stories.
The Razor Crest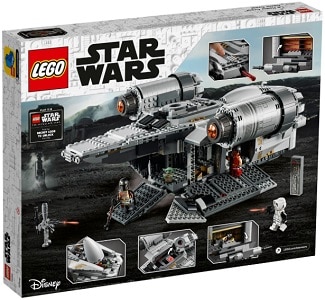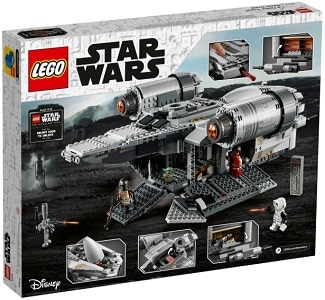 Included in this set are 4 LEGO minifigures with cool weapons: the Scout Trooper and the Child, The Mandalorian, Greef Karga, as well as an IG-11 LEGO figure. The Razor Crest's dreadnought has a height of more than 5 and a half inches, a length of 15 inches and a width of 11 inches.
With this building set, you can relive The Mandalorian and the Child's battle versus the Scout Trooper and their other enemies. This armoured vehicle built with brick includes a cargo hold with opening sides that also serve as access ramps and carbonite bounty components. It also has escape pod, spring-loaded shooters, and a dual LEGO minifigure cockpit with more realistic design to encourage creative play.
This set is one of the newest ones released by LEGO. Appropriate for children between the ages 10 and above, this starship construction set is made up of 1023 pieces.
Perfect for role play, The Razor Crest set can be combined with other LEGO Star Wars sets for even greater action.
Final Thoughts
We have now finished evaluating 10 of LEGO's best military and army-related sets. LEGO offers a lot of amazing military and army-related sets to choose from. Most of them are based on movies such as Star Wars and The Lord of the Rings. So, if you are a fan of these film series, you wouldn't have a hard time finding the best LEGO set for you.