This post may contain affiliate links, we may receive a commission if you make a purchase using these links. As an Amazon Associate I earn from qualifying purchases.
The LEGO Elves theme started in 2015 and it's going on strong in its third year. We already have some LEGO elves 2018 sets out (released in January) and more to come, so, let's check them out!
New LEGO Elves 2018 Sets Guide
The LEGO Elves theme revolves around four elemental elves and their adventures. This theme has mini-dolls instead of mini-figures, much like the LEGO Friends theme, although they are compatible with minifigures to some extent, such as hair pieces.
Like LEGO Friends, the LEGO Elves sets are more girl-oriented. The theme had a tv special in 2015, Elves: Unite the Magic. It has since earned an eight-episode Netflix animated series. Elves: Secrets of Elvendale went live on Sept. 1st, 2017.
LEGO Elves 2018 Sets
We have five new LEGO Elves sets released in 2018 thus far, with two more to come, at least. Let's explore what they are all about.
41190 Emily Jones & The Eagle Getaway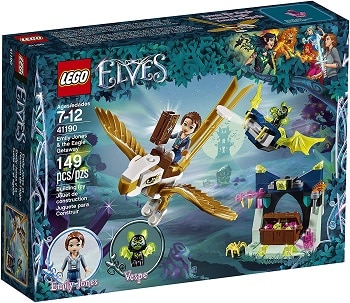 The LEGO 41190 set comes with a very beautiful, buildable Lumia the eagle. Lumia is fully posable, including wings and head, and has space on its back for a mini-doll to fit. It also has a printed face, with very well done eyes. This set includes the Emily Jones mini-doll, the main human character in the Elves theme, wearing a sand blue jacket and dark blue trousers. She wears an amulet and has a book.
Beyond these two characters we also have Vespe the shadow bat. This character (a minifigure) is original to this year and thus far appears in only two sets. It has transparent green wings and ears, as well as beautiful green details to its face and chest.
The main build in the Emily Jones & The Eagle Getaway set (other than Lumia) is a cave that clearly belongs to Vespe. It has a bat theme of sorts and includes a vehicle (called a bat glider, with a disk shooter), a cave entrance and a chest. The chest comes with jewels and cherries. The set includes some spiders as well, and a vertical, upside-down bed for Vespe — very bat-like!
41191 Naida & The Water Turtle Ambush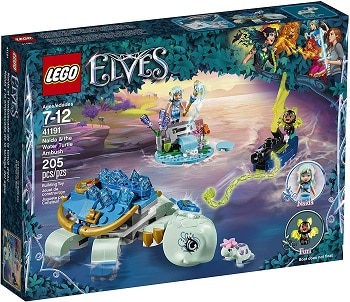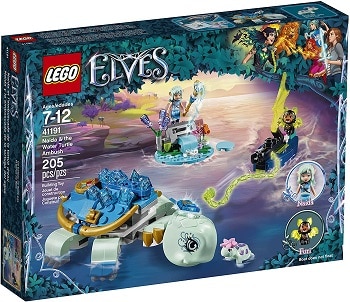 As the name suggests, the Naida & The Water Turtle Ambush set features a massive Water Turtle Guardian buildable animal. This character, named Cory, is also very posable with movable head and legs. Its shell is decorated with transparent blue pieces and a gold rim. Cory has a space for the baby turtle, Calypso, included in this set. It also has space for Naida on its back and room for the water diamond on its face.
The main build in the LEGO 41191 set is a floating island of sorts. It includes a disk shooter and some very interesting foliage made in transparent pieces. The island also includes a fish. There is also a boat with a chain shooter, which belongs to Furi, a shadow bat with transparent yellow wings and ears, as well as yellow details.
Naida Riverheart has her staff, a map and the diamond. This remade version has dark blue boots and, thus far, is unique to this set.
41192 Azari & The Fire Lion Capture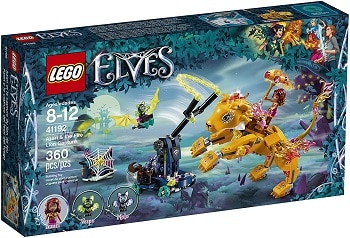 The LEGO 41192 set includes Vespe and Azari Firedancer. The main buildable animal is the Guardian Fire Lion, which is fully posable and has beautiful transparent fire-like details on its tail, mane and fire wings. It has a space for Azari on its back as well, like the other animals in the LEGO Elves 2018 sets.
Beyond Vespe, Azari and The Fire Lion Capture set also introduces Molo, another shadow bat. This one has purple details, wings and ears. Vespe comes with its glider, and Molo helms a catapult sort of build. The catapult shoots water elements to help the capture of Rowan the Fire Lion. This set also includes a spiderweb and spider. Azari holds her new staff and comes in her new, 2018 version as well.
41193 Aira & The Song of the Wind Dragon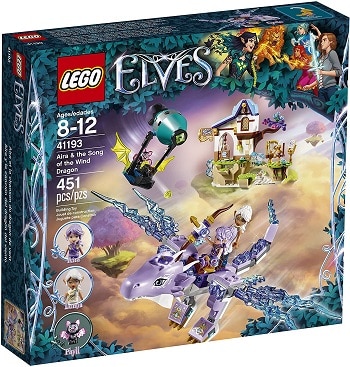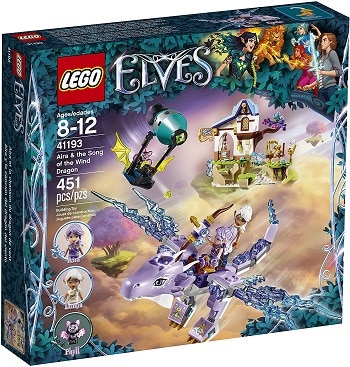 The LEGO 41193 set includes two mini-dolls, Aira Windwhistler and Lumia. The latter is unique to this set and seems to be the Eagle from LEGO 41190 set's elf form. Both elves may ride Cyclo the Wind Dragon, who as the other buildable animals is fully posable. The dragon has transparent wings and details, including on its tail.
The Aira & the Song of the Wind Dragon set also includes Sebastian the bird and Phyll the shadow bat. The latter looks just like the others, but in pink. The main build in this set, however, is a three-level music school with a clear aerial theme, including a "floating island", purple crystals and other details. The building is open at the back for playability.
Phyll has an airship with a spinning propeller and a shooter as well. This set includes Lumia's staff, a cyclone bow (hidden in the music school), a harp and many other accessories.
41194 Nocturna's Tower and the Earth Fox Rescue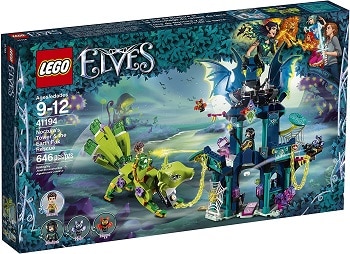 The LEGO 41194 set comes with four minifigures: two mini-dolls and two shadow bats. The bats are Molo and Hippo, one in purple and the other in red. The mini-dolls are Farran Leafshade and Nocturna, the big baddie of this theme's current sets. The buildable animal is Liska the Earth Fox, fully posable as all others and with a beautiful transparent tail.
The main build is Nocturna's Tower of Shadows, a two-floored building that has a decidedly bat-like theme, much like Vespe's cave. It includes tipping potion bottles, a cauldron, a trapdoor hidden behind a spiderweb, and a hanging hook for bats.
Liska herself also comes with a collar and chain, as this set's main story features her rescue. The padlock goes around her neck. The chain attaches to the tower itself. The Nocturna's Tower and the Earth Fox Rescue set also includes several accessories such as Farran's Earth Shield and Nocturna's staff.
Future sets
We know there will be at least two more LEGO Elves 2018 sets to come, which are sets 41195 and 41196. We do not yet know what these sets will bring, but stay tuned to this post as it'll be updated the moment we know more about them!