This post may contain affiliate links, we may receive a commission if you make a purchase using these links. As an Amazon Associate I earn from qualifying purchases.
Hey y'all! It's me, VaderFan2187 back today with another post! Today I'm doing the LEGO Iron Man suits and armours throughout the years, as of March 2018! Let's jump right in.
LEGO Iron Man Suits and Armor Guide
Iron Man (2012, Triangular Arc Reactor)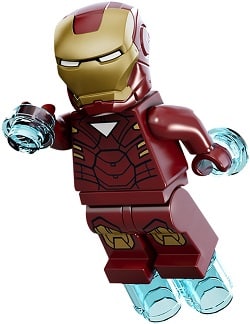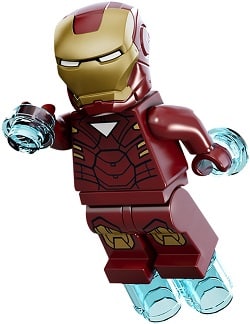 One of the first LEGO Iron Man suits we got was this one in 2012, made for Marvel's blockbuster The Avengers. It had a new helmet mold which had a flip-up visor, and some decent printing on the torso and legs. It sported a triangular arc reactor.
Iron Man (2012, Circular Arc Reactor)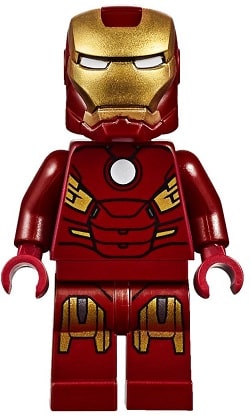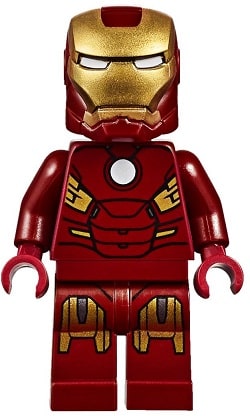 2012 had a second LEGO Iron Man minifigure which was fairly similar to the previous one, only this one had a circular arc reactor. Which do you prefer?
Iron Man (SDCC 2012 Exclusive)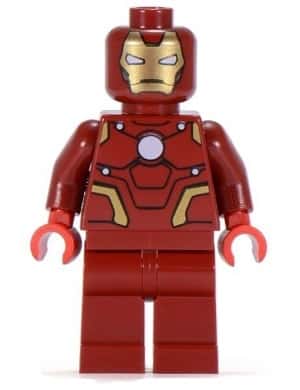 The third LEGO Iron Man minifigure of 2012 was this SDCC exclusive. Interestingly, it did not use a helmet mold, opting for a printed helmet instead. Perhaps this was done to set it apart from the minifigures from the regular retail sets.
Iron Man MK42 (2013)
For Iron Man 3, LEGO released some more Iron Man minifigures. This one is the MK42, which has nice golden detailing on the torso and legs. It even has gold hands, something only one other Iron Man minifigure has had. This suit appeared in two sets in different modes – one had Tony Stark's head in it, the other had a white mannequin head inside which allowed Pepper or Tony to don the suit.
Iron Man MK17 "Heartbreaker" (2013)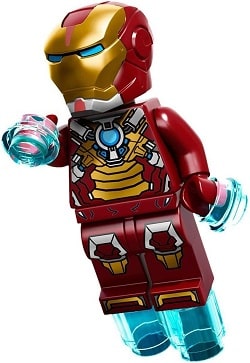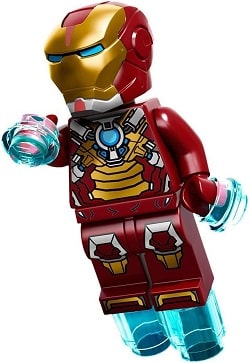 Also released in 2013 alongside the MK42 was the MK17 Iron Man suit, also known as the Heartbreaker Armor. This minifigure appeared in the smallest Iron Man 3 set and was exclusive, featuring some unique gold and silver detailing.
Micro Iron Man (2015)
2015's first LEGO Marvel Superheroes UCS set, "The S.H.I.E.L.D. Helicarrier", brought with it the tiniest LEGO Iron Man figure so far – this micro Iron Man. This Iron Man figure was printed onto a minifig-scale trophy, and had a 1×1 translucent light blue round plate underneath to represent a (very oversized) leg repulsor beam.
Iron Man MK43 (2015)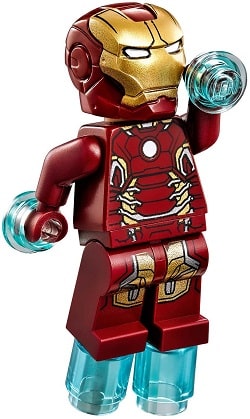 However, that little Iron Man micro figure was not the only LEGO Iron Man suit to come out of the Age of Ultron line. A couple more full-scale minifigures appeared in the lineup too, including this suit, the Mark 43. It had pretty intricate printing which was nice to see, along with some printing on the helmet's visor. Unfortunately, the minifigure head underneath was still the regular Tony Stark head.
Iron Man MK43 – in Hulkbuster (2018)
Another LEGO version of the MK43 suit was released in 2018, with 76105 The Hulkbuster: Age of Ultron Edition. The torso was updated to show removed upper chest panels, reflecting the state of the MK43 suit when it enters the Hulkbuster armor. Very interestingly, the head inside this suit is a clear one, suggesting Tony is not inside.
Iron Man MK44 "Hulkbuster" (2015)
The MK44 Iron Man suit, the Hulkbuster, was also made into a LEGO set in 2015 for the Age of Ultron line. It is dark red and has a printed cockpit piece, along with details like poseable limbs and stud shooters.
The head of the Hulkbuster suit can open to reveal the LEGO Iron Man minifigure inside. You can fold down the chest panel to put in/take out a minifigure.
Iron Man MK44 "Hulkbuster" (Ultimate Version) (2018)
To celebrate 10 Years of the MCU, LEGO released this big "UCS" Hulkbuster in 2018. It was not minifigure scale, which allowed it to have better, more intricate detailing. However, many fans (including myself) have pointed out several problems in comparison with the "real deal", including odd proportions, lack of poseability, and inaccurate shoulder pads.
These inaccuracies are annoying for a set that costs $119.99 USD in my opinion. The head of this Hulkbuster can also be opened, and there is space to put a minifigure inside even though the model is not to scale.
The hands also have Glow In The Dark studs.
The left hand can also be changed out to the "Go To Sleep" jackhammer arm.
Iron Man MK45 (2015)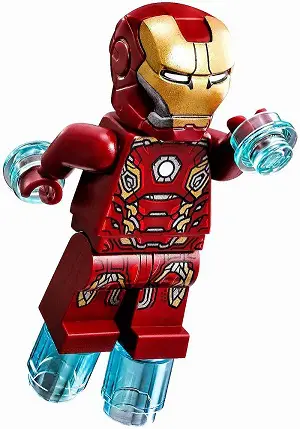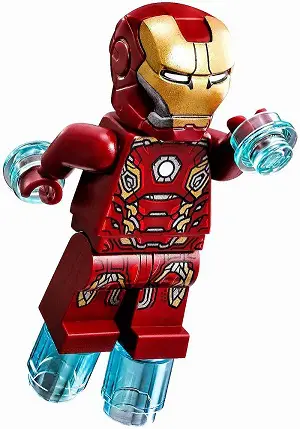 Another of the LEGO Iron Man suits for Age of Ultron is the MK45. This minifigure is detailed really well, with some regular red highlights for contouring. It appeared exclusively in the smallest Age of Ultron set.
Iron Man MK46 (2016)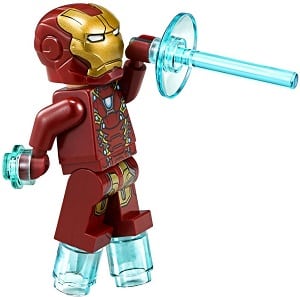 For the big Marvel movie that was Captain America: Civil War, LEGO released another Iron Man suit. This is the MK46, and is detailed pretty nicely too. Of note is the partially obscured arc reactor, along with a simple build to make it look like Iron Man is firing a repulsor beam.
Iron Man MK47 (2017)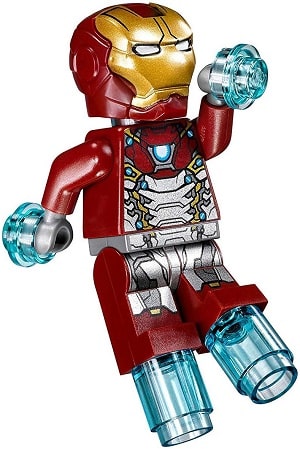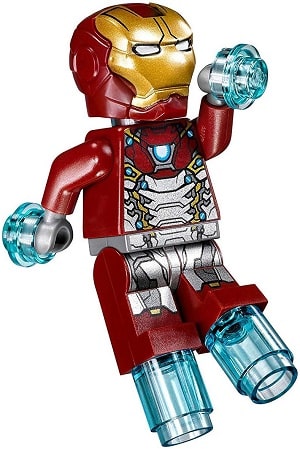 Spider-Man Homecoming was released in 2017 and two sets were released for the film. Given Tony's status as a mentor for Spidey in the movie, it was no surprise that LEGO released a new Iron Man suit for the film. This is the Mark 47. In universe it is very similar to the Mark 46, but with some upgraded tech and a lot more silver parts. This is reflected in the LEGO minifigure, though annoyingly it does not have dual-molded legs which make the silver parts on the legs look odd.
Iron Man MK50 (2018)
Avengers: Infinity War releases on April 27th of this year, and LEGO released six brand new sets based on the film. Iron Man is the only good guy to appear in more than one Infinity War set. This is the Mark 50 suit, and it has a pretty new design in terms of the torso and leg armor shape. The bright red contouring first used on the MK45 is also used here. This Iron Man minifigure also gets the new Power Bursts pieces, as seen above. It appears in 76108 The Sanctum Sanctorum Showdown.
Iron Man MK50 Variant (2018)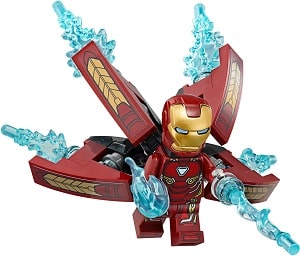 However, another LEGO Iron Man MK50 variant appears in 76107 Thanos' Ultimate Battle. This one has the same minifigure as in 76108 but it has a huge brick-built neck attachment to represent additional armor – I'm pretty sure this is to represent his new armor additions as revealed by Entertainment Weekly.
Hulkbuster V2.0 (2018)
A second LEGO Hulkbuster was released in 2018. This is based on the new Hulkbuster from Infinity War. I do not know the number of this suit, or whether it is just an updated Age of Ultron Hulkbuster.
The Hulkbuster's chest panels can fold open for you to put a minifigure (Bruce Banner) inside.
Iron Man MK37 (Scuba Variant) (2016)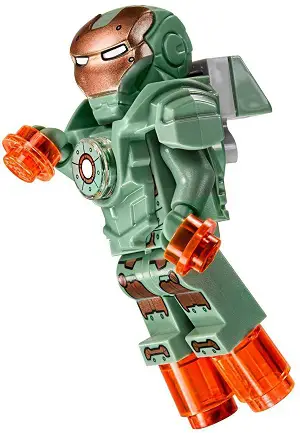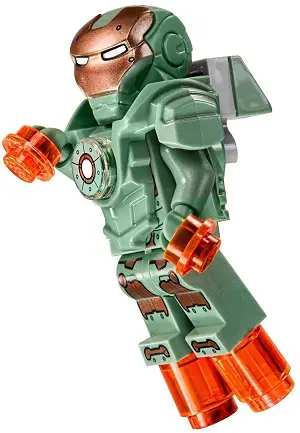 In 2016, LEGO released a couple of Iron Man suits based on the comics. One of them is this MK37, which is a sand green and copper colored Iron Man suit. It looks pretty good, and has a big armor attachment with a brick-built fin at the back. This armor was actually used in Iron Man 3 (nicknamed Hammerhead) as part of "House Party Protocol", so you can get him if you want to add him to your MCU minifigure collection.
Iron Man MK39 (Space Variant) (2016)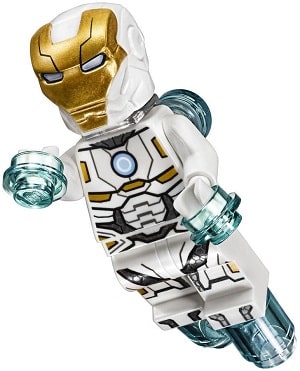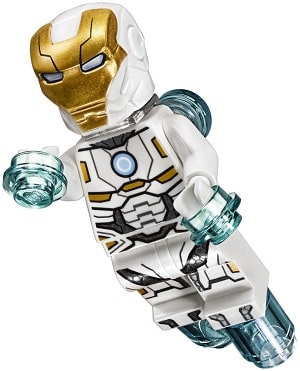 Also released in 2016 was this Space Iron Man suit. I believe it is based off the MK39 from the MCU (which was also used in House Party Protocol from Iron Man 3). The suit was created in the MCU because after Tony's suit traveled in to space in The Avengers, his suit powered down, making him realise the need for a space suit. It has an interesting white color scheme but is not entirely accurate to the MCU variant.
Iron Man Mighty Micros (2017)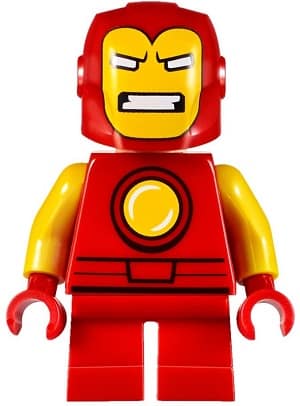 A LEGO Iron Man was created for the Mighty Micros line, and he had a new helmet mold which did generate some discussion among the fan community. It has a very cartoonish look but that works for the Mighty Micros.
Invincible Iron Man (2017)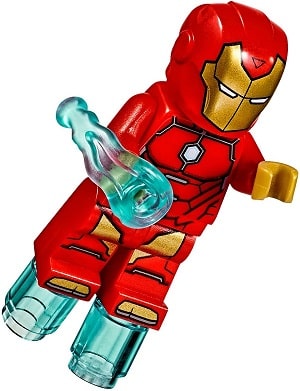 This LEGO suit, released in 2017, made use of the Mighty Micros helmet mold, but with a serious print. It looks pretty good in my opinion, and the use of Power Blasts is appropriate. The torso has a nice hexagonal design, and this is the only other LEGO Iron Man suit so far with golden hands.
Iron Man MK33 "Silver Centurion" (2016)


This is my favorite LEGO Iron Man suit so far. It was a promotional polybag and represents the Mark 33 from Iron Man 3. This armor is noteworthy because it was personally donned by Iron Man in the House Party Protocol scene to fight Aldrich Killian.
However, the arc reactor was ripped out in that scene and thus the suit was never used again. The LEGO variant is more silver than the original, but is insanely detailed and I love it so much. The head underneath is a bruised Tony Stark face which also works for Civil War, but stayed exclusive to this suit. I hope to be able to get this LEGO minifigure one day.
That's it for my look at the LEGO Iron Man Armors and Suits! Thanks for reading, and leave feedback for me in the comments below! 🙂