This post may contain affiliate links, we may receive a commission if you make a purchase using these links. As an Amazon Associate I earn from qualifying purchases.
LEGO introduced its collection of modular buildings back in 2007. They have continually created new and exciting additions to its growing city.
LEGO have released 16 buildings featuring typical buildings found in most towns and cities across the world. Each kit features interior and exterior detailing whilst blending into the architecture of the town itself.
Choosing where to start with LEGO Modular Buildings can be daunting. We have ranked all 16 buildings in the LEGO Modular Buildings family, although any would be welcome in any LEGO enthusiast collection.
16. 10190 Market Street
Placing 10190 Market Street at the bottom of our ranking was simple. The design quality simply does not match up to the creativity demonstrated in other buildings within the LEGO Modular Buildings collection.
There are design features that elevate this building. The roof features a blue and white striped canopy covering a small attic balcony. Over the alleyway is detailing of whips and horns. The buildings overall structure is synonymous with many town houses in reality.
15. 10218 Pet Shop
10218 Pet Shop, like many in the collection, comes with a building adjacent. The contrast between these two buildings is pleasing and again typical of what would happen in cities. 10218 Pet Shop uses baby blue bricks with darker brick details, whilst the home next door is a richer brown and terracotta.
This set features some intricate detailing. A curved base on the bay window of the town house and the properties small fenced garden are welcome inclusions.
10218 Pet Shop and the home next door are attractive individually. A lot more could have been done both internally and externally to elevate it into something truly wonderful. A richer level of interior detail in appears in later LEGO Modular Buildings, so perhaps it is something that was addressed overtime. Nevertheless 10218 Pet Shop has only made it to number 15 on the ranked list.
14. 10278 Police Station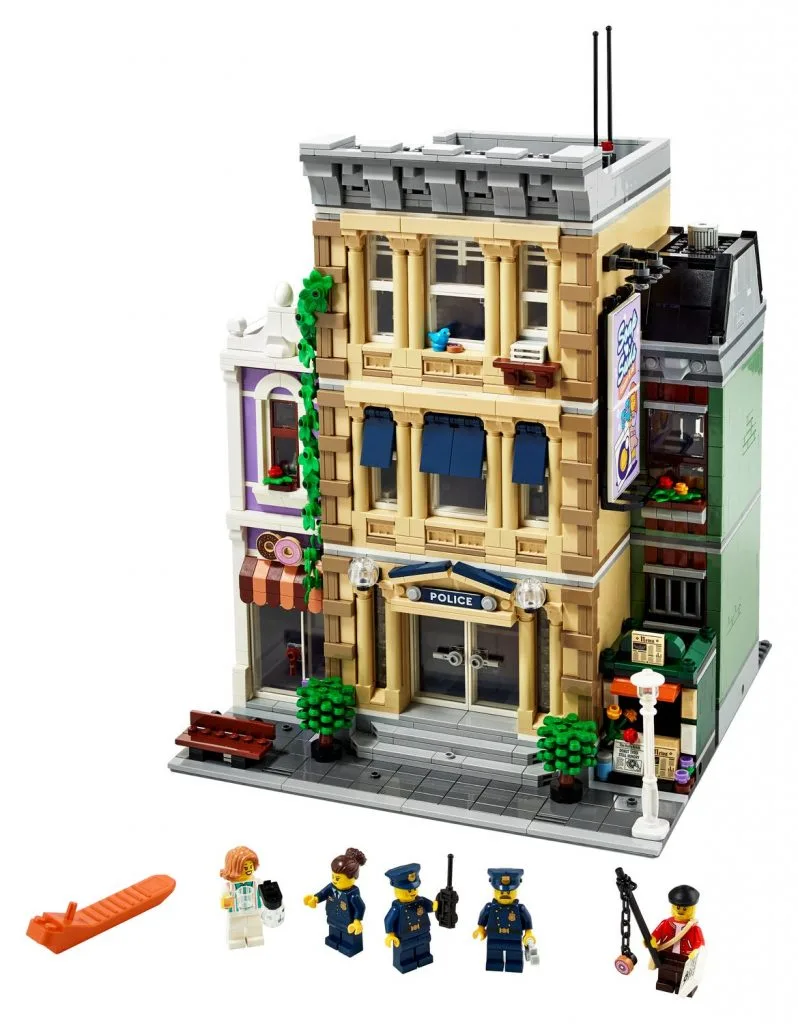 Whilst 10278 Police Station appears on countless blogs higher than placed here, it is simply down to the finer details that it appears later in the list.
10278 Police Station is without doubt a well-designed building that is a fun experience to piece together. For example, it features intricate exterior detailing such as the climbing plant up the side of the station, and three architectural styles in total, Police Station really is well created.
The additional buildings of the set include a cake shop and a narrow building fronted by a news stand. It is nice to see LEGO making links back to older products within the LEGO Modular Buildings family. An advertisement for Soap 'n' Suds which is part of 10251 Brick Bank set can be seen.
Perhaps it is the obvious nature of Police Station that did not allow it higher on the list, or the elevated level of detailing within the secondary building cake shop that did not seem to transition into the Police Station itself. Regardless of opinion, Police Station is still an enjoyable build and one that would look great in any display.
13. 10224 Town Hall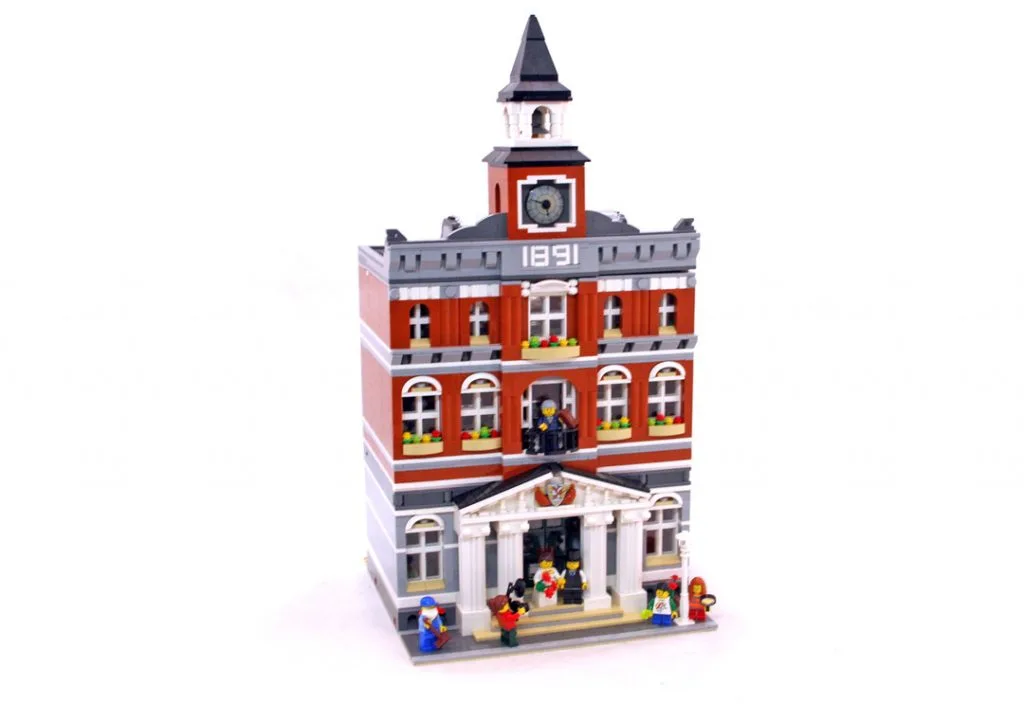 Typical of small-town town halls, 10224 Town Hall has a sense of familiarity about it. It appears typical of small-town America in style, which is something many are familiar with through pop culture.
10224 Town Hall, is adorned with the year of its completion in 1891, well before the first LEGO brick was invented. 10224 Town Hall covers a large stud area. Whilst many may think that more is better, here that simply isn't true. The creators had a large area to play with and could have created something much more intricate and with more detail, which Town Hall so desperately needs.
10224 Town Hall would however make a pleasing addition to any LEGO Modular Buildings fan who is planning to create the whole city. 10224 Town Hall is always a key focal point. One key feature to mention is the addition of a working elevator, which does add an additional level of desire.
12. 10246 Detectives Office
10246 Detectives Office features a subtle design. Passers-by might just mistake this LEGO Modular Buildings set to simply be a barbers and a pool hall. On closer inspection, as we have become attuned to from black and white crime thrillers, that painted in the window on the floor above the pool hall are the offices of Ace Brickman, Private Detective.
The Detective's Office is a myriad of excellence. From the water tower and cat sitting on the rooftop, to the mirror inside the barber shop, there is little that this set does not have. It even gives an insight into an ongoing crime ring of cookie smugglers. With such a quaint and well kitted out office in a pleasant neighborhood, Ace will surely be on the case.
11. 10182 Cafe Corner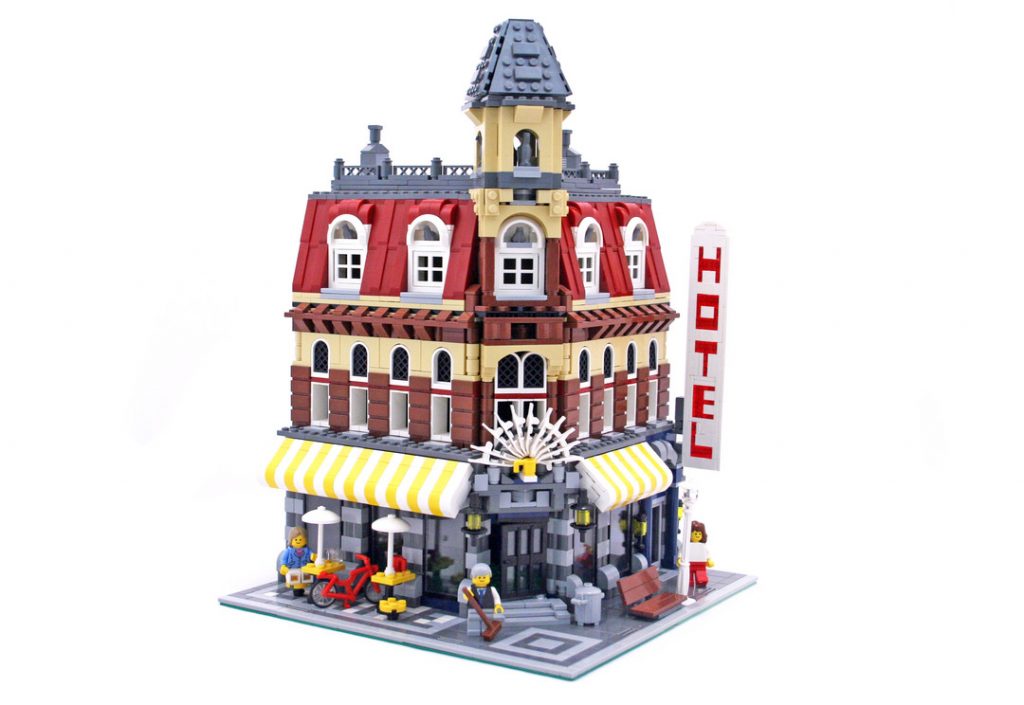 10182 Café Corner brings forward longings for warm afternoons in European cities. Cafe Corner was the first in the LEGO Modular Buildings family. The collection has come a long way in terms of design since then, but there is something comforting and exciting about this structure.
The colour scheme is simple, however is accurate interpretation of a typical European style cafe is true to form. The canopy is bold in yellow and white. The varying size of floors as the building climbs gives a pleasing visual appeal.
LEGO Modular Buildings have vastly improved in terms of exterior and interior detailing. 10182 Cafe Corner was considered ground-breaking in 2007, and that should be celebrated.
10. 10264 Corner Garage
Focusing on a 1950s style of architecture, 10264 Corner Garage is a visually busy and vastly interesting addition to the LEGO Modular Buildings family.
The garage is complete with 1950s style tow tricks, a moped, and a charming logo featuring a wrench. LEGO have created garages before in their LEGO City collection. Corner Garage simply elevates the premise to another level with a rich interior opening opportunities for play and narrative.
A subtle and potentially overlooked feature of Corner Garage is the inclusion of a vets. The blue entrance with paw print on the handle is a fitting design addition.
9. 10270 Bookshop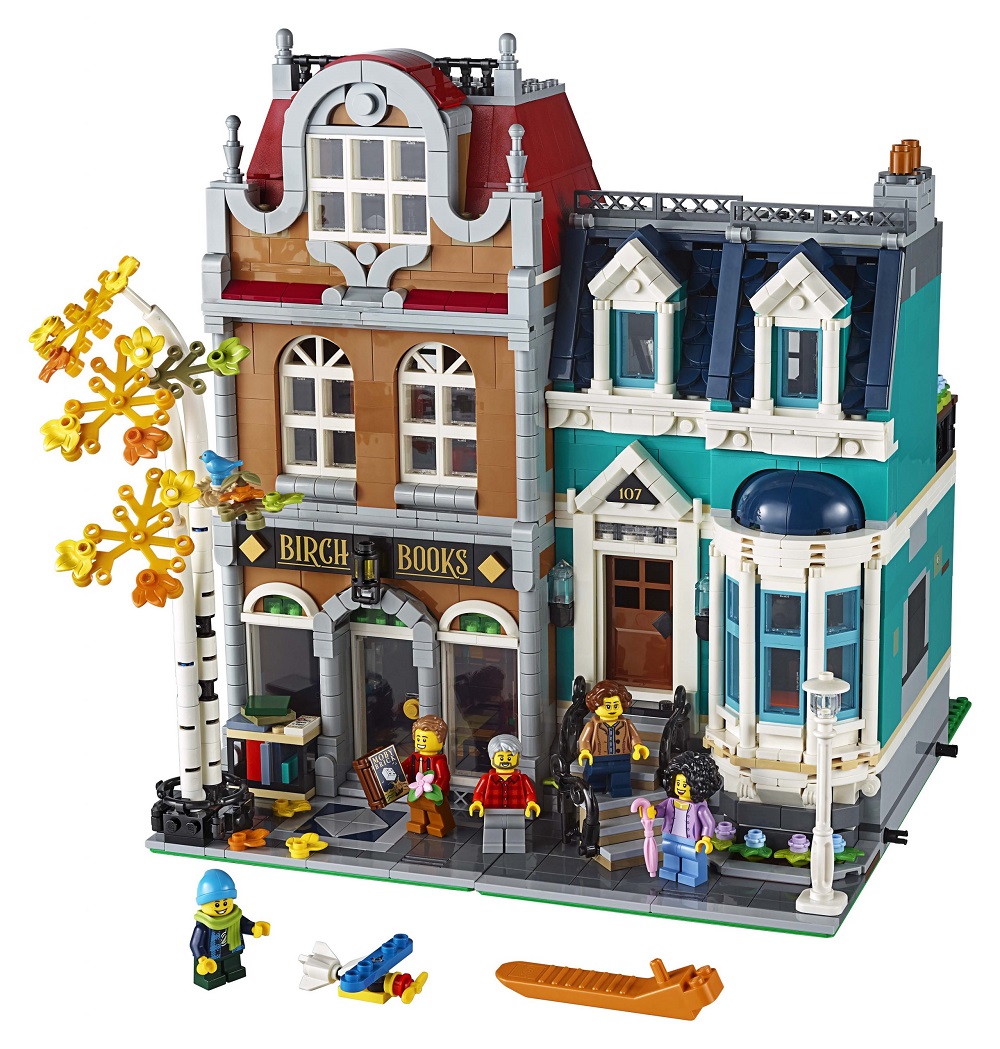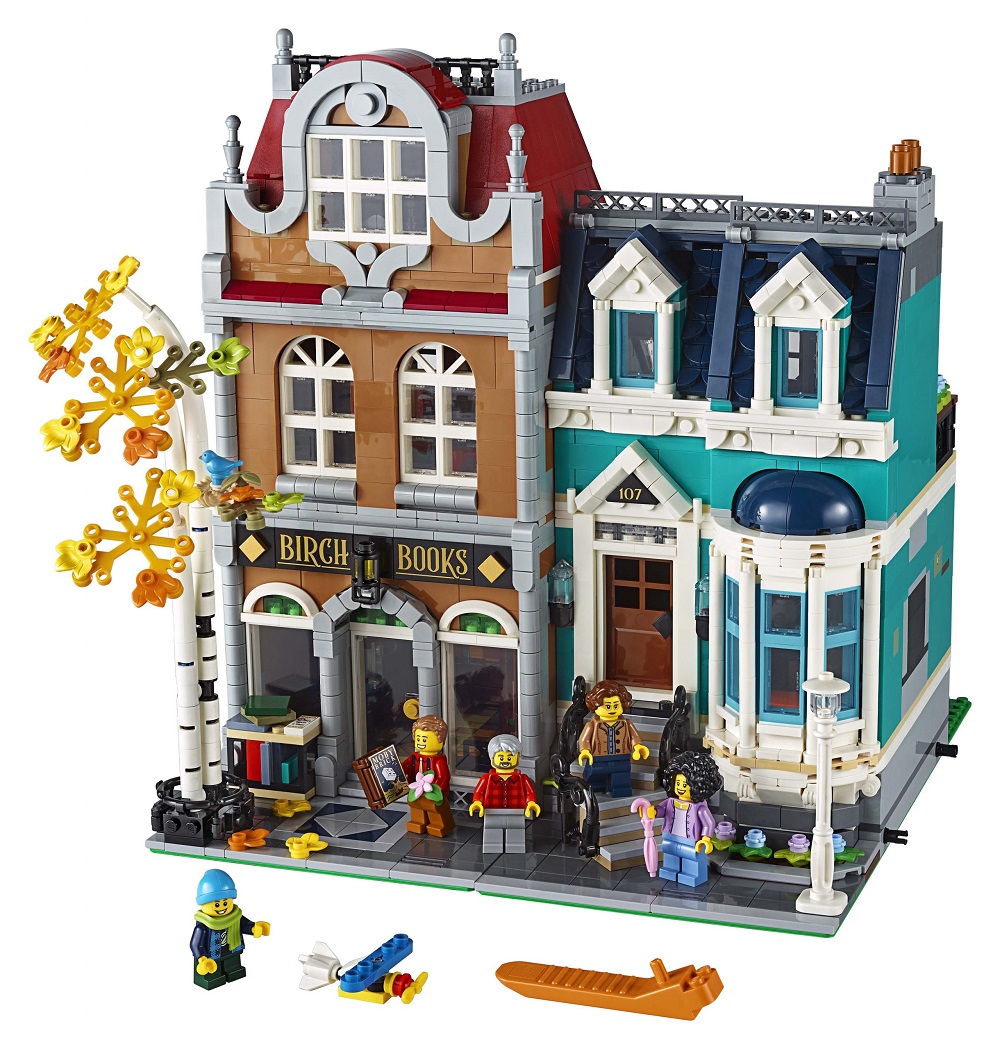 10270 Bookshop was a difficult addition to the LEGO Modular Buildings collection to rank. The premise, a quaint bookstore by the name of Birch Books with a birch tree just outside of its front door, had incredible amounts of promise. The exterior uses warm orange bricks with grey stones detailing the sides of the building. Topped with its ornate attic window, the bookshop is something every avid reader dreams of visiting.
Sadly, it is the interior that has prevented bookshop from moving closer to the number one ranking of LEGO Modular Buildings. For a bookstore, there is a surprisingly small number of books available, and the interior does feel a little lazy.
The additional building on this set however, a modest home completed in vibrant blue bricks with white and dark blue detailing, does offer some solace. A balcony with potted plants completes the balcony at the rear of the building.
8. 10211 Grand Emporium
10211 Grand Emporium reflects a classic department store. Complete with flags and rich green canopies recalling the exterior decorations of Harrods in London, 10211 Grand Emporium offers an element of luxury within the LEGO Modular Buildings family.
The interior of 10211 Grand Emporium is what you would expect for a large and luxurious department store: chandeliers, rich colours, and escalators. The exterior leaves something to be desired however, as in comparison to many of the LEGO Modular Buildings that will come after it, the building is in bland colours and is perfectly symmetrical. Whilst a true link to many department stores within the same ilk, LEGO could have done much more to make 10211 Grand Emporium a true symbol of shopping luxury.
7. 10197 Fire Brigade
A regular site in many adaptations of LEGO City, 10197 Fire Brigade is a welcome addition to the LEGO Modular Buildings family. Designed to reflect 1930's architecture, 10197 Fire Brigade is adorned with the date '1932' just below its bell tower.
10197 Fire Brigade is far beyond any prior iterations of a fire station. The exterior detailing is stunning, featuring a brown brick ground floor with grey strip detailing, moving up to a central stone coloured brick band with golden helmets and axes, before reaching the first floor of rich red brick and grey corner detailing. The top of the building is the most exciting element; a shiny golden bell nestled inside the bell tower.
Inside the detailing continues, with typical fire station elements such as space for the fire engine, fire pole and emergency equipment, as well as a rest area for the firefighters to relax in.
Whilst initially some LEGO Modular Buildings fans may be disappointed at its size and lack of additional buildings, 10197 Fire Station is a spectacular collective item that links the striking architecture of the 30s with the fun of reminiscing about your first LEGO fire station set.
6. 10232 Palace Cinemas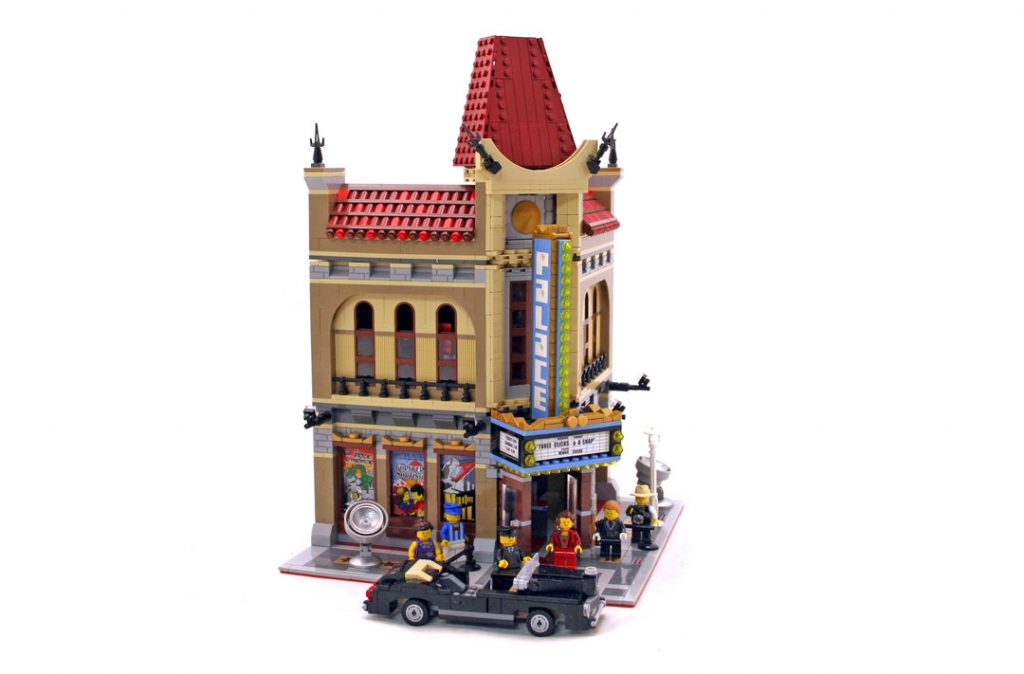 A full change in architectural style within the LEGO Modular Buildings family is 10232 Palace Cinemas. The building features a Chinese inspired roof in varying shades of red and burgundy which makes for an impressive addition to the collection.
The cinema's interior is simple and features only one screen that is surrounded with a red curtain. Further interior details include a popcorn and soda kiosk.
One of the best features both inside and out of 10232 Palace Cinemas are the highly enjoyable movie posters. A feature film advertised on the intricate screen above the entrance is aptly named 'Three Clicks and a Snap' in keeping with the humour LEGO brings into so many of its newer creations.
5. 10185 Green Grocer
10185 Green Grocer is one of the best early sets in the LEGO Modular Buildings family. This set has much more going on internally than the two sets prior.
With its safe green exterior adding a welcome dash of colour and intricate roof detailing, not only does 10185 Green Grocer stand out as an individual project, but it fits in well with other buildings from the LEGO Modular Buildings family.
Interior wise there is an improvement in comparison to the two prior buildings. The ground floor of 10185 Green Grocer sees detailed and fully stocked fridges of varied produce, as well as a completely tiled floor giving it a very authentic Green Grocer feel.
4. 10243 Parisian Restaurant
10243 Parisian Restaurant is simply stunning. Regarded by many as one of the best LEGO Modular Buildings, it is the intricate details that elevate this set above the others.
10243 Parisian Restaurant features olive bricks broken up by grey and brown detailing, spotless, large white windows, and a contrasting blue tiled roof complete with ornate decorations.
Unlike other LEGO Modular Buildings, 10243 Parisian Restaurant stands completely alone, but makes the most of its space. Outside we have a tiled red carpet underneath a canopy typically seen at fancy restaurants, with a quaint seating area and menu stand. The stairs lead to a balcony at the back where diners can eat haute cuisine in tranquillity. The lampposts even feature plant pots.
Inside is a fully stocked kitchen and moving up the building, and changing the theme ever so slightly, is an art studio placed in the attic. It is easy to imagine this set in the real world, with the artist, fuelled by food from the restaurant below, looking out over Paris by night, seeking inspiration for their latest work.
3. 10251 Brick Bank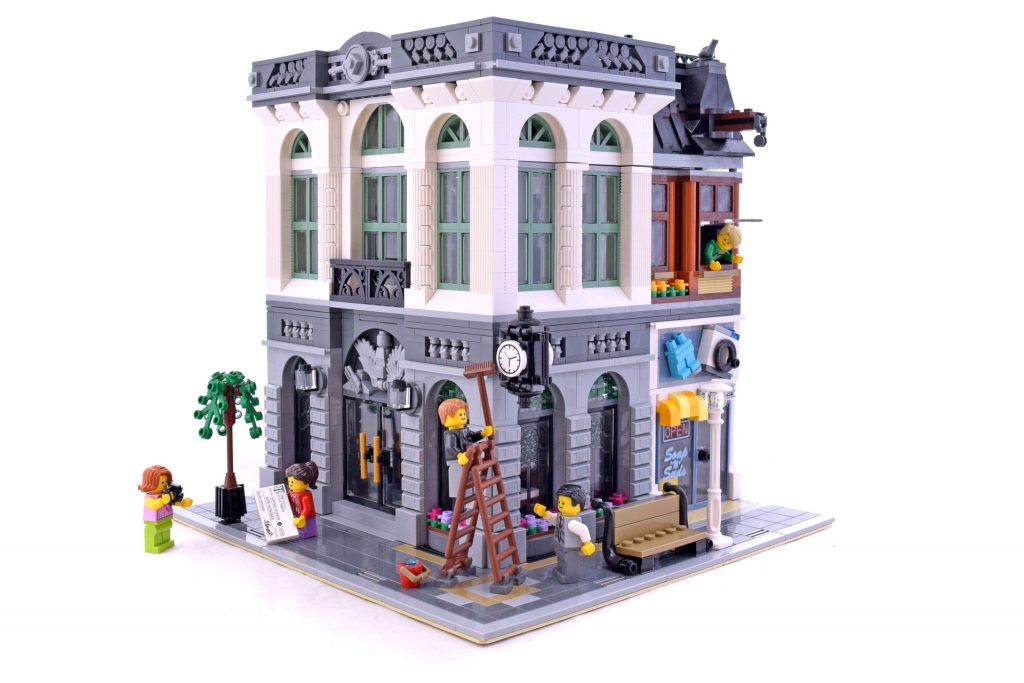 10251 Brick Bank is one of few corner modules in the LEGO Modular Buildings family.
Whilst 10251 Brick Bank does not have the height or the mixture of styles that other pieces in the collection have, it does have some spectacular architectural features such as the large arched windows framed in sage green against the white brick façade.
The exterior features the usual decorations of plants and benches, however a large clock fastened to the side of the building adds a familiar feel to the building.
Inside the heavy detailing seen in the most recent LEGO Modular Buildings continues. From bank teller desks to a working vault and impressive flooring. Behind the bank is a launderette which we see call backs to in 10278 Police Station's advertisement. The launderette use orange bricks on the upper floor, and the ground floor features a small orange and yellow canopy. A trousers and washing machine logo hangs over the doorway. This placement is one for the grownups, as a not-so-subtle link to money laundering.
2. 10260 Downtown Diner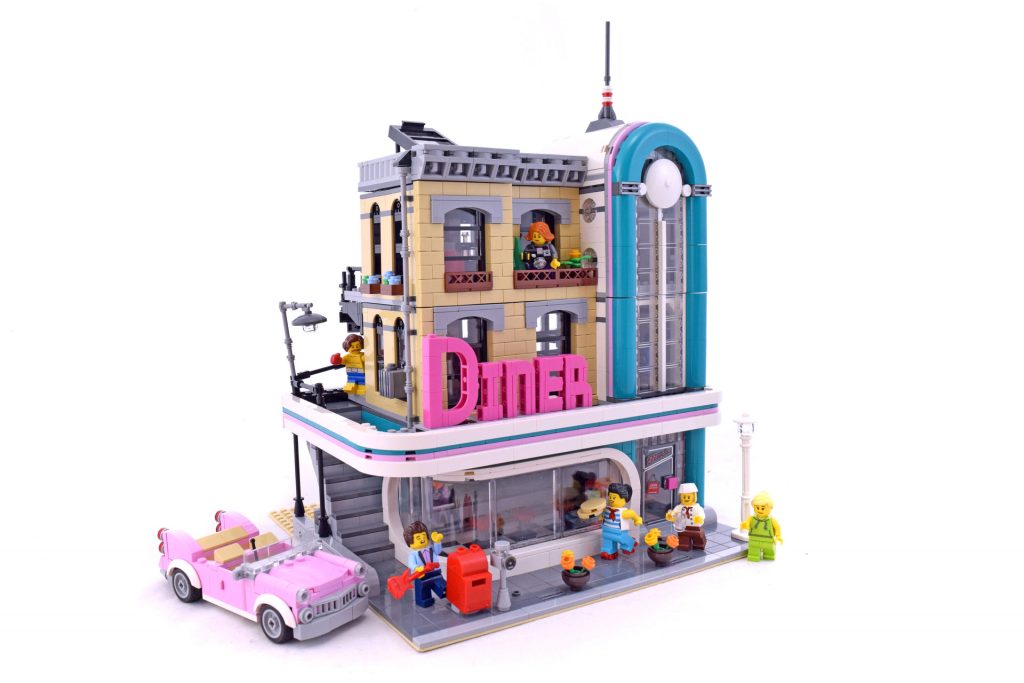 10260 Downtown Diner is one of the more unique buildings in the set. As a result 10260 Downtown Diner has earned a high place on the rank order.
Many of the LEGO Modular Buildings, whilst all unique, follow a similar style. Inspired by 1950's diners, 10260 Downtown Diner features curves, bold colours, and out-there styling.
Included are 1950's streamlining features such as the curved canopy and large rounded window. The teal and pink curves on the exterior reflect the jukebox inside. Bold pink 'DINER' letters are again reminiscent of a time gone by.
The large glass window allows for a sneak-peek inside the diner. The diner includes traditional booths and jukebox, whilst upstairs is a boxing ring and simple apartment.
Yes, the mini-figures are a little much with their large smiles, however isn't that the point of nostalgia? This set is full of nostalgia, even for those who were not around at the time.
1. 10225 Assembly Square
An obvious choice for the number one spot? Yes. Does it deserve and warrant this? Wholeheartedly.
The largest set in the LEGO Modular Buildings family is 10225 Assembly Square. Moreover, it is certainly the most intricate and involved. More is king here, and 10225 Assembly Square offers more, much more.
10225 Assembly Square was released in celebration of the 10th anniversary of LEGO Modular Buildings, and it does not disappoint. The largest stud coverage of the set, at 32×48 studs, 10225 Assembly Square features four buildings all with unique designs. A cake shop/cafe on the corner is separated by a walkway. A flower shop which is adorned by giant tulips above the door, and a fountain outside. Moving round is an apartment before finally reaching the orange and blue pretzel shop complete with tiny pretzel decoration.
The interiors match the exterior level of detail. Subsequently, this set is not only a must-have and the highest-ranking LEGO Modular Building on the list, but a joy to put together.