This post may contain affiliate links, we may receive a commission if you make a purchase using these links. As an Amazon Associate I earn from qualifying purchases.
LEGO Mindstorms goes well beyond a toy and into the realm of real-world uses. Whether it's teaching robotics to children and teens, or helping engineers think out ideas, there's a lot you can do with these bricks. The LEGO Mindstorms EV3 Idea Book gives us a lot of ideas for mechanisms and contraptions you can do with these sets. Let's check it out.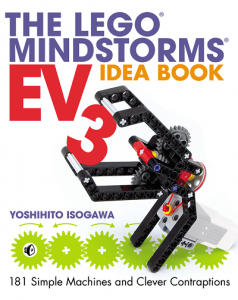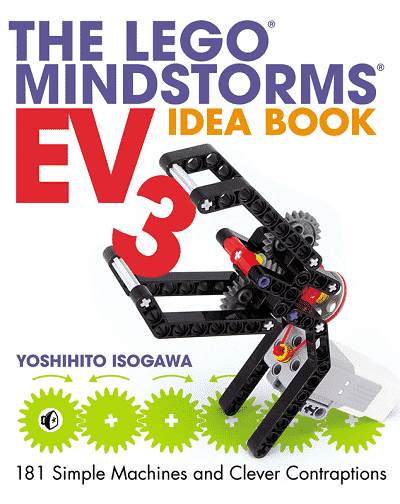 The LEGO Mindstorms EV3 Idea Book Review
LEGO's robotics branch is highly regarded both in education and engineering circles. There have been several Mindstorms applications since its inception in 1998, and the latest, EV3, is better than ever. There is a world of possibilities in LEGO, and this is no different.
In comes The LEGO Mindstorms EV3 Idea Book, authored by Yoshihito Isogawa and published by No Starch Press. This book does exactly what it says: a world of possibilities, with 181 machine ideas you can build with Mindstorms EV3 pieces and accessories.
The structure of the book
Just as the name says, this is an idea book. This means the book doesn't include detailed instructions on how to use the Mindstorms EV3 pieces and accessories. Rather, it focuses on simple mechanical ideas.
And the ideas are just that: ideas. Each one comes with several photographs from different angles, but no step by step instructions. This encourages the reader to figure the mechanism and build out by his or herself, rather than follow a spelt-out path.
To aid in the idea process, each machine comes with a list of pieces necessary to put them in place. This is also shown in a visual fashion. There is very minimal text in this book, making them usable by anyone even across language barriers.
As with other No Starch LEGO books (some of which we reviewed before), this comes both in physical and digital format. In our case, we reviewed the physical print book. As with all other No Starch books, this one is high quality. The book is hardcover, with thick quality pages and very bright, clear photographs illustrating the ideas. The colours are rich and crisp as well, making it a delight to look at.
The contents
Each chapter or section of the book comes with ideas relating to a general theme. These include vehicles, robots that move without tyres, grabbers, shooters, pendulums and sensors, among others. Most ideas involve only simple mechanics so no programming required; however, the few that do need it come with instructions for that as well.
The very first chapter of the book is an introduction to simple mechanics, which prepares the reader for the next chapters. We learn about gears, worm drives, swinging and reciprocating mechanisms, and more.
From there the ideas become increasingly more complex, but never so much they are incomprehensible or undoable. The LEGO Mindstorms EV3 Idea Book means to inspire, and as such, it lays down the basics of mechanics and simple elements so the reader can build their own machines and their own robots.
Beginners unused to LEGO Technic and Mindstorms will find this book very enlightening in many ways, in special the first chapter. Students learning basic mechanic physics would also benefit from this book, as it teaches the basics of motion using gears, pulleys, and other simple techniques through increasingly sophisticated examples. People interested in physics and engineering will also find it very useful.
On the other hand, it is not as useful for those searching for Mindstorms EV3 programming, as it is not the purpose of the book. For that sort of guidance and education, we would suggest the LEGO Mindstorms EV3 Laboratory book, which we reviewed here. It does include a couple ideas regarding sensors and the Intelligent Brick characteristic of the EV3 sets, but not much more. The main focus is on basic mechanics and movement.
The author
Yoshihito Isogawa is a LEGO creator. He is a judge for the World Robot Olympics. He is also a judge for the FIRST LEGO League in Japan. Yoshihito wrote several books about LEGO, with an emphasis on Technic and Mindstorms sets. One such book is the LEGO Technic Idea Book, also published by No Starch Press. He has several Japanese language books, all focused on LEGO Technic and robotics.
This book follows Isogawa's own creative process, which, according to him, is to let ideas flow and reveal themselves. This is also why he took the creative choice to not use text at all.
Conclusion
The LEGO Mindstorms EV3 Idea Book is an excellent choice for people already familiar with the building methods and basic workings of LEGO Mindstorms systems. As it is, it is meant to inspire and suggest.
As it has next to no text, it should work for a large audience, even people who do not speak English or a younger audience. Although it is an idea book, not an instruction one, it can be used as support material to teach basic mechanics and even basic physics.
In essence, this book does an excellent job of showing the many possibilities of LEGO Mindstorms EV3, its many applications and flexibility. The wholly visual aspect of the book also encourages thought, rather than blind instruction following, which helps fulfil the goal set out by Isogawa. It's a great choice for young and future engineers or the curious.