This post may contain affiliate links, we may receive a commission if you make a purchase using these links. As an Amazon Associate I earn from qualifying purchases.
It's an exciting time when a new collectable LEGO Minifigure Series gets released, especially a core series release. The LEGO Minifigures Series 18 certainly lives up to the hype and will contain 17 collectable minifigs, one of which is designed based on the LEGO 600 set Police Officer from 1978 (there's some other really cool references like this).
The new Costume Party-themed series celebrates the 40th anniversary of the minifigure (first produced in 1978). It also coincides with the LEGO brick's 60th birthday (January 28th, 2018). This highly anticipated series will arrive in stores April 1st, 2018. We also have a number for each bag, LEGO 71021, and the names and pictures of every character (plus much more)!
Follow us on Twitter and Facebook for all the latest Series 18 news.
In this updated review (bookmark it), we will run through the contents of a Series 18 'mystery' polybag with pictures, the relative rarity of each minifigure, the release date, additional pictures, availability (featuring methods to purchase) and an in-depth review and rating of each minifigure (with the official quotes).
See more:
LEGO Minifigures Series 18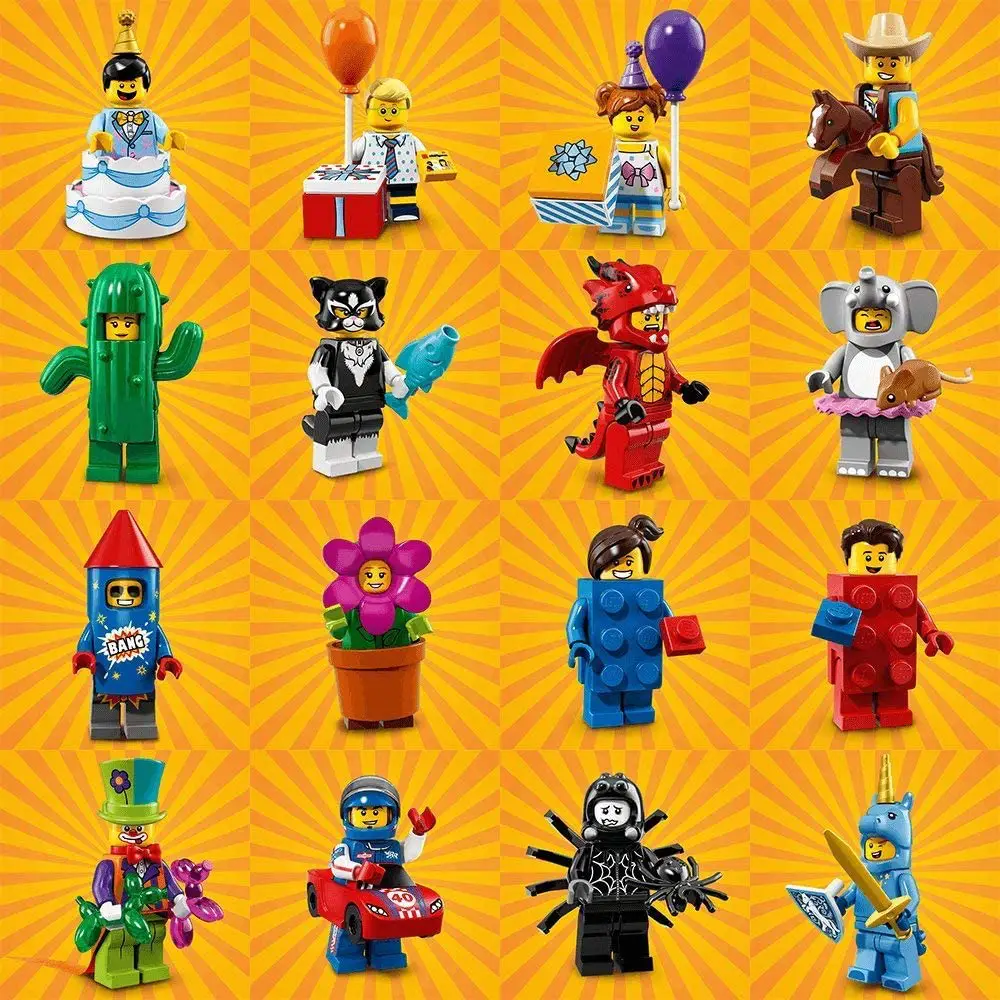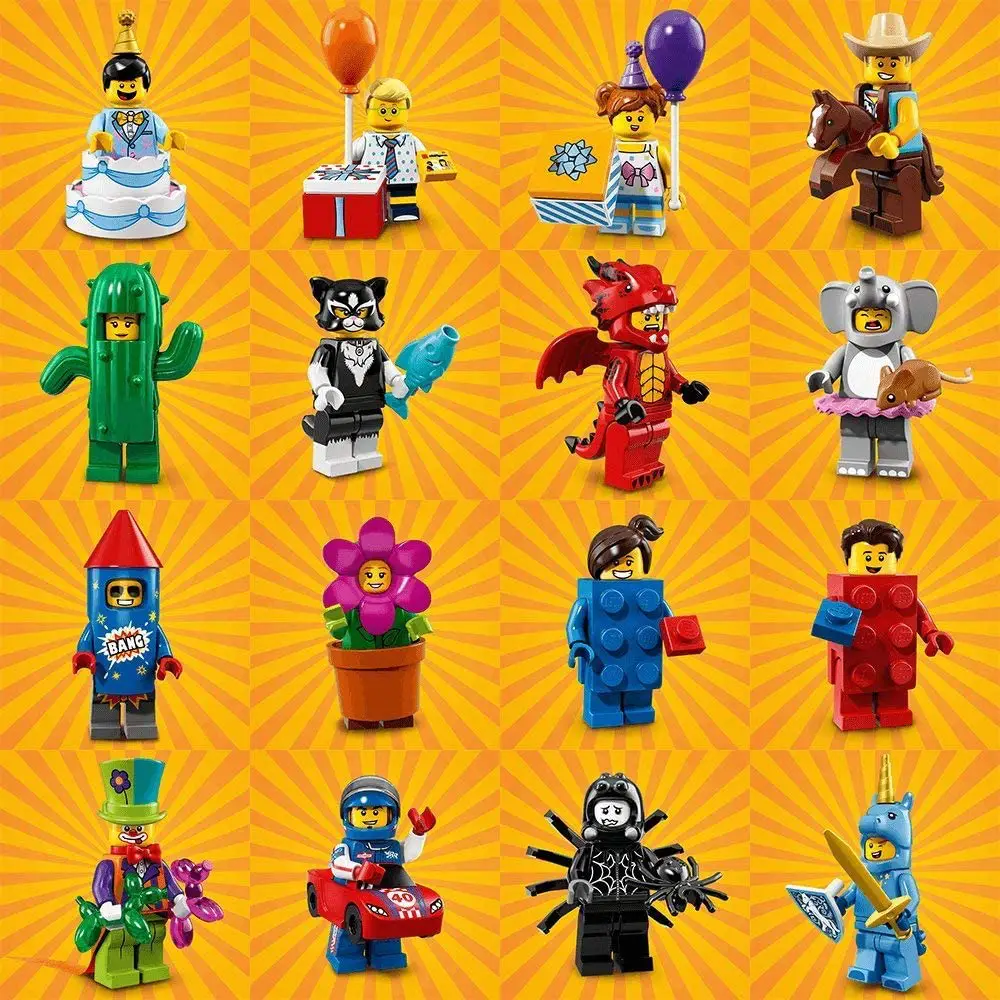 What does a LEGO 71021 Series 18 Minifigures Polybag contain?
In each LEGO 71021 mystery bag, you will receive:
One random LEGO Series 18 minifigure;
One leaflet that can be used as a checklist for all 17 minifigures. On the reverse side of this leaflet there will be assembly instructions for some of the minifigures with a close-up and the qoute / slogan of the Series 18 minifigure that you opened;
One orange base display stand
How Rare is each LEGO Series 18 Minifigure?The rarity of a core LEGO Minifigures Series 18 character can be calculated by how many LEGO release in a sealed 60 polybag box/pack. Previously, we have been able to get an idea of this ratio as each core series contained 16 collectable minifigs (with the exception of series 10).
With 17 minifigures to collect in Series 18, the ratio inside each 60 pack box will change and so will the relative rarity. Series 10 contained an additional extra rare minifigure (with only 5,000 released). It appears that the LEGO Minifigures Series 18 collection does not have an additional extra rare and instead one special minifigure, the Police Officer. As a guide, there were previously a minimum of three minifigs per 60 polybags in Series 17, but this is set to change. We will update the relative rarity statistics below when we have them.
Special – Police Officer: x1– This special minifigure will be the rarest of Series 18, with only one available in a box of 60 polybags.
LEGO Brick Suit Guy: x5
LEGO Brick Suit Girl: x5
Dragon Suit Guy x4
Firework Guy x4
Spider Suit Boy x4
Flowerpot Girl x4
Cowboy Costume Guy x4
Unicorn Guy x4
Birthday Cake Guy x4
Elephant Girl x3
Party Clown x3
Birthday Party Girl x3
Cactus Girl x3
Cat Costume Girl x3
Race Car Guy x3
Birthday Party Boy x3
When is the Official Release Date?
The LEGO Minifigures Series 18 is now available, we've seen comments that they are available at WHSmith and LEGOLand Florida. Likely available at many other shops too!
LEGO 71021 Series 18 Minifigures Availability
Purchasing an individual 71021 Polybag
Retail stores and online stores worldwide will stock individual 71021 polybags on April 1st. However, if minifigures are particularly rare (or needed for a collection), customers may try to feel the bag in hope of identifying the contents. As the Police Officier minifigure is rumoured to be available one in every 60 bags, people will be very keen to find him.
Purchasing an individual Series 18 Minifigure
You can also purchase individual Series 18 minifigures online at varying price (depending on the rarity). This is especially useful if you only need a couple to complete the collection.
Purchasing the Complete Series 18 Collection
A lot less fun, but purchasing the entire Series 18 Minifigure collection from a variety of mostly online stores is also possible.
LEGO Minifigures Series 18 Review and Pictures
Let's get into the analysis of each LEGO Series 18 Minifigure and this Costume Party-themed review. As mentioned before, every minifigure will come with an orange display stand. Double faces feature on the Spider Suit Guy, Elephant Suit Girl, Cactus Girl and Red Dragon Suit Guy.
Balloon Artist Clown
The Balloon Artist Clown Series 18 minifigure looks like a lot of fun and his outfit perfectly matches the orange display stand. Previous clowns featured from 2010-2015, so it was only a matter of time until we got a new one. While not overly exciting as we've previous seen many CMF series clowns, the Costume Party theme was the perfect opportunity for LEGO to release another.
This minifigure holds two balloon dogs in either hand (purple on the left and green on the right). The legs are green with partial printing in the center and his top is orange with a purple button and collar, which also attaches to an orange cape. The arms are purple. The face printing looks most similar to the series one Circus Clown minifigure below, but the Balloon Artist Clown has his tongue poking out. What looks really great is the plastic red bow tie as it hasn't been printed. Our favourite accessory has to be the tall green tophat (two shades of green), with a printed flower.
This clown is unlike any other clown we've seen before.
Note: The Small Clown from Series 5 is actually smaller than the others, as he has short legs. We've made him the same size in the image so you can easily look at the features.
Birthday Cake Guy
Every birthday party has to have a cake. The Birthday Cake Guy brings exactly that. Popping out of the cake in a smart pale blue suit and orange printed bow tie, this guy's looking to surprise. With a wide-open mouth, you can see he's having fun. The minifigure has black hair and comes with a gold coloured party hat. The white cake with pink topping obscures the majority of the orange display stand and is decorated with printed blue ribbons. In our opinion, the Birthday Cake Guy minifigure is not overly exciting, but it's still a unique design in the LEGO CMF series.
Blue Suit Brick Girl
Of course, there's no LEGO celebratory Costume Party without a brick. This LEGO Minifigures Series 18 costume is the perfect tribute to the recent 60th birthday of the brick and 40th birthday of the minifigure. Combining both features, it's also very unique, with no other previous minifig designs similar to this.
The Blue Brick Girl holds a single piece red LEGO brick present with a large grin in excitment (some may say the present is bland or simple). This all-blue minifigure (except for the face) has brunette hair made into a bun, which is a very useful hair piece. A very simple design, which may lack accessories, but still very effective. One of our favourites.
Red Suit Brick Guy
The brown haired Red Suit Brick Guy must have coordinated with Blue Suit Brick Girl before turning up to the party. Dressing the same but in the opposite colours (the single piece present is even blue) makes this pair look great. This special Series 18 celebratory design now comes in his and hers outfits. Many of you will also be interested in the unique hair piece. Blue Suit Brick Girl and Red Suit Brick Guy are two of our favourites in the LEGO Minifigures Series 18 Collection.
Blue Unicorn Knight
Quote: "He brings the glitter to the party."
Knights and Unicorns are nothing new in the LEGO Minifigure Series, but combine the two and you've got something unique. LEGO have clearly decided to do exactly that. The playfully posed Blue Unicorn Knight minifigure has a very similar (almost identical) Series 13 unicorn costume, but in turquoise blue, a great tribute in our opinion. It also has royal blue feet, hair, tail and hands (series 13 has grey and blue colour scheme). The horn is gold which really makes for a distinguished look and perfectly matches the sword — add to this the orange display stand and it really does catch the eye. The shield most resembles the shape seen in Series 9, but has a white horse design, blue patterned background and white frame.
Cactus Girl
Cactus Girl reminds us very much of Corn Cob Guy of Series 17 (2017) and Hot Dog Guy from Series 14 (2014). Corn Cob Guy was very popular among the LEGO community and wasn't that difficult to obtain. Some would argue that the Cactus Girl minifigure costume is a very random and doesn't add much to the celebratory series. Still though, if Corn Cob Guy is anything to go by, this could be a very popular addition to the series.
The Cactus Girl Series 18 minifigure is fully green (other than her face). In contrast to Corn Cob Guy, her arms also look like Cactus'. The Cactus costume appears to be detachable. Cactus Girl comes with two face prints, an akward face and a happy face.
Cat Suit Guy
Cat Suit Guy is very unique and unlike any minifigure we've seen before. While the costume is detailed, in our opinion it does look somewhat out of place in this series. The fish accessory that he carries has been seen in previous sets, however the turqiouse colour in this accessory is brand new. Cat Suit Guy is a black cat, with white arms, feet and a printed torso. The head appears to be detachable, working more like a helmet. That way, hopefully, you can combine it with other minifigure configurations, faces, etc. We're interested to see the minifigure face print under the detachable mask.
Cowboy Suit Guy
Cowboy suit guy is a new addition to the LEGO Minifigures Series 18 as well. Unlike previous cowboys, such as the Series 1 Cowboy from 2010, this one has a more childlike look. It also includes an attached horse front — much like real costumes. This is an accessory that seems to fit between the torso and the legs, so it's easily removable for a less goofy look (or for use in other minifigures). The horse looks really cool, in brown and with a marking on its forehead. However it's difficult to get overly excited about this minifigure when we've already had many bandits, sherrifs and a cowboy in the Collectible Minifigure Series line.
Elephant Suit Girl
The Elephant Suit Girl is also unique, and a first for LEGO. We haven't seen an elephant in such a long time (2003 sets; 7414 & 7418, as well as some Indiana Jones Sets from 2008). The elephant suit is light grey with a white belly, seems to have a pinkish or white blush on her cheeks and sports a pink tutu. This minifigure comes with a new mouse accessory mould as well as a cheese slice, which opens a lot of roleplaying opportunities. Elephant Suit Girl also has two different face prints.
Fireworks Guy
This minifigure has a fireworks suit — perfect for any party. The fireworks suit is a deep blue, with a red cone top, very much like your stereotypical firework stick. His trousers are dark grey, his hands are in red gloves. It has a yellow 'BANG' printed on the front and lots of stars on the sides. It's a very interesting minifigure, and very festive as well! However we can't see much use for this minifigure outside of the series.
Race Car Guy
Race Car Guy pays tribute to the iconic Rocket Racer minifigure from the LEGO Racers game. This can be seen by the 'RR' symbol. We can easily see this minifigure being used in other contexts as it looks pretty fun and versitile!
Like Cowboy Suit Guy, this isn't just a regular racecar driver — no, this one comes with an accessory belt shaped like a car, like in many real-life costumes. This LEGO Minifigures Series 18 race car guy comes in blue, with the car in red, patterned in checkered black and white on the hood. The car also sports a 40 on the hood — clearly a reference to the 40th anniversary of the minifigure. A clever little detail, for sure. We especially like that it has two clear references to previous LEGO products.
UPDATE: Many thanks to Daniel Yerkes for these fantastic picture. He states "The Racecar Guy is a must have for me. He brings back so many fond memories of the LEGO Racers games. I've even built Rocket Racer's car with colors and custom stickers matching this 3rd iteration of the character."
Flower Girl
Flower Girl doesn't really relate to LEGO's past (doesn't resemble LEGO flowers) or add much to the series in our opinion, especially when comparing to the Plant Monster minifigure from Series 14. The series 14 minifigure is much more detailed and fun. The flower petals have a deep magenta colour, with the minifigure's face serving as the flower's centre. The body is green and doesn't seem to come with legs; a flowerpot covers most of the lower part, though that could be an accessory as well.
Police Officer
The special Series 18 Police Officer minifigure has been designed based on the LEGO 600 set Police Officer. The Series 18 Police Officer looks almost identical to his 1978 version and carries a 1×2 gift box with the box lid front cover as an interpretation of the set below:
We love this really cool throwback, especially as the gift box includes the LEGO 600 set. We have a feeling this set will soon become a lot more popular, especially as the Series 18 Police Officer is very difficult to pack (1 in 60 chance).
In contrast to the 1978 version, the Series 18 Police Officer has a smooth torso, legs and arms. The colour of the gift box is yellow with a white top.
Purple Balloon Girl
Purple Balloon girl seems to be having lots of fun! She comes with a gift box, and what seems like two doughnuts. She also holds a purple balloon which appear to wrap at the bottom, has a new red pigtails hair piece and a light purple party hat. Her attire is simple, with a white t-shirt decorated with a purple bow around the middle. Her gift box is striped blue and white, with a yellow lid featuring a blue design. In our opinion this is a great addition to the series.
Orange Balloon LEGO Fan Boy
Like the Balloon Girl, this boy seems to be having a lot of fun. But he's clearly a LEGO fanboy: he has a LEGO set with him (featured a CMF series 1 pack), as well as a printed present gift box. The boy also sports a really cool white dotted printed shirt with a tie, glasses, generic blond hair, a cool orange balloon mould and apparently short legs as well. Both Balloon Boy and Girl figures seem unique to the LEGO Minifigures Series 18, at least in this combination.
We especially like the Orange Balloon LEGO Fan Boy minifigure as it makes clear reference to LEGOs past, which is the main reason for the costume party-theme. The Series 1 minifigure polybag on the LEGO set cover is the perfect gesture for the 40th birthday celebration.
Red Dragon Suit Guy
The Dragon Suit Guy is one of the most interesting in this series and is clearly related to the Fantasy Era Dragon from the 2007 Skeleton Tower set (shown below). The dragon suit looks awesome, in red and black like a traditional dragon, with black spikes and horns. The minifigure face looks through its open mouth and seems to have a surprised or angry expression. The dragon's mouth has white teeth, and it also sports wings. There are gorgeous print details on the dragon. Definitely a high point in the LEGO Minifigures Series 18 collection. It's probably our favourite as it's so detailed and perfectly references LEGO's past.
Spider Suit Guy
This minifigure also sports its animal theme beautifully. Unlike previous incarnations such as Spider Lady and Spooky Boy, this is an actual spider costume. The minifigure has a grey face and what seems like a small tooth out (like Spooky Boy from Series 16). The outfit is entirely black, with the headpiece sporting blue eyes and spider-like pincers on the sides of the face.
Unlike the Spooky Boy minifigure, this one has a serious expression and spider legs coming out of its back, which is pretty unique by itself. The front has a spiderweb print. It also does come with a black spider element. Many will argue that the Spider Suit Guy minifig is generic and doesn't necessarily deserve a place in the series.
Conclusion
In our opinion the LEGO Minifigures Series 18 collection is the best that's been released and we're sure many of our readers will agree. With so many unique minifigures and a costume party vibe, they will be fun to play with and display. Some will argue that two of the same concept in a series (i.e. Brick Suit Guy and Girl, Cowboy Suit Guy and Race Car Guy) detracts from the series. What do you think?! We're also not overly keen on the orange display plates, but admitedly they do go well with the party theme.
Our Top 5 Minifigures from Series 18
If we had to pick our top five;
Red Dragon Suit Guy – Amazing details and a great reference to the 2007 Skeleton Tower 7093 set.
Police Officer – Kept pretty much the same as the 1978 LEGO 600 set Police Officer, which perfectly captures 40 years of the minifigure.
Balloon Artist Clown – Packed with accessories and extra details such as the plastic bow tie and top hat.
Orange Balloon LEGO Fan Boy – The series 1 CMF reference is awesome, this is where our CMF series began.
Blue Suit Brick Girl and Red Suit Brick Guy – They clearly come as a pair, so they have both made the 5th spot. Both have great references to the LEGO brick and the minifigure.
Blue Unicorn Knight, Purple Balloon Girl and Race Car Guy also get notable mentions from us. There were many really nice references from LEGO's past. What's your favourite reference?
Many of these minifigures could easily become part of a LEGO city or any other scenario one could think to build.
Celebrating the 40th birthday of the minifigure with Series 18 is certainly a great choice — this definitely shows how original and creative they can be, and what minifigures (and the LEGO brick itself) are all about. Please let us know your thoughts and favourites in the comments section below.