This post may contain affiliate links, we may receive a commission if you make a purchase using these links. As an Amazon Associate I earn from qualifying purchases.
Solo: A Star Wars Story hits cinemas in May, and one LEGO set from the movie has already been officially revealed. With every new LEGO Star Wars wave, there are bound to be many new minifigures, and so let's check out the minifigures of the Han Solo Movie!
Solo: A Star Wars Story LEGO Minifigures Guide
You can find all the 2018 LEGO Star Wars Sets here.
Han Solo Minifigure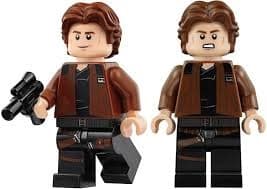 Han Solo is, of course, present in minifigure form as this is his movie. There are three official LEGO Han variants in the first wave – this one is the one he sports in 75212 Kessel Run Millennium Falcon – a stylish brown jacket with black pants and gun holster.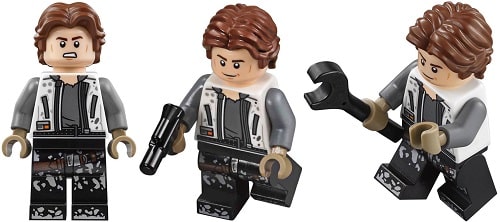 This is the second LEGO variant of Han. It seems to depict Han at a slightly younger age, with a completely different, dirty outfit. He appears in 75209 Han Solo's Landspeeder.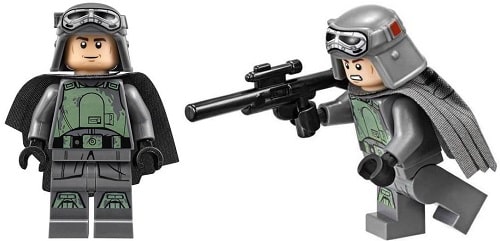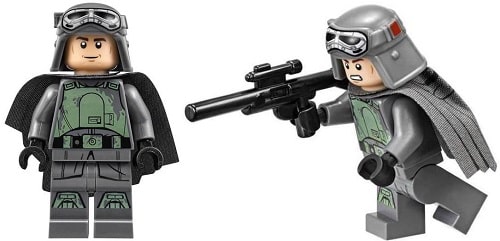 This third variant of Han shows he is sporting Imperial disguise. He has a new AT-ST pilot-style helmet mold, which has lots of impressive molded detail. He comes with a poncho-like cape and a blaster rifle, along with a pretty dirty uniform too. This variant appears in 75211 Imperial TIE Fighter.
Chewbacca Minifigure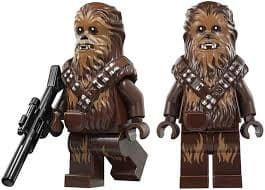 The second character is Han's trusted pal, Chewbacca. This is a new LEGO variant of the character for the film, and in my opinion doesn't look all that great. He now wields a blaster rifle and has two bandolier straps instead of the usual one. His head also looks pretty different. This minifigure only appears in 75212 Kessel Run Millennium Falcon.
Lando Calrissian Minifigure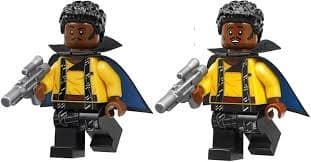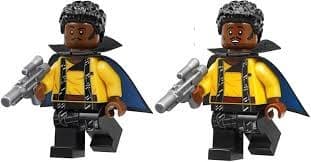 The third character in our Solo: A Star Wars Story LEGO Minifigures guide is another well-known character, Lando Calrissian. This Lando is portrayed by Donald Glover, and his minifigure has undergone some major changes. He now has a new hairpiece, double-sided head, and bright yellow torso, along with a cool cape piece and a silver blaster. He, too, appears in 75212 Kessel Run Millennium Falcon.
Qi'Ra Minifigure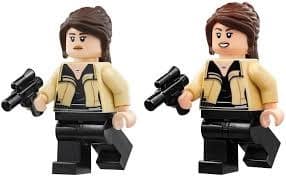 One of the new main characters is Qi'Ra, portrayed by Emilia Clarke. This minifigure appears in 75212 Kessel Run Millennium Falcon, and comes with a tan jacket and black blaster pistol. Interestingly, she uses a LEGO Friends hairpiece.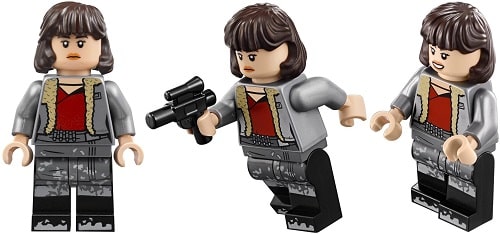 A second variant of Qi'Ra, seemingly younger, also appears in 75209 Han Solo's Landspeeder. She has a grey outfit and her pants look similar to Han's (though not the same). Her hairpiece is changed and she has a blaster pistol, but her hairpiece is unchanged.
Tobias Beckett Minifigure
Another new character is Tobias Beckett. He will play a mentor role in the movie, and is portrayed by Woody Harrelson. The LEGO variant of him is disguised in Imperial Officer outfit, and has two silver blaster pistols. He comes in 75211 Imperial TIE Fighter.
Moloch Minifigure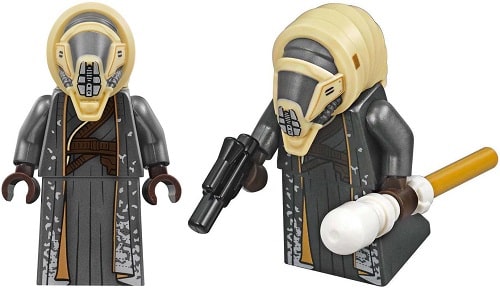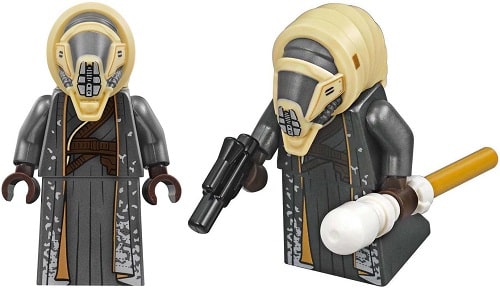 A character seen pursuing Han's Landspeeder is Moloch, from 75210 Moloch's Landspeeder. He has an interesting mold for his mask, along with the new dress piece instead of legs. He has a staff and a blaster pistol.
Rebolt Minifigure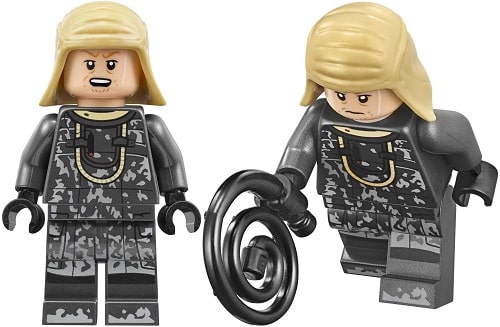 Alongside Moloch in 75210 is another guy named Rebolt. He has a black whip, a recolor of Pao (from Rogue One)'s hat in tan, and a disgruntled expression. His outfit is gunmetal grey-colored.
Quay Tolsite Minifigure
Quay Tolsite, a minifigure who looks like a Pyke, appears in 75212 Kessel Run Millennium Falcon. He has a very interesting hat piece, which has sections that seem to indicate that they connect to the hoses on his torso. He also has the new dress piece and a blaster pistol.
Kessel Run Operations Droid Minifigure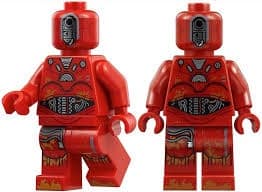 Another minifigure in 75212 is a Kessel Run Operations Droid. It is all red and looks like some variant of the protocol droids we know and love. It will be interesting to see if this character will have a major role in the movie.
DD-BD Minifigure
The Kessel Run Operations Droid will not be lonely in 75212, though, as he comes with a droid companion – DD-BD. This droid looks interesting, with a printed cylindrical body and two little legs at the bottom. Lando's droid, L3-37, is nowhere to be seen in the set, but it remains to be seen if DD-BD is a wholly different character or simply incorrect concept art for L3-37. Hopefully it is the former.
Standard Imperial TIE Fighter Pilot Minifigure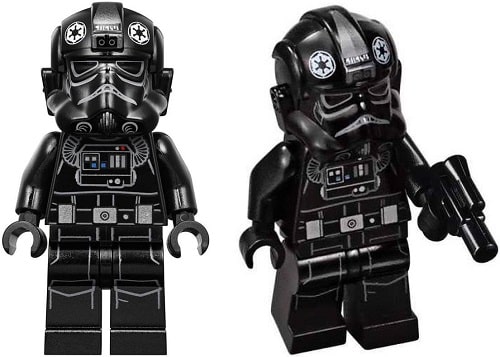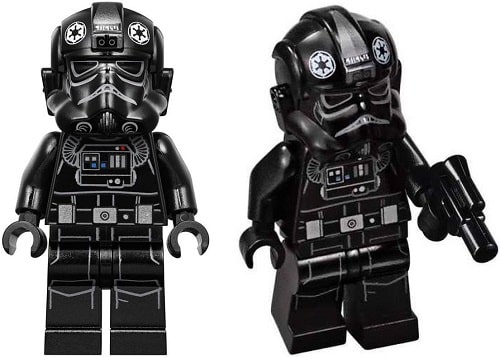 We now move over to the Imperial side of things, with a standard Imperial TIE Fighter Pilot appearing in, fittingly, 75211 Imperial TIE Fighter.
Mimban Stormtrooper Minifigure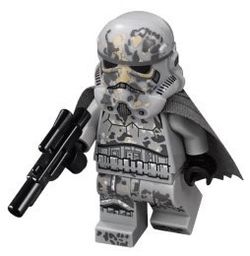 Another minifigure in 75211 is a Mimban Stormtrooper, a seemingly new type of troop. He/she wears grey armor and has a dark grey poncho cape. Man, his armor needs a wash!
Imperial Patrol Trooper Minifigure
Another new troop is the Imperial Patrol Trooper, in 75207 Imperial Patrol Battle Pack. He has a new helmet mold and new prints, but still strongly resembles a stormtrooper.
Imperial Navy Trooper Minifigure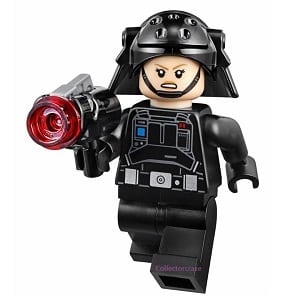 75207 also includes an Imperial Navy Trooper. This is the first female LEGO one, however, and has a new head print which looks pretty good. The same, however, cannot be said for her stud shooter.
Generic Imperial Officer Minifigure
Rounding out 75207's minifigure lineup is a generic Imperial Officer. His rank badge has three blue squares and two red ones, and he has a new head print with dark tan facial hair.
Conclusion
Those are the Solo: A Star Wars Story LEGO Minifigures! Thank you everyone for reading, do leave some feedback for me in the comments!
VaderFan2187 out! 😀