This post may contain affiliate links, we may receive a commission if you make a purchase using these links. As an Amazon Associate I earn from qualifying purchases.
The Nickelodeon cartoon SpongeBob Squarepants first premiered in 1999 and it's still going strong to this date, with recent announcements that the series will be renewed for a 12th season. The 12th season will consist of 26 episodes and will air in 2019. Add to this the feature film, The SpongeBob Squarepants Movie, released in 2004 and a sequel in 2015, it's no wonder LEGO decided to make it a theme. Let us introduce the popular LEGO SpongeBob sets.
LEGO SpongeBob Sets
The LEGO SpongeBob theme ran from 2006-2012, after which time it was discontinued – still a longer time-frame than most other discontinued themes. After a long period of time without production, many of the SpongeBob LEGO sets listed below will be somewhat of a collectors item and may have limited availability.
LEGO 3815 Heroic Heroes of the Deep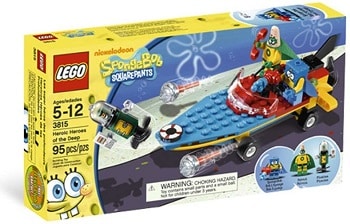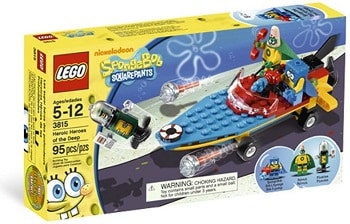 Will SpongeBob and Patrick be able to catch Plankton in their boatmobile, after hes taken off with the Krabby Patty Recipe? Be the Heroic Heroes of the Deep by catching him.
Released in 2011, the 95-piece LEGO 3815 SpongeBob LEGO set includes 3 minifigures; SpongeBob, Patrick, and Plankton. You also get a boatmobile and Plankton's robot suit, along with the Krabby Patty recipe. With playable functions such as bubble shooters and spinning the boatmobile's propellers, this interesting set is sure to capture the imagination. The boatmobile measures over 2 inches wide and 6 inches long.
LEGO 3816 Glove World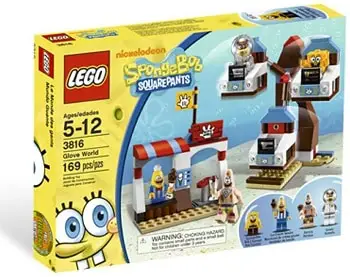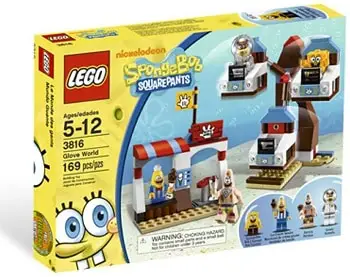 Why not join SpongeBob and his friends at one of their favourite places to play, for a action-packed day in Glove World. Enjoy a giant ice cream cone and buy a ticket for the Ferris wheel.
The 169-piece LEGO 3816 Glove World Amusement Park set was also released in 2011 and includes 4 minifigures; SpongeBob, Patrick, Sandy, and an Ice Cream Vendor. The set features a Ferris wheel, ice cream shop, giant ice cream cones and ticket stand. The spinnable Ferris wheel means you can go for a ride and the ticket booth also has a revolving gate for entry and exit. The ticket booth measures over 3 inches wide and 4 inches tall; the ferris wheel measures over 4 inches wide and 5 inches tall.
LEGO 3817 The Flying Dutchman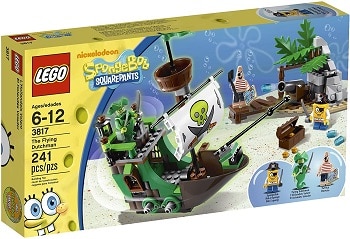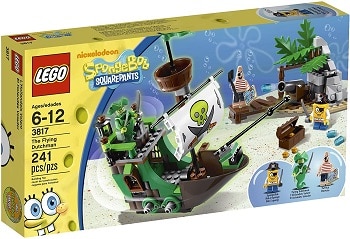 Captain Spongebob and Patrick have found an old treasure map and are frantically searching for the treasure, before The Flying Dutchman beats them to it. Keep him at bay by using the bubble blaster cannon before he makes you walk the plank.
The 241-piece LEGO 3817 set was released in 2012 and includes 3 minifigures; Pirate SpongeBob, Pirate Patrick and The Flying Dutchman. It features The Flying Dutchman's ghostly pirate ship, and a small island. The ship includes a plank, sail and crow's nest. The island has a boardwalk, treasure chest and a cannon. The accessories include a treasure map, two cutlasses, a shovel and a bag of souls. This is one of the more playable LEGO SpongeBob sets and one that will give hours upon hours of fun.
LEGO 3818 Bikini Bottom Undersea Party
Will you be joining Spongebob's huge Bikini Bottom Undersea Party?! Patrick will be at the turntable spinning his best tunes, while Squidward helps out at the juice bar. Meanwhile Spongebob is launching party cake from the seesaw at Mrs Puff. This is surely one not to be missed!
The 471-piece LEGO 3818 set is a 2012 release which includes 4 minifigures; SpongeBob, Patrick, Squidward, Mrs Puff and Gary. This is one of the more popular SpongeBob LEGO sets. It features SpongeBob's house with an ejecting bed function and Gary's bowl, Squidward's house with a music stand and art studio, a merry-go-round which spins, a seesaw that goes up and down and a juice bar with cabinet.
LEGO 3825 The Krusty Krab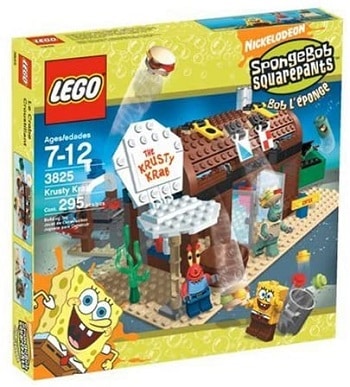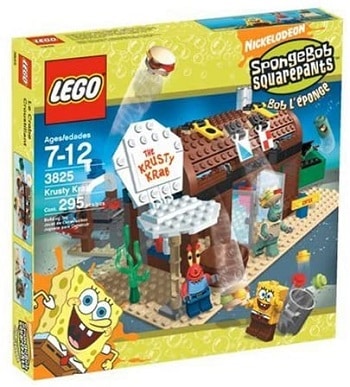 The famous Bikini Bottom Krusty Krab restaurant, where they serve none other than Krabby Patties. Ever wanted to run The Krusty Krab? Well now you can! Push down on the lever to flip the Krabby Patties and let SpongeBob know there's an order ready. Is it time for closing? Help clean up and toss the trash into the dumpster. Afterwards, you'll want to place the money into the safe and hide the Krabby Patty secret formula so Plankton doesn't discover what it is.
The LEGO 3825 295-piece set, released in 2006, includes 4 minifigures; Squidward, SpongeBob, Mr. Krabs, and Plankton. The restaurant features a sign, dumpster, grill, cash register and of course, Krabby Patties! There's even a comic strip on the box.
LEGO 3826 Build-A-Bob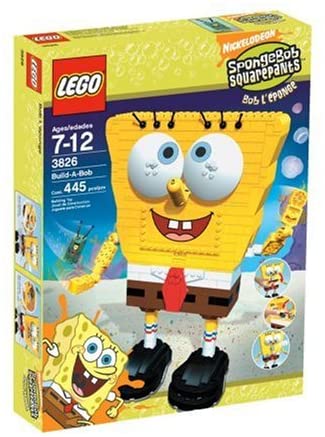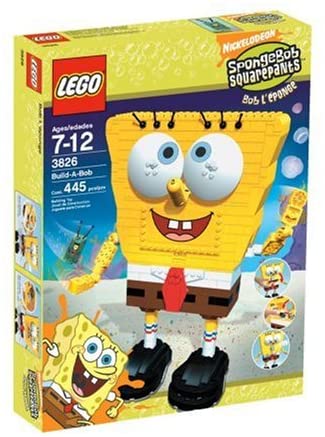 Oh no! Plankton has taken over SpongeBob's brain, just when thing's couldn't get any crazier in Bakini Bottom. Plankton is making SpongeBob do some wild things, like spin his eyes, shoot jellyfish from his mouth and change facial expressions, from a smile to a frown.
The 445 piece LEGO 3826 Build-A-Bob set was released in 2006 and also contains a comic strip on the box. It's one of the largest LEGO SpongeBob sets and hence the build will take some time, but the end result is fantastic!
LEGO 3827 Adventures in Bikini Bottom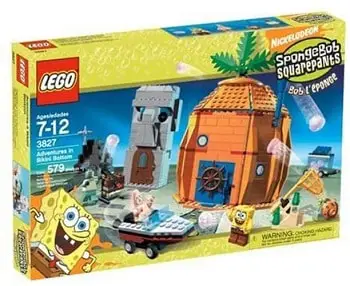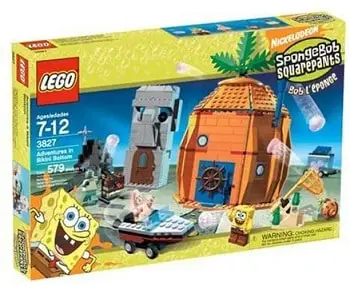 Ever wanted to roam around and have an adventure in Bikini Bottom? Well now you can! Take a dive and visit Spongebob's pineapple home under the sea. Why not visit Squidward's Tiki house or Patrick's rock right next door. It doesn't stop there as there are an abundance of activities in Bikini Bottom. You can shoot some hoops in SpongeBob's home or chill with Gary the snail, watching TV in Patrick's rock. Want to explore? No problem. Go for a ride in Patrick's motor boat (with pull back motor) or you can join SpongeBob and Patrick in a Jellyfish adventure using the Jellyfish launch. Can you hit Squidward's Tiki windows?
The LEGO 3827 Adventures In Bikini Bottom 579-piece set includes 4 minifigures; SpongeBob, Squidward, Patrick, and Gary the snail. You'll also get plenty of jellyfish. Part of the SpongeBob LEGO sets 2006 release, its possibly the best way to explore the Bikini Bottom neighbourhood!
LEGO 3830 The Bikini Bottom Express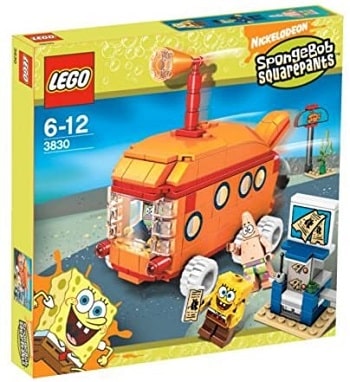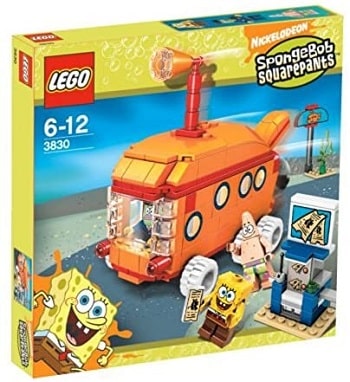 SpongeBob and Patrick are frantically trying to grab their tickets from the ticket booth before the Bikini Bottom Express bus leaves, but it keeps speeding off without them. Can you help them? You'll get to go on a crazy adventure through Bikini Bottom on the most colourful bus under the sea.
This 210-piece 2008 release includes 3 minifigures; SpongeBob, Patrick and a new bus driver minifigure. The LEGO 3830 set features a ticket booth and a bus with a propeller that spins, measuring 6″ long, 4″ tall and 3″ wide. The top of the bus also lifts off for extra playability inside.
LEGO 3831 Rocket Ride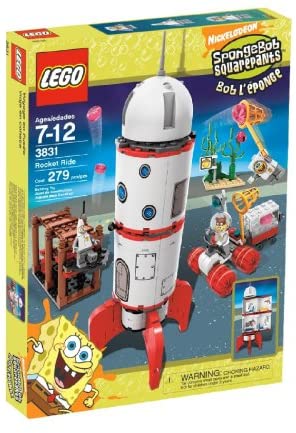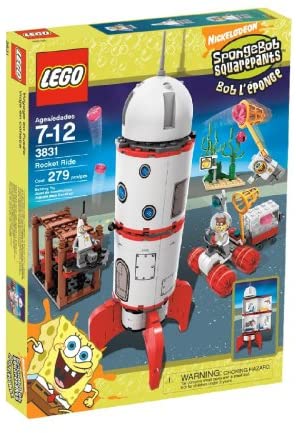 Want to join SpongeBoB, Sandy and Patrick in a Rocket Ride expedition to find alien jellyfish? They've got everything they need for the trip; their nuts, moon buggy, space suits and more! Where will the Bikini Bottom bunch end up this time?
The 2008 released 279-piece LEGO 3831 set includes 3 minifigures in their space suits; SpongeBob, Patrick and the all new Sandy Cheeks. There's a working loading bridge, moon buggy, jellyfish net, a rocket which opens (displaying the stations and equipment inside) and much more! The rocket measures over 12″ tall!
LEGO 3832 The Emergency Room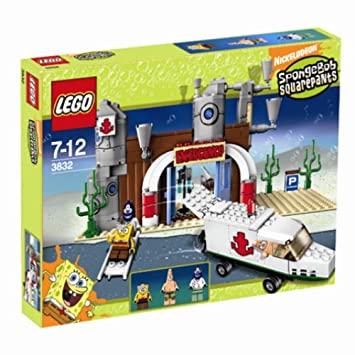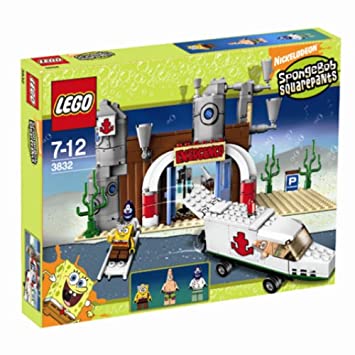 There's an emergency in Bikini Bottom! SpongeBob isn't feeling well and needs to visit the Emergency Room. Carefully load him into the ambulance-boat using the stretcher and take him to the hospital. Doctor fish will examine SpongeBob using all his medical equipment and make him feel better.
The LEGO 3832 Emergency Room set was released in 2008 and contains 236 pieces. This LEGO SpongeBob set includes 3 minifigures; SpongeBob, Patrick and fish doctor. It features an ambulance boat with stretcher and a hospital with a parking space.
LEGO 3833 Krusty Krab Adventures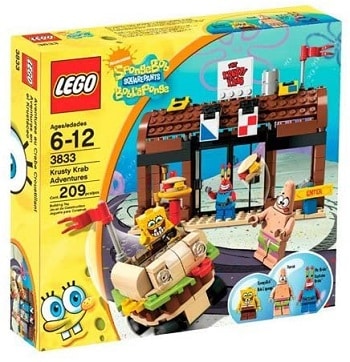 Cruise down to the all-new Krusty Krab in the Patty Wagon for a great time. Patrick's got the Patty Wagon ready to go, while SpongeBob is checking out the gadgets. Mr Krabs just hopes they don't cause any damage.
The LEGO 3833 Krusty Krab Adventures set appears to be an upgrade from the LEGO 3825 set which which was released in 2006. This set, released in 2009, has 209 pieces and includes Patrick, SpongeBob and Mr Krabs minifigures. The restaurant features Mr Krabs safe, money, working doors and more! It measures 6.5″ long and 4″ tall.
LEGO 3834 Good Neighbours at Bikini Bottom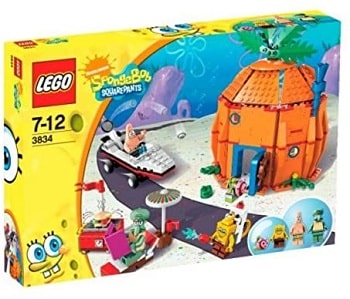 SpongeBob's got a brand new water soaker toy and he's making the most of it, at the expense of Squidward who's trying to relax and grill a burger on his new grill piece. Patrick's on hand to save the day with his boat and marshmellow launcher. Hopefully SpongeBob retreats to his pineapple house filled with the latest gadgets.
The 2009 released LEGO 3834 Good Neighbours at Bikini Bottom set includes 425 pieces. It comes with 4 minifigures; SpongeBob, Patrick, Squidward and Gary the Snail. SpongeBob's gadget-packed pineapple home features a bed, TV, sofa and a grill with burger launcher. You also get Patrick's boat with a marshmallow launcher.
LEGO 4981 Chum Bucket
Across the road from The Krusty Krab sits the Chum Bucket restaurant and secret lab, where Plankton hatches plans to steal the Krabby Patty recipe. He doesn't come ill-prepared either! He's got a computer, the Krabby Patty analyser, spinning brainwasher and even a robot SpongeBob! Can the real SpongeBob stop Plankton with his burger catapult?
The LEGO 4981 Chum Bucket set was released in 2007 and includes 337 pieces. This SpongeBob LEGO set includes SpongeBob and Plankton minifigures, Plankton's Burger Walker, Robot SpongeBob and a robot customer.
LEGO 4982 Mrs. Puff's Boating School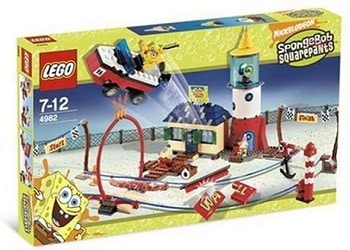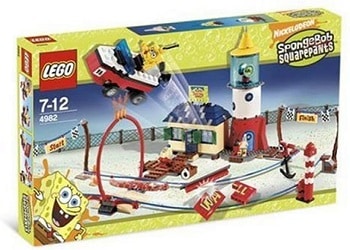 Everyone needs to learn to drive in Bikini Bottom and what better place than Mrs. Puff's Boating School. SpongeBob needs to get his license, and in this LEGO SpongeBob set it's your job to get him round his test course. Pull SpongeBob's boat back and let him zoom down the driving course. Hopefully the school is still standing when he's done. Crash through the wall and get past the anchor. The lighthouse has a light that spins!
This 2007 LEGO 4982 set includes 393 pieces and includes 3 minifigures; SpongeBob, Mrs. Puff and Patrick.
SpongeBob LEGO Sets Conclusion
That wraps up our list on all of the LEGO SpongeBob sets. In total there are 14 fantastic sets that fans will continue to collect and play with for many years to come. LEGO presents the perfect opportunity to explore Bikini Bottom and that's exactly what LEGO have achieved with this theme.
Out of all the SpongeBob LEGO sets, our favourite is the Bikini Bottom Undersea Party. It's really good fun to build, play with, includes 5 minifigures, and many other fantastic items (totalling 471 pieces). Let us know your favourite set in the comments section below, which do you already own? Better still, can you fully replicate Bikini Bottom?