This post may contain affiliate links, we may receive a commission if you make a purchase using these links. As an Amazon Associate I earn from qualifying purchases.
Keep finding LEGO pieces dotted around the house? Need a more playful way of tidying up? Let us introduce the small and large LEGO storage heads, available as a girl or boy and suitable for ages 3 and up. This well-known stackable LEGO system makes it both a box and a toy, the perfect addition to any household. Find everything you need to know in our review below.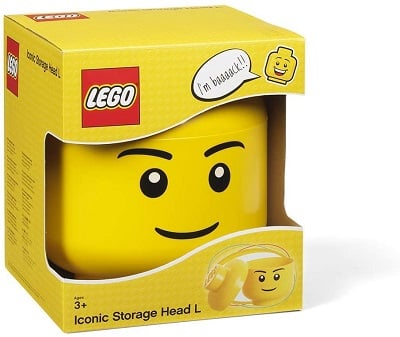 LEGO Storage Heads in Yellow (Girl or Boy)
These two-part iconic LEGO storage heads come in the styles girl or boy as shown above. Lift off the top to reveal the storage space and stuff it with bricks, minifigures and parts. Some LEGO enthusiasts even pack entire sets into one head.
We especially like the flexibility you have with the heads as they can be stacked on one another, or on storage bricks (as pictured below). The heads come in sizes small or large, with large being the most popular.
Large LEGO Storage Head
Product Height: 27 Centimetre
Product Width: 24 Centimetre
Product Depth: 24 Centimetre
Product Weight: 0.47 Kilogram
Capacity: 8 Litres
Small LEGO Storage Head
Product Height: 17 Centimetre
Product Width: 17 Centimetre
Product Depth: 20 Centimetre
Product Weight: 0.25 Kilogram
Capacity: 2 Litres
Pros
Encourages children to tidy up with a smile – An easy way to get a tidy bedroom?
Can also be used to store other things such as office equipment (pens, pencils etc) – We would probably recommend the smaller sized head if you are using it for office stationary.

Works as a stackable block with the rest of your storage bricks or heads (stack large with large and small with small)
Cons
Would be improved if there were different colours and facial expressions seen in the best LEGO minifigures
The lid is not screw top (obviously designed for the easiest access). It lifts up without any friction and closes the same
It will not sort the LEGO pieces into different sizes, but this is not its purpose
Conclusion
It appears that the small and large LEGO storage heads have been very highly received among LEGO enthusiasts and make for an excellent gift. If you are looking for a storage organiser instead, we recommend the Box4Blox.
Perhaps the most useful aspect is that they encourage children to tidy up with a smile and add abit of fun into any room. Whether you use it as an office stationary holder, kitchen fruit bowl or for LEGO storage, it's sure to get many compliments. The fact that they stack on top of one another and on top of the storage bricks make them a very efficient use of space.
Thinking of buying one, or do you own a storage LEGO head? Let us know your thoughts in the comments below!